PHOENIX – Packers Head Coach Matt LaFleur was a busy man Tuesday at the NFL Annual Meetings, speaking at the NFL coaches' breakfast in the morning and then meeting with members of the Green Bay media in the afternoon.
Here are five things learned from his availability:
1. The Packers plan to practice against another team in training camp
The Packers are working towards practicing against another NFL team in training camp.
If everything comes together, the practices would be held in Green Bay prior to its preseason opener and would mark the first time since 2005 the Packers have hosted another team for a camp practice.
That year, former head coach Mike Sherman arranged for Green Bay to host the Buffalo Bills leading up to Family Night. The Packers then traveled to Buffalo two weeks later for a preseason game. LaFleur believes there's value in holding joint practices after previously doing so in Tennessee and with the Los Angeles Rams.
"I've done it the last two years," LaFleur said. "In Tennessee we scrimmaged vs. Tampa before our second preseason game, which I thought was awesome. You can get so much good-on-good work. And quite honestly, you can practice your guys and not have to play them as long in the preseason game."
LaFleur said he'll wait to finalize plans for camp practices until after completing the entire offseason schedule, but prefers morning and afternoon practices to night practices. The Packers still plan to hold their annual Family Night practice, though.
2. Practices are moving back to Fridays
The Packers will go back to conducting their final practice of the week on Friday instead of Saturday like they've done since 2014.
LaFleur understands why a team would conduct its final practice on Saturday, but feels the traditional model is the best way to maximize performance and preparation.
By practicing on Friday, it also allows for final adjustments to the game plan.
"I just think that's the most comfortable and most efficient in terms of coaching," LaFleur said. "If you do want to make an adjustment, then you have Saturday to do that. If you go through Friday practice and you don't like something in your red zone, you still have time to adjust that and at least get walk-through in on Saturday and jog through some of that stuff. Whereas if you do that (i.e., practice) Saturday, to me you have to have your whole plan and everything done before Thursday because there's no time to make an adjustment."
When LaFleur was in LA, the Rams often shifted to almost a walk-through practice on Wednesdays after their bye week before ramping things up on Thursdays, doing full-speed red-zone work on Fridays, and a walk-through on Saturdays. He then followed a similar script last year in Tennessee.
LaFleur plans to incorporate elements of the STAA (soft tissue activation and application) program the Packers utilized under Mike McCarthy and use GPS data to shape the practice schedule and workload for players throughout the course of the season.
"You have to look at that data," LaFleur said. "Player workload is so important. The whole goal is to get them to Sunday and they're peaking, that's the goal. How do you do that, yet get all the work you need to get in in the practice setting. You absolutely 100 percent have to use that data and have people in place that know how to not only digest that but also give us all the necessary information so that we can go forward and plan practice."
3. LaFleur is diving deep into Aaron Rodgers' film
One of the first things LaFleur did in his new post was going back and watching as much film as possible of his new quarterback.
To this point, LaFleur says he's "watched every snap" from the past two seasons. After sifting through roughly 1,500 snaps, LaFleur then started diving back into Rodgers' older film.
One particular play that impressed LaFleur was how Rodgers stood tall in the pocket while under pressure during a game against the New York Jets. It's a clip he plans to show the two-time MVP quarterback when the team reconvenes for the offseason program, which begins on April 8.
"Some of the traits you always look for in a QB … they brought an internal cross-dog blitz and he hit Jordy (Nelson) over the middle," LaFleur said.
"It's what we call our no-flinch. There was a free runner, I think it was Bart Scott came running in there free and just how he stood in the pocket and delivered an accurate ball and took (a hit), really he got folded in half like a suitcase. But that's one of my all-time clips of him, one of my favorite clips of him."
LaFleur plans to spend a lot of time in Green Bay's quarterback room, working alongside offensive coordinator Nathaniel Hackett and position coach Luke Getsy. A looming decision he'll have to make with Rodgers in a few months is how much he'll play the two-time MVP quarterback in the preseason.
Last season, Rodgers played just one series against Pittsburgh, completing 2-of-4 passes for 35 yards and a touchdown. How much Rodgers plays this summer likely will come down to where things are at with the installation of LaFleur's offense.
"You want to get him as many reps as possible, but you never want to put him in danger," LaFleur said. "Every time a player steps out on the field, they're putting themselves at risk. We'll get them a lot of quality work throughout the preseason and throughout the practices. I think that's going to be something that we'll feel out as we go."
With LaFleur calling plays from the sideline, the Packers' current plan calls for Hackett to assist from the coaches' box on gamedays.
As the offensive play-caller last year in Tennessee, LaFleur began the season calling plays from the press box before moving down to the field to get a better feel for the flow of the game.
With all of his head-coaching responsibilities on the sideline, LaFleur will lean on Hackett for big-picture insights and perspective.
"This year it's going to be a lot different, but that's why we've got, you know, other guys on our staff," LaFleur said. "I'll rely on Hackett, he'll probably go up in the box for us. We haven't really solidified any of that yet, but that's just the vision that I see right now."
4. LaFleur is in favor of expanded replay, sky judges and potential changes to overtime
The NFL shelved Kansas City's proposal to allow both teams to possess the ball in overtime, regardless of whether a touchdown is scored on the initial series, until the spring meetings in May.
LaFleur supports the plan. Influencing that stance is the fact LaFleur was the quarterbacks coach in Atlanta when the Falcons lost in overtime to New England in Super Bowl LI. Matt Ryan, the league's MVP, didn't touch the ball in overtime.
"Being on the wrong side of things in the Super Bowl versus the Patriots, certainly we would have loved to have the opportunity to take the ball down and score," LaFleur said. "Yeah, I'd like to see both teams get an opportunity."
LaFleur also seemed to be in favor of the plan New Orleans coach Sean Payton said the NFL competition committee is expected to present, which would allow coaches to challenge offensive or defensive pass interference in a game even if there is no flag on the play.
A potential change was put into motion after Rams cornerback Nickell Robey-Coleman appeared to interfere with Saints receiver Tommylee Lewis, making contact with the helmet, on a pivotal incompletion in the NFC title game.
"When it's clear and obvious, sure you'd like to see them correct that no-call," LaFleur said. "If that means putting a flag on the field, then that's the right thing to do."
One other idea LaFleur felt had value was adding a sky judge for egregious penalties that may get missed, though Payton said that likely won't get enough traction to happen this year.
5. LaFleur is excited to make his coaching debut in prime-time
The NFL announced Monday the Packers and Bears will kick off the 2019 season on Thursday Night Football and LaFleur is all for it.
LaFleur will make his NFL coaching debut in what will mark the 199th meeting of the league's oldest rivalry.
"You start off right out the gate with the total focus of the entire country or the entire world, especially in a game that means so much to so many within the league. It will be an exciting atmosphere," LaFleur said. "It's on Thursday night and you're the only game on — yeah, there's going to be a lot of excitement out there. Nothing like jumping in."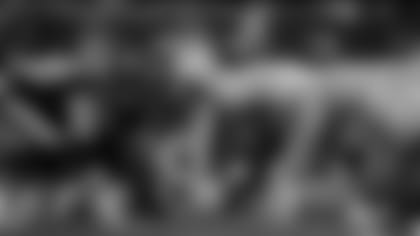 Packers-Bears will kick off 2019 NFL season
Thursday, Sept. 5 at 7:20 p.m. CT, at Soldier Field