Thad from Chesterfield, VA
Approximately how many players are cycled out of the league each year, either by retirement, injury, released, etc.?
It has been my experience roster turnover averages about 20 percent a year.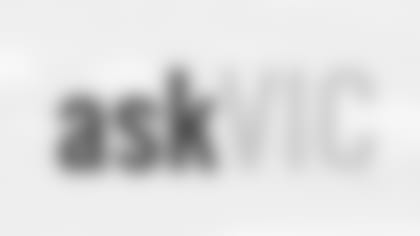 Justin from Stephenson, MI
I am not opposed to what Ted has done in drafting, but let's be honest, Aaron fell to Green Bay during that draft. Ted stayed true to BAP; he picked the BAP. When you have the best QB in the league, that gives you a cushion to take some chances in the draft and free agency. It's time to support him with the surrounding cast he needs to get over the hump.
A big ingredient in the best available player philosophy is having a full complement (or more) of draft picks, so you know you'll have enough opportunities to select BAP and still address need at some point in the draft. Compensatory picks help provide that security, in addition to providing trade-up maneuverability in targeting a player of need. The Packers made 11 picks in Aaron Rodgers' draft (2005) and made three draft-day trades. What if they hadn't had so many picks? Would they still have felt comfortable in selecting Rodgers in the first round? Or would they have decided they didn't have need at quarterback so it would be better to address one of their immediate needs before they run out of picks? What you're suggesting sounds good, but you're tempting fate by mixing and matching philosophies.
Would Revis be a good fit? He could help mentor the other cornerbacks while helping with talent.
Is there a Houston in Wisconsin? I can't find one. I'll trust you know where you live. As for your question, I have several of that type in my inbox. My response is why do fans want players to coach? I just don't get it.
Jonas from Sundsvall, Sweden
The question on penalties for excessive celebration got me thinking. Why not enforce the penalty on the PAT? That would make it more costly and, hopefully, get players to think over it a little bit more.
I like that idea. Imagine how penal that kind of penalty would be for a team that needed to go for two to send the game into overtime. I get the untimed down thing, but the new PAT rules have made conversion attempts more important than ever. They are without a doubt a big part of the game. Wanna celebrate yourself? How do you feel about being the reason your team lost?
Thank you, Wes, for using proper English with "couldn't care less." Man, it drives me nuts when people get it backwards!
Vic, was Atlanta the best team in the NFC this season? Were they the best matchup for New England? Did New England win or did Atlanta lose that Super Bowl?
Atlanta was the best team in the NFC, I thought the Falcons matched up very well against the Patriots, and the Falcons franchise will forever have to live with the what-if of keeping their foot on the gas instead of playing to expire the clock. Hey, if you're not going to run your four-minute offense, why practice it?
Stacy from Fayetteville, NC
I enjoy the columns so much; by everyone. Will Vic continue to contribute? I really hope so. I love having the different viewpoints, and while some don't like his, I believe he adds a lot of experience and perspective to the mix.
I just want to contribute.
Venna from Washington, DC
Vic, Super Bowl 52, how or what do we have to do to get there? Aaron Rodgers isn't getting any younger and our offensive line is one of the best.
I know what you want me to say and I think I kind of did that last week, but this will be a recurring theme over the next few weeks and I said I won't brush off free-agent questions, so let's do it again: I acknowledge where Rodgers is in his career and the need to address the present. If the Packers can identify a player in free agency they believe can be a difference-maker next season, I would favor signing that player, even if it was at a cost that would make me wince. That's as far as I'll go because it's farther than I want to go. I remain opposed to expensive free agency; I'm just trying to find some middle ground in the great free agency debate.
Alen from Tilburg, The Netherlands
Vic, is the mental aspect of the game overlooked at the combine?
It's not overlooked. Matt Stafford used a lights-out chalk-talk session to solidify his position as the No. 1 pick of his draft.
Is there one player in the draft on offense or defense you would move up in the first round that would help the Packers right away?
Yes, there is. I would trade up for a pass rusher I believe could be a difference-maker, provided I didn't have to mortgage future drafts. One impact rusher can make all the difference for a defense.
I believe the combine is nice for entertainment in the offseason, but I don't think it really tells anybody what type of football player a prospect can develop into. Now, if the combine had blocking, tackling and actual running plays, then we might have some insight about a player's football skill to play at the NFL level. Your thoughts?
The entertainment part is for the fans. The teams have the combine in the right perspective. They use the combine to acquire medical and personality information on players. In other words, they use the combine to acquire information they don't have, or confirm what they already have. The blocking and tackling is on the game tapes, and they weigh heaviest in evaluating a prospect. It's been my experience teams do their boards before the combine, and use the combine to tweak their boards. Coaches use the combine to get a feel for how he might work with a player his team is targeting. For example, Mike McCarthy used the interview process to get a strong and positive feel for the kind of player Randall Cobb would be for the Packers. Teams have prospects targeted before the combine begins. The interview sessions are huge. A player can cement his status with a team, or turn the coach against him.
Nathan from Baltimore, MD
After all this overtime and free agency nonsense, I'm ready to start talking about the draft. Can you give us the names of a few pass-rushers or cover prospects to keep an eye on?
Here are a few guys Tony Pauline liked at the Senior Bowl. Haason Riddick of Temple was dominant as a blitzing linebacker and out of a three-point stance. Damontae Kazee of San Diego State and Cameron Sutton of Tennessee were impressive in coverage.
Vic, I still enjoy this format but miss my daily dose of Vic. Do you have one favorite interview moment from your years in Green Bay?
I have many favorite interview moments, but my most memorable is from the "Fail Mary" game. It's the high road Mike McCarthy took in the painful moments immediately following that bizarre conclusion. I remember thinking to myself, "That's how you do it, coach. That's how the great ones do it." When a coach conducts himself with the dignity McCarthy did that night, I enjoy being a sportswriter.
With defenses getting light and faster using corner/safety hybrids and safety/linebacker hybrids, do you think the fullback position will see a rise in use?
So, when you want to gain 4.3 yards, you'll give it to your running back, who averages 4.3 yards a carry, and when you want to gain 3.2 yards, you'll give it to your fullback, who averages 3.2 yards, right? I think the fullback has a place as a runner in short-yardage and goal-line situations. If you use him otherwise, then he's a featured running back. Does it really matter what you call him?
Josh from Saint Cloud, MN
You should come hang out in the comments section sometime. Just saying.
Why is everyone obsessed with a running back? The Packers put together an impressive run and Rodgers turned in an MVP campaign when McCarthy stopped trying to be balanced. Am I missing something?
Yes, you're missing the importance of being balanced as it relates to protecting the quarterback. A lack of balance between run and pass invites the rush, and the more your quarterback has to throw the ball, the more often he's exposed to being hit and possibly injured. I thought a lack of balance hurt the Packers in the NFC title game.
Why does a halfback generally line up behind a fullback? I assume it has something to do with the evolution of the game. Did the fullback (generally heavier) play behind the halfback earlier in the league?
The fullback in today's game is generally the lead blocker. In the old Split Backs formation, the halfback was the blocker and the fullback was the featured runner. Jim Taylor was a fullback. One of the problems with the explosion in strategy awareness is fans tend to think in terms of terminology instead of function. In the T formation, there was a right halfback, a left halfback and a fullback. Then came the Wing T and the right halfback became the wing back. Then came the I formation and the creation of the tailback, which had been the left halfback in the T formation. In Pro Set or Split Backs, the wing back/right halfback moved outside and became the flanker, the result of an emphasis on passing the ball. It's all part of the evolution of the game. The terminology is meaningless. To really understand what's important, study the evolution of formations and why they occurred.
Hoyt from Alma Center, WI
Major League Baseball is full of trades. Why doesn't it happen much at all in the NFL?
I could say it's because bonus amortization stays with the original team in an NFL trade – and it can accelerate – and that would be true, but there was a reluctance to trade for players long before the salary cap era. All through my years covering the NFL, draft picks have been more valuable than players. Why? I think it's because a draft pick can contribute more quickly in football than in baseball. That's one reason. The wear and tear on football players and the briefness of their careers is another reason. Football is undeniably a young man's game. When you get younger, you get better.