*As part of the Green Bay Packers' celebration of the 10th anniversary season of the Super Bowl XXXI Championship, Packers.com is running a series of stories about the people responsible for bringing the Vince Lombardi trophy back home to Titletown.
Although his mother ably raised him, defensive end Gabe Wilkins lacked a strong male presence in his life when his father died at a young age. Reggie White helped fill that void.
"He was more like a father figure," Wilkins said. "I thanked him in prayers. I appreciated the fact God let a guy like that come into my life because I needed it."
White served as a role model for Wilkins throughout the 1996 season. In that Super Bowl-winning year, Wilkins played in each game and backed up both White and fellow defensive end Sean Jones.
But Wilkins followed them in ways that go beyond the depth chart. He learned how to prepare himself as a professional. He mimicked the dedication of the veteran defensive ends, working out year-round in Lambeau Field and attending every meeting 10 to 15 minutes early.
"Those small things like that ultimately had a lot to do with us making it to the Super Bowl," Wilkins said.
Wilkins soaked in their knowledge, racking up 18 tackles and three sacks that season. And he became a starter after Jones retired before the 1997 season. Wilkins, however, remained a callow player in 1996 -- three years removed from playing at Gardner-Webb University, a 4,000-student NAIA school.
"I didn't have a clue. I was ... green, not having a great understanding of what it took to compete," Wilkins said. " '96 was a real eye opener for me."
Wilkins' eyes focused on something else with less than three minutes left in the third quarter of Super Bowl XXXI. Having just sacked Drew Bledsoe for an 8-yard loss, White needed a rest. Always observing White, Wilkins was studying the Hall of Famer's pass rush angle on the JumboTron replay. Intently focused on White's technique, Wilkins did not hear defensive coordinator Fritz Shurmur barking at him to enter the game.
"I was paying attention," Wilkins said. "But I wasn't paying attention to the right thing."
Defensive line coach Larry Brooks finally commanded Wilkins' attention, and he entered the game. He made an impact from then on, collecting one solo tackle and batting down a pass intended for tight end Ben Coates. That culminated a strong performance on the NFL's grandest stage.
"You don't believe that it's as major as it is until you're in the middle of it," Wilkins said.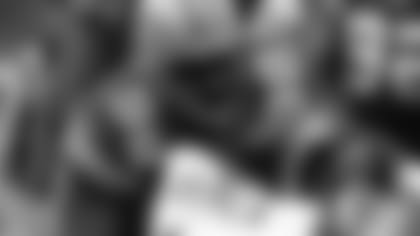 Now Wilkins' major role consists of raising his four daughters in the 40,000-person town of Spartanburg, S.C. During Wilkins' playing days -- four years with the Packers and two with the San Francisco 49ers -- his wife, Ansley, took care of the kids. He now understands how hard she worked.
"I wasn't there all the time. Playing football takes a lot of your time." Wilkins said. "I didn't appreciate my wife as far as taking care of the kids. I didn't understand how much it took to keep four kids in line."
Now Wilkins, 34, assumes a lot of the child care responsibility and for good reason. Wilkins wants to provide the paternal role he never had. Gabe was reared by his mother, Annie, since the age of seven. At that age he lost his father, James, when a truck driver veered off course and struck him as he walked home one night.
Aside from overseeing his financial portfolio and playing in the occasional golf game, Wilkins completely devotes himself to his four girls: Mia, 5, Chemoya, 10, Alexis, 11, and Gabrielle, 14. His wife works part-time as a coordinator at a state-funded day care center, and he mirrors her job at their home.
"My children come first. Right now that's the only thing at the top of my list," he said. "They get my full attention."
Wilkins, who retired in 2000, eventually may enter the real estate business but does not want to work until after Mia turns 10. He, however, foresees another role if and when his daughters have children.
"Hopefully one day they'll have a son that might want to play," Wilkins said. "And I can teach him how."