Vic, you have "The Man" at quarterback, but can beat a team with the running game. Do you pound it down their throats or let "The Man" dominate?
Pound it and save "The Man" for when you need him. "The Man" must be preserved and protected. He is your most valuable possession and misuse or overuse can result in devastating results. You might win a game without him, but you can't win a championship without him.
In addition to the fans, I would tell Scott's wife to focus on one or two of the guys at the end of the roster who have a chance to make the roster and see their dreams come true. Those are the people for whom training camp is really meaningful. That's where the drama is.
You're absolutely right. Find the desperation and you'll find the true drama of training camp.
I would be very interested if you could describe a specific example of Clay Matthews using his instincts.
What are your thoughts on Jadaveon Clowney?
He's possibly the most dominant college defensive player I've seen since Hugh Green.
Nick from Charlotte Amalie, St. Thomas
You say weak teams do good with undrafted players. Obviously, weak teams need help, but the Packers have been strong for the past four years and we always have at least one or two guys who prove themselves as an undrafted rookie. Your thoughts?
I said "teams with weak rosters SHOULD always do well in undrafted free agency." It doesn't always turn out that way, which is why weak teams often continue to be weak teams and strong teams continue to be strong teams. Hitting home runs late in the draft and in free agency can be difference makers. How many Super Bowls would the Patriots have won without Tom Brady? He was a supplemental sixth-round pick. The Steelers won two Super Bowls with undrafted players making huge plays; Willie Parker's 75-yard run and James Harrison's 102-yard return of an interception. What did Victor Cruz mean to the Giants' run to the Super Bowl title two years ago; Cruz was undrafted. The big question is: Why weren't those players picked or signed by the weak teams? They all had opportunities to acquire them, but they didn't do it. Why didn't one of the weak teams pick Aaron Rodgers? It always starts with talent acquisition. The strong franchises have a knack for finding the right guys; the weak teams keep passing on them.
If a quarterback throws an interception, does it count as a completion? Do the yards count in the quarterback's total yards for the game?
It does not count as a completion; it counts against the quarterback as an interception. The yards, however, don't count against the quarterback, which I've always thought they should. If he gets all those yards after one of his guys catches the ball, then shouldn't he have the yards gained after the defense caught the ball count against him? He threw it.
Vic, I wanted to know your thoughts on former 3-4 defensive end Aaron Smith?
He was one of the best true hold-the-point, two-gapping, 3-4 ends in the game. What made him so good is that despite playing in a two-gapping scheme, he could still get off blocks and get sacks. He was always selected to All-Madden, most-underrated types of teams. I feel bad for 3-4 ends. Unless they're given the carte blanche Bruce Smith and J.J. Watt were given, they almost never get the credit they deserve.
Andrew from Jacksonville, FL
In today's media, if players let their guard down and tell a joke, it gets blown out of proportion. Maurice Jones-Drew recently said Greg Jones almost didn't block for him on a play near the goal line because they were playing each other in fantasy football that week. I assume Jones didn't have MJD on his team. MJD further explained it was a joke after the media blew it up. I wish players would give more than canned responses at interviews with the media, but anything out of the ordinary like this comes back to bite them. Thoughts?
It's not that big of a deal. Again, we're overreacting to something that was said on an entertainment show. He told a light-hearted story. It's information that would engage only the terminally bored. That's the problem; we're bored.
Is the salary cap determined by league revenue or team revenue?
The salary cap is determined by all revenue. League revenue is categorized as "national revenue." Team revenue falls under the heading of "local revenue." They both count toward all revenue, which is what determines the cap number for each team. When one team creates revenue, it increases the cap number for everybody, which means it forces every team in the league to spend more money. That's why teams are so driven to increase their revenue. It's how they keep up with the Joneses, so to speak.
Jim from Fairview Heights, IL
Wouldn't you rather see Rodgers dump the ball off for two or three yards rather than hold it and take a sack?
Yeah, as long as he doesn't make a habit of it. Too much of that stuff will eat at your manhood. One of my all-time favorite practices involves a dink-and-dunk moment. I was covering a combined 49ers-Steelers practice in Barcelona. Neil O'Donnell was dinking and dunking and checking the ball down play after play. Tim McDonald decided he had enough and he lit up a tight end named Adrian Cooper following a little checkdown pass. It was a thunderous hit, and all of the heads on the adjacent field, where the 49ers offense was working against the Steelers defense, turned to see what had happened. Immediately, I knew the fun was just beginning. Greg Lloyd, LeVon Kirkland, Kevin Greene, Rod Woodson, Carnell Lake? Who was going to be the poor guy that would get whacked? It would be a young receiver named John Taylor. Darren Perry got him on a play over the middle. It immediately caused George Seifert and Bill Cowher to admonish their teams. I loved it.
Vic, there has been a lot of questions about an 18-game schedule lately. If this ever happens, will the salary cap go up as well as the player contracts increase?
The addition of two regular-season games would enrich the league's TV contracts and certainly drive a lot of additional revenue, which would increase each team's cap number and drive salary increases. That's why it's going to happen. When doesn't money win?
How do you know when you have one seat too many?
Ask Florida State. Doak Campbell Stadium has been enlarged 15 times in its history. The expansions have mostly been the result of a growing football program and a long run of dominance under Bobby Bowden. No one stopped to consider how much was too much, but now it's become clear that the Doak has reached the saturation point. It began after the most recent expansion. All of a sudden, there were a few empty seats in the end zone. Then there were some more empty seats. Now there are a lot of empty seats, especially for the non-premium types of games, and those empty seats are starting to move inward from the corners. You'll know when you have one seat too many; you'll have a few tickets unsold for a game. That's when the word gets out that you don't have to buy a ticket for all games, you can pick and choose your games, and that's when you have a big problem. The Packers have no problem filling the new south end zone seats and the demand for tickets is still overwhelming, but the notion that there's an endless supply of ticket-buyers that could fill a stadium with 150,000 seats is ridiculous.
Tony from Hamilton, Ontario
Vic, do you pull for McCarthy a little more because he's a Pittsburgh native? If he was from my town, I know I would.
Yeah, I do. I like his roots. I like the way he grew up in the game. I think his story of working nights collecting tolls at the Pa. Turnpike while daylighting as a volunteer coach at Pitt is one of the best young-coach stories I've ever heard. I can tell a similar story of Tony Dungy, and we're talking about two guys who've won Super Bowls. From humble beginnings, greatness often results. I like Coach McCarthy's beginnings. He also worked at a pizza shop in my hometown. I like that, too.
Nick from Vernon Hills, IL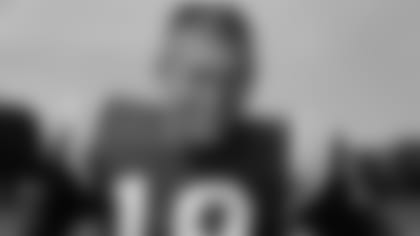 I have a friend who believes Johnny Unitas shouldn't ever be considered as the greatest quarterback of all time. My friend believes the quarterbacks in today's passing game should get more praise than Unitas. He believes Unitas wouldn't have a chance of being good in today's NFL. I disagree with my friend. What about you, Vic?
Unitas was ahead of his time. He would've been better cast in today's game than he was in the era in which he played. He was the first modern quarterback. He was Peyton Manning before Manning's mother and father even knew each other. Unitas read defenses. He looked off safeties. He put the ball in windows, as opposed to laying it out in front of the receiver, as was the practice during the lob ball era that preceded him. He pretty much invented and perfected the modern-day two-minute drill. He called his own plays and once called time out to admonish Don Shula for sending a play into the game. If Unitas played today, he would be at the top of the passer rankings. He never played in a game that favored the quarterback as today's does. He would eat this league up.
Louis from Coral Springs, FL
Vic, just for everyone's info, what are the seating capacities of the two larger NFL venues?
FedExField – that's actually how it's spelled – seats 85,000 and MetLife Stadium seats 82,500. FedExField topped out at 91,704 a few years ago, but has since been downsized.
Vic, I don't see how the south end zone construction is going to create an appreciable noise increase in the game. The sides of the stadium are wide open, as well as the north end zone. I think we all are hyping this too much. Just play better than the opponent. Stop worrying about noise.