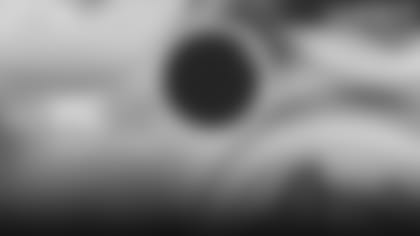 Mary from Saint Leonard, MD
Did you know nearly 50 percent of the players on the current roster played their college ball in temperatures similar to the average temperature in Jacksonville on Sept. 11?
I didn't know that. I guess there's no reason to worry.
Daren from Sydney, Australia
I love "Ask Vic." After a few years now, am I getting selfish because I find myself wanting more? More depth. I want to probe into your answers, seek deeper meaning, understand why. Have you considered doing a podcast series in the offseason, where perhaps you and the readers pick a topic and you delve into it for an hour?
The comments section is for that. It's why I campaigned for it. What I think is just a starting point. What you think is the finish line.
I'm really enjoying the coverage of our draft picks on packers.com. It will be so heartwarming to see our veterans take these young men under their wings and mentor them all the way to the bench.
That's the great Torry Holt line. He looked at me and I smiled after he said it. I wish guys still said things like that.
Chris from Summerville, SC
The Packers win the Super Bowl if they win the last game of the NFL season.
You got me thinking: How many teams won their last game of the season last year? I looked it up. There are eight: Bills, Colts, Lions, 49ers, Eagles, Saints, Dolphins and Broncos.
I'm surprised at you! Packers win the Super Bowl if they can run the ball in December (and January and February).
I saw a segment on NFL Network about a Jacksonville Jaguars defensive tackle named John Henderson, whose pregame ritual consisted of being repeatedly slapped by a trainer. In your career, have you witnessed any pregame routines as odd as Henderson's?
I could hear Henderson's screams as I sat in my office. I remember thinking to myself, "Don't kill him, John," and "What am I doing with my life?" John is one of the most interesting players I've ever covered. He was frighteningly large, but he was a very friendly interview. I also learned he was a neat freak. Yep, he spent his free time cleaning his house. Joe Sheehan was the trainer, and John would say, "Come on, Joe, hit me hard. Harder, Joe." I couldn't have done it. I would've been too afraid. Every time John screamed, I thought of George Young.
The Packers will win the Super Bowl if they execute at crunch time.
I like that one, too. You can't win the big ones if you don't win crunch time.
If it's true all Thursday night games are going to be color rush games, this is the year I stop watching Thursday Night Football. It's a stupid gimmick and nothing more. Fashion, using the term extremely loosely, is not a selling point.
Fashion is definitely a selling point. Do as you please, but you're going to find yourself watching fewer and fewer games because the uniform craze is just beginning in the NFL.
Vic, as a freshman football player in high school, the seniors got to shave our heads, but they didn't get all the hair off. They'd make patterns. They butchered my hair and, when I got home, my grandmother began sobbing. Why do we consider hair essential to happiness?
I don't think that's the issue.
What are some things the coaching staff looks for when deciding between who should make the roster along the offensive and defensive lines? If they keep getting matched up against each other in practice, someone has to win the drill and the other has to lose the drill. Is the selection as simple as the guy who wins a majority of the time?
Determining the winner requires a keen eye, which the coaches possess. There are a lot of considerations. When it's a veteran vs. a rookie, it's technique vs. raw ability. The veteran better know his technique and the rookie needs to show the coaches raw ability that can be refined. In the end, yeah, I think it comes down who wins the majority of the time. It's a good thing to win your one-one-ones, especially in this year's training camp.
Which Packers rookie do you think will have the most impact during the 2016 season?
I see an open road of opportunity for Kenny Clark.
Vic, I recently saw a TV special on the story of Darrelle Revis. Much of the episode was filmed in his hometown of Aliquippa, Pa. I was amazed by how many great athletes came from such a small town. Have any good stories about this place?
Aliquippa is one of those places – Belle Glade, Fla., is another one – that just keeps turning out football talent. There's no explaining it. In Aliquippa's case, it really defies logic because the town experienced a catastrophic collapse when big steel left, yet, the town continues to forge football talent. When Mike Ditka left Aliquippa, it was a thriving steel town. When Tony Dorsett left there, it was on the way down. Since then, Aliquippa has produced Revis, Ty Law, Sean Gilbert, Paul Posluszny and a host of lesser-known NFL players, and there are more on the way. Aliquippa even turned out Pete Maravich. One of my wishes is for an up-and-coming company to go into one of those steel towns big steel left to die, and give it re-birth. What a wonderful story that would be. If I owned one of those companies, I know where I'd go.

Vic, do you think the pass rushers the Packers drafted this year will help keep Julius Peppers fresher during the season?
I have special interest in Kyler Fackrell. If he can be that odd-man rusher, Coach Capers will be able to empty his bag of blitzes.
Vic, I was in a bar on Bourbon St. a day before Super Bowl XXXI. Dick Schaap was sitting there telling stories. To this day, I regret not spending the time to listen. Now he's gone. Did you have any similar situations?
I met him one time, at a big sports banquet where he was MC. He was telling stories and I loved it. He was everything I thought a sportswriter should be. He possessed a love for all players, all coaches and all teams. He loved sports, the stories it allowed him to tell and the memories it allowed him to keep. Fans focus on one team. Sportsmen are fans of all teams.
Vic, in the echelon of "Ask Vic" themes, such as BAP vs. need drafting, salary cap tutorials, free agency mania, the "Fail Mary" and even Janis fever, I never expected the color rush uniform to be one. Why is this still sticking around?
Packers fans possess an intense pride for the team's history and tradition (see Packers team historian Cliff Christl's most recent piece featuring Chuck Lane), more than any fans of any team in the NFL. I love it and respect it, but I worry about it resulting in a kind of rigidity that can arrest growth. The past has to be kept in proper perspective. It's the future people seek, especially when it comes to our young people who are exploring their interests. No team has greater history and tradition than Notre Dame, but its recent uniform adaptations have helped create a new buzz for Notre Dame football. Newness is a good thing. It helps us wake up the echoes.