Vic, you mention what a great picture Starr, Favre and Rodgers would make on the 50-yard line. You should plant that seed.
I don't inherently disagree with you regarding football's expansion into Europe, however, I did find a hint of hubris in your reasoning. "The NFL doesn't fail." Isn't it possible they simply have a different culture in Europe and don't want our football?
That's very possible. What I'm saying is we're going to find out. I'm saying this is going to happen.
Vic, we were having a discussion at work about why the Vikings are requiring fans to buy tickets to the Browns game if they want to go to the Packers game on Oct. 27. Would you mind explaining this practice and if the Packers or any other teams do anything similar? Is it simply a means to discourage Packers fans from attending and preserving homefield advantage?
It's likely a means for leveraging the demand for tickets to the Packers game to sell tickets to the Browns game. Other teams have done this. The Chargers did it a few years ago for a game against the Steelers. I don't like this practice because I think it's somewhat of a strong-arm tactic, but it's what happens when franchises have tickets to sell. Nothing beats a waiting list because it guarantees a franchise a steady revenue source on which it can depend and budget accordingly. When you're not sure what your ticket revenue will be, it's difficult to budget for your spending.
Emmanuel from El Centro, CA
If you had to choose one, which would it be, Manchester United, Real Madrid or Barcelona?
I'll say Barcelona because I was there in 1993 and they showed "Leave It To Beaver" re-runs on TV, in Spanish of course, but I had seen them so many times that I knew what Ward, Wally, June, Eddie and the Beaver were saying in English, so I had that going for me, which was nice. Barcelona also has a nude beach for those that don't like soccer.
Jonathan from Green Bay, WI
Vic, in all your years of covering football, what player had the greatest football strength?
Carlton Haselrig. He might be the most naturally gifted football player I've ever covered. He didn't play college football. He was a six-time NCAA heavyweight wrestling champion. That's right, six-time champion, three Division I titles and three Division II titles. It can't be done now because they changed the rule that allowed it; I think it's known as the "Haselrig Rule." Haselrig never lifted weights. He was all natural and he made the transition to pro football so quickly that he was in the Pro Bowl in just his fourth season. I've never seen an offensive lineman dominate a star defensive lineman as he dominated Ray Childress in a game in 1992. The "Rig" developed some unfortunate lifestyle issues that collapsed his career quickly after it had peaked, but he left an indelible mark on me. In what might've been the first practice of his rookie training camp, he dominated the Oklahoma drill as a defensive lineman. Two years later, he was one of the best guards in the game. I liked him. I wish he played a full career.
Does good utilization of tight ends also bring eight to the box?
Yeah, good utilization of the tight ends could do that, but eventually your opponents would figure out that you're just trying to trick them with formation, and they'd overplay the pass by dropping quickly into the passing lanes at the snap of the ball. You know what else brings eight to the box? Running the ball brings eight to the box. Instead of finding ways not to run the ball, maybe you could just run the ball. It's not such an awful thing. It's fun to pound on a team and defeat its manhood. It makes you feel good and makes them feel bad. I'd like to see some good utilization of that.
Vic, what's your opinion of a player that refuses to play for a team that could potentially, or did, draft him? I've never been a fan of Eli Manning for this reason. Respect the game; it's a privilege to play in the NFL.
It's all about leverage. If you're good enough to pull it off, go for it. Eli Manning and John Elway pulled it off. If there's one thing I didn't like about the way they each did it, it's that their fathers were the muscle in the moves. Something about that just rubs me the wrong way.
Why does Coach McCarthy prefer to have the defense on the field first when given the choice at the start of the game?
He has a vision that goes like this: Defense holds, offense gets the ball and scores, then the offense scores late in the first half, gets the ball to start the second half and scores again. That's how you make that strategy work. William from Jacksonville, FL
How do Rodgers and Staubach compare?
I think Roger Staubach is the "old" quarterback to whom Aaron Rodgers most favorably compares. Rodgers combines the same quick release, arm strength, ability to throw from different arm angles, mobility and athletic instincts that made Staubach one of the greatest quarterbacks I've ever seen.
David from San Francisco, CA
I work in investments and spend much of my days thinking in terms of probabilities. NFL trades that involve draft picks have always perplexed me. You've written about the concept of teams collecting assets in the form of draft picks, often in exchange for proven players, however, when I look at the data, i.e. the probability a given draft position will turn into a roster player, starter, star, superstar, etc., I can't reconcile how giving up a known quantity makes sense in the context of probabilities and risk. What am I missing, mostly contract and salary cap stuff?
Yeah, you're missing contract and salary cap stuff, but mostly you're missing teams' desperate pursuit of youth. Every coach and personnel man in this league knows this is a young man's game. If a player qualifies as a known quantity, then he's probably got some years on him and a cap number to match. When you trade him for a draft pick, or let him leave in free agency in exchange for the compensatory pick you'll likely receive, you get the years and the cap money back.
First, I have season tickets this year in the new south end zone and after reading your articles the last couple of days I can't wait for the season to start. My question concerns PEDs. If the NFL and other sports want to get rid of PEDs, why don't they give the players a lifetime ban?
The players association wouldn't agree to it. Remember, the owners and the players have become partners. That's what I like about the salary cap. The fact that it's determined by revenue means the players are paid according to what the league earns. That kind of arrangement, however, puts a premium on a strong Collective Bargaining Agreement, which the league will have for eight more years. The CBA covers issues such as substance abuse. It's a strong policy that I'd like to see get stronger, but it'll require the players to agree to it. They are every bit as in control of this issue as the owners are, and I think it's imperative that the players acknowledge the health and safety issues involved. It's not just about the helmet.
Michael from Brookings, SD
Vic, Greg Jennings was on "First Take" and he basically said the only difference between Favre, Rodgers and Ponder was that Favre and Rodgers had wide receivers. Thoughts?
Are you overstating that a bit? Is it possible that you haven't moved on, yet, as Jennings has?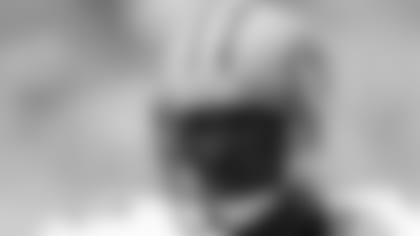 If Reggie White was the best rusher, why was he a left defensive end vs. a right defensive end?
It's because White was as adept at stopping the run as he was at rushing the passer, therefore, he could line up at left defensive end without worry of the opponent picking on him with the running game, and then face a less-able pass blocker to work against on passing downs. If he had been a 250-pound speed rusher, however, he would've likely had to play at right defensive end to avoid being pounded with the run game. I'll put it this way: You don't put Simeon Rice at left defensive end.
Robert Edwards. If the best way to make football safer is to remove the facemask, then perhaps the best way to make flag football safer is to remove the flags?
We stopped doing the Oklahoma drill because we're afraid somebody will get hurt, but then we do a beach football game in which one of the league's young stars sustains a career-ending injury. If that had occurred during an Oklahoma drill, there would've been outrage. Why?
It seems the Packers have a large enough fan base that they would easily fill more seats than what Lambeau holds, even with the new expansion. Is there anything that limits stadiums to the number of seats they can have?
The balance between not enough seats and too many seats is very delicate. Just one seat too many can bring with it devastating results. The Packers' ability to fill 80,750 seats is amazing. I think that's good for now.
The Cowboys have Jerry Jones' deep pockets and Green Bay has its fans and good stadium management. Can Green Bay keep up with teams like the Cowboys and the rest of the NFL with the stadium improvements, players and personnel?
The Packers are not a have-not and haven't been a have-not for a long, long time. I think your question pertains mostly to those teams at the bottom of the league's revenue rankings. Were it not for the current CBA and the favorability it affords small-market franchises at the bottom of the revenue rankings, it would've been very difficult for those teams to succeed financially as teams such as the Cowboys continued to push the revenue envelope and, in the process, transferred their player costs onto low-revenue teams that couldn't afford them.
Patrick from Watervliet, NY
"The big word in football is execution. All plays succeed on the blackboard, but men make them work."—Vince Lombardi
We've acknowledged this quote before, but I think what's most important to acknowledge is that arguably the greatest coach in football history is a coach who least relied on schematic innovation. His teams just lined up and whipped you. That's how you achieve greatness.
Jeremy from Circle Pines, MN
Vic, why does it seem there is more WR talent than DB talent?
It's easier to catch a football than it is to run backwards.