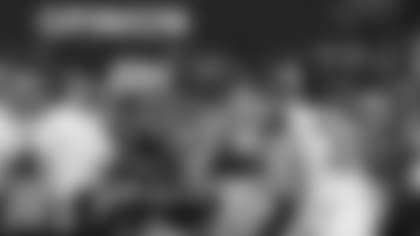 WR Jordy Nelson
The regular writer of "Ask Vic," packers.com Editor Vic Ketchman, is taking some time off. Staff Writer Mike Spofford is temporarily filling in to answer your "Ask Vic" questions.
Mike, do you know if or think Vic still reads the column when you take over for him?
I'm quite certain he does, and I'm glad you do, too. He has to make sure I don't hijack it with something controversial that sets him up for a barrage of emails that'll make his life miserable when he returns.
Why do I feel like Jordy Nelson is still underestimated by opposing defenses? Does he look like the front-runner to be Rodgers' No. 1 receiver this year? And who will opposing defenses key on this year (Cobb, Nelson, Jones, Finley, stable of RBs)?
If Nelson is underestimated, it's because he followed up his 1,200-yard, 15-TD season in 2011 by missing four games (and most of a fifth and sixth) in 2012 with hamstring troubles. In the meantime, Cobb emerged as a major multi-use threat and Jones led the league in TD catches. But Nelson is the Packers' best deep receiver and the one who, I believe, could benefit the most if the ground game improves as planned. The Packers lost some of their big-play explosiveness on offense last year and need to get it back. Nelson's yards per catch went from 18.6 in 2011 to 15.2 in 2012. If the run pulls defenses out of cover-two and brings a safety closer to the line of scrimmage, Nelson should get more one-on-one matchups outside. Let's see.
Greg from New Britain, CT
Good job on taking the reigns, Mike. Regarding the second-best defensive player for the Packers, how about Sam Shields? One site gave him a top-five cornerback grade (on a per-game basis) last year, and he really finished off the season well after his injury. Do you foresee him transitioning to our No. 1 corner and allowing Tramon to get easier matchups vs. opponents' No. 2 receivers?
I think Shields is a potential rising star, but Williams is still this team's No. 1 cover corner in my book. I'll take his experience against the top wideouts until one of the younger guys clearly outplays him, which, despite all the public criticism Williams received last year, hasn't happened in my view. My feeling on the "second-best" question is that it certainly wouldn't hurt if one of the corners reached that status, but with the Packers' depth and balance such a strength at that position, the defense might be best-served if its two "best" players were both in the front seven.
Mike, besides Aaron Rodgers, which player do you think we can't lose in order to have a chance to go far in the playoffs?
It's obviously Clay Matthews. He's the defensive player every opposing offense keeps at the forefront in game-planning.
Tom from Chesterfield, VA
Bishop notwithstanding, Datone Jones has upgraded our front seven significantly. What do you think about the safety position? Are Jennings/McMillian up to the challenge of teaming with Burnett?
They'll have to be, and I think they are because they're both young with plenty of room to grow. Rich from Roseville, MN, asked about Burnett and whether he can reach Nick Collins' level. Collins was a special, special player. I think the key to Burnett taking the next step is him being paired with a consistent, reliable partner. That needs to happen this season.
Matt from Tallahassee, FL
After yesterday's question about huddles, do you see a rule change in the future to reduce the time on the play clock to perhaps promote the up-tempo game?
No. Coaches and players can speed up the game on their own. There's no need to legislate it. The play clock is to prevent teams from draining an inordinate amount of time. There's a nice symmetry to the fact that, if the 40-second clock is maximized, a three-play series lasts two minutes. If the team in the lead has a first down at the two-minute warning of the fourth quarter and the other team is out of timeouts, the two-minute warning has become the final buzzer. I like that.
Aside from being out of football for three years, do you envision Jolly having a steep ramp-up learning the current Packers defense?
Not really. He was here in 2009 when Dom Capers first came in and was part of the No. 1 rushing defense in the league. I don't think there have been any wholesale changes in the responsibilities of the defensive linemen since then. Simon from Champion, WI, wants me to weigh in on Jolly's chances of making the roster and Eric from Mequon, WI, wants me to pick the Week 1 D-line right now. I'm not going to do either because it's simply too early. I need to see some padded practices and preseason games to give any sort of meaningful analysis there.
Brian from College Park, MD
Mike, you mentioned the Packers have only retired five numbers in their long history. Am I the only one who thinks Reggie White's number shouldn't be up there? Yes, he was a dominant player that helped the Packers win a Super Bowl, but he only played five seasons for the Packers. With how rare it is for the Packers to retire a number, I felt they overreacted to his unfortunate death. Convince me I'm wrong, Mike.
To nitpick, I'll point out White played six seasons here (1993-98). Bob Harlan always said and continues to say the four people most responsible for the resurrection of the franchise in the 1990s were Ron Wolf, Mike Holmgren, Brett Favre and Reggie White. That's good enough for me. As the mega prize of the NFL's first free-agent class, White changed or negated immediately the stigma many felt was attached to Green Bay about players' desire to play here. It's also true that Harlan spoke with White three months before he died in December 2004 and told him the team planned to retire his number in 2005. It was in the works before he died. It's a shame White didn't get that one last roar from the Lambeau faithful.
Mike, do you personally and honestly believe the Packers have made not only the required moves in the draft and free agency, but also schematically, to win another Super Bowl? I know that just getting out of the NFC is going to be a battle, but I will take a battle-tested, hot NFC team against an AFC team any day. I know the Ravens just beat the 49ers, but I think nine times out of 10 the 49ers win that game. It's the beauty of the sport, really. Basketball and baseball have these long series, which are entertaining (see Heat/Spurs Game 6), but there's nothing like the one-and-done scenarios. Thoughts?
I agree with your Ravens-49ers comment, and I think Vic would, too. As for the Packers, I'll repeat what I said a couple of days ago – the Packers have made the moves necessary to remain a contender. They have to get to the playoffs first, and then take their chances. Super Bowls aren't won in the offseason, nor from September through December. They're won in the postseason, and everything else is about giving yourself a legitimate chance. Nothing more, nothing less. It's the beauty, and the curse, of the one-and-done road to a title.
Tim from Spotsylvania, VA
Mike, when a coach or player is studying film, how do they sync up the play call with the film they are watching? In other words, how do they know what the specific play call is for the play?
The video department tags all the "cut-ups" electronically with that info. It's accessible for any snap a coach or player wants to watch.
Mike, I was reading your column when you commented that someone wore the No. 5 20 years later. Can you tell us who that was? Thanks!
Quarterback Vince Ferragamo wore No. 5 in 1986, 20 years after Paul Hornung's last game for the Packers. The number was then assigned two separate times during the 1987 season, to two rookie quarterbacks, Willie Gillus and Don Majkowski (before Majkowski was given No. 7 the following year). Finally, kicker Curtis Burrow wore No. 5 in 1988, and it hasn't been worn in a game since.
All this talk of uniform numbers got me thinking: who is the best Packer to wear each number? Curly Lambeau is obviously the greatest to wear No. 1, but where from there? Is Mason Crosby the best to wear No. 2?
Funny you should say that. We had the same discussion two years ago and put together a series during the lockout, when we didn't have OTAs and the like to cover. We chose eight numbers (30, 31, 36, 63, 80, 84, 88 and 90) whose various wearers we thought would generate the best discussions, detailed their career highlights and let the fans vote. I thought the most intriguing debates were with Nos. 36 (Michalske, Butler or Collins?), 80 (Lofton or Driver?) and 84 (Dale or Sharpe?). You can't vote in the polls anymore, but the series ran in 2011 between May 31 and June 24, if you want to find it in our archives. By the way, Lambeau is the only player to wear No. 1.
From an aesthetics standpoint, I believe the team uniforms of the NFC North are classic and timeless. Tampa, Jacksonville, and Carolina remind me of Warner Bros. cartoons. What's your opinion?
Have you seen the Vikings' new uniforms? Detroit and Minnesota are starting to look more and more like Jacksonville and Carolina, if you ask me. The "throwbacks" the Vikings wore at the Metrodome against Green Bay in 2011 is the classic look I love. The Packers and Bears are the only ones in the NFC North who have left a good thing alone.
Vic granted you the authority to nominate people into his hall of fame? I didn't know he was so humble. On what subject would you say you and Vic most adamantly disagree? Or are you two sweet peas in a pod?
Adamant is a strong word, but I would say we enjoy discussing football, and we love to argue about punctuation. No way our desks fit in the same pod.
Kerry from Belfast, Ireland
Hi, Mike. I liked the pre-draft "Prospect Primer" series and enjoy this column every day. The line from "Caddyshack" that Vic dropped into conversation, was it the famous last line?
No, Vic saw my clothes or my haircut (I forget which), and commented with the "free bowl of soup" and "looks good on you, though," lines. Glad you liked "Prospect Primer." I'm not sure if my voice-overs helped or hurt the cause, but it was something new we tried this year as a follow-up to our scouting combine coverage, and we hope to bring it back next year, tweaked with improvements.
In regards to the question about arm strength, the limiting factor in one's ability to throw is the strength of the shoulder joint, and its ability to roll over their body. Since it is a structural issue, once you are an adult you either have it or you don't. You can hit the gym and strengthen the muscles around it if you want, but you'll always have a ceiling defined by the strength of the joint.
Thanks for the medical lesson. Now can you tell me why since I started pitching batting practice to my third- and fourth-grade daughter's softball team, my elbow hurts like mad?
Hi, Mike. Always liked your coverage of high school football when you wrote for the Wausau Daily Herald. Who was the best HS football player you ever saw?
Those were some fun days back in the mid-1990s. If I had to pick one, I'd go with Derek Abney, a WR/RB/PR/KR for D.C. Everest in Schofield (a "suburb" of Wausau) who was the fastest player I ever saw in pads. Not a big guy, he went on to play at Kentucky and had a few return TDs as a collegian, I believe. During that time covering prep sports, I also saw Michael Bennett, the running back from Milwaukee Tech who went on to play for the Wisconsin Badgers and was drafted by the Minnesota Vikings, but I didn't see Bennett on the football field. He was running sprints at the state track meet and had everyone standing and gasping.
This is a game of replacement, and Vic isn't cutting it with his hoopla of vacations. Time for you to step up to the plate, Mike, and take the starting position.
I appreciate the support from you, John from Madison, WI, and others, but I'm going to need a vacation when Vic gets back, so then what?