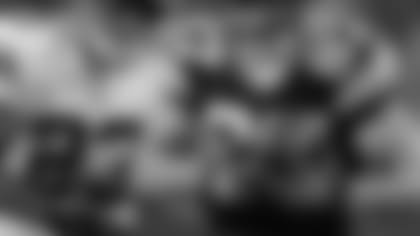 WR Jordy Nelson's 80-yard TD reception against the Giants in Week 16 of 2010 jump-started the Packers' six-game winning streak.
A.J. from Carol Stream, IL
Vic, last night was not fun. I can usually let losses go and not let them bother me, however, I live in the heart of Bears country and every fan I have come into contact with today is genuinely happy that they hurt Rodgers. I don't think I could ever be happy about our team injuring another player. Is this common around the league with fans? Are most Packers fans in Green Bay this way?
It's common for fans around the league to be jerks. I know many of them intimately. It's common for Packers fans to act responsibly, appreciatively, as they did last night when they displayed sportsmanship by applauding as Brandon Marshall left the field following a brief injury. Packers fans are a cut above. The next level for Packers fans is to be comfortable of that fact and not need to be reminded of it.
I went out back and shook the QB tree and nothing fell. Help is not on the way.
That's a healthy attitude. There's no time to chase rainbows. The Eagles have already started making plans for the Packers' demise.
I'm sad, Vic. Tell me a story.
Once upon a time, there was a good football team that had won five of its last six games and was starting to peak for a late-season run. Then, it lost its quarterback in a game it would also lose, 7-3. There was much wailing and gnashing of teeth in the team's kingdom. Woe was they. The playoffs were slipping from their grasp. The winds of winter were already beginning to blow. Then, the quarterback returned to the lineup and began playing the best football of his life. One win became two, two became three, three became four, and when four became five and five became six, winter became summer and everyone in the team's kingdom was deliriously happy and vowed to never lose faith again. Isn't that a happy story?
As if it wasn't enough that we had many stars injured coming into this, I'm now heartbroken. See you next year, Vic.
Way to keep the faith, Dan.
Vic, I think the success in the run game we had last night, even against a loaded box, proved this run game is for real. If Rodgers misses a couple of weeks, do you think we can continue running the ball effectively?
It'll be more difficult, but the commitment must be stronger than ever. That's what the running game is all about. It's about imposing your will. They have 11 hats; you have 11 hats. Block their hats.
During the few times Aaron has not been on the field, we have usually seen him with an ear bud or some sort of communication device. Do you have any insight as to why he was just hanging out on the sideline, as opposed to staying involved in a mentor/coach role?
I really don't have any insight on that, Larry. About all I can do is offer you what I would consider to be the logic of the situation. I had shoulder surgery last April. It really hurt. As I look back on it, I am absolutely sure that at no time while my shoulder was hurting did I want to be involved in a mentor/coach role.
Vic, I assume you have gone out back to check the backup quarterback tree this morning?
The quality veteran backup quarterback tree? Yes, I went out back and took a look. I found a lot of them lying on the ground, but they all had bites in them. Some of them were really eaten up and there wasn't much left but a stem. Some of them weren't too bad; you could eat around where other people had eaten.