*As part of the Green Bay Packers' celebration of the 10th anniversary season of the Super Bowl XXXI Championship, Packers.com is running a series of stories about the people responsible for bringing the Vince Lombardi trophy back home to Titletown.
With the season Desmond Howard enjoyed in 1996, it's almost a shock that the big-wigs in Hollywood didn't knock down his door with thoughts of reenacting his every move.
After all, you could make one unbelievable film based on the year Howard had in helping the Green Bay Packers win their first Super Bowl in 29 years. Among other accolades, Howard finished with 875 punt return yards, which demolished the NFL single-season record of 692 previously held by Fulton Walker.
He also held an NFL-best 15.1-yard average per punt return, making him the first Packer to lead the league in that category since Ken Ellis in 1972.
The irony to the Howard story, however, is that the movie producers probably wouldn't be interested in Howard's special season solely for how it concluded.
No, it's the fact that Desmond Howard's season nearly ended, at least in Green Bay, before it began.
Long before Howard earned three "NFC Defensive Special Teams Player of the Week" awards in the regular season as well as one in the postseason, he was fighting just to earn a spot on the Packers' roster in '96.
And it's not as if the Packers' brass wasn't giving him every opportunity to show what he could do.
General Manager Ron Wolf liked the potential that made Howard the No. 4 overall pick out of Michigan by the Washington Redskins in 1992. So he figured he had nothing to lose in taking a flyer on Howard.
The only problem was that Howard didn't get on the field that often in training camp. That is, until August 11, when the Packers hosted the Pittsburgh Steelers at Lambeau Field. Perhaps it still doesn't get enough publicity, but it shouldn't be understated that Howard began his legacy in Green Bay during what otherwise might be termed a meaningless preseason game.
Howard, who had played the previous season in Jacksonville, took a punt return for a 77-yard touchdown and neither he nor the Packers looked back with their return game from that point on.
Even Howard admitted that he came a long way in his quest from preseason pickup to special teams stalwart.
"It was such a special season because of the ups and downs," he said. "I think the trials and tribulations you have to go through make things that much sweeter at the end. So it was a great season from the Monday night victories we had, even going back to the preseason games. That game I had against Pittsburgh, with a punt return for a touchdown, it pretty much started everything up there for me. It's just a lot of great, great memories for a special season."
It may never be known why Howard didn't originally experience the same kind of success at the NFL level that he had at Michigan. Maybe it was because the Redskins and Jaguars were hoping he'd develop a little faster at wide receiver. Or maybe it was because expectations were too high for a player that once was one of college's best.
Whatever reason Howard's career didn't take off, at least initially, was even a mystery to Howard himself.
"I think as players, if you're a player from a big collegiate program who's used to playing in big games, you think it's going to carry over," Howard admitted. "You feel as though you're going to carry that over to the NFL. That's what you're about: big games.
"If you go to the University of Miami, I don't think those players think they're going to the NFL and then are not going to play in big games and be impact players. If you're from Florida State, Ohio State, Michigan or Notre Dame, it's the same. I think that's the real mindset of a player who has played in the big games and played in a big program that has been successful."
Well, to Howard's credit, he proved that he could indeed succeed on the game's biggest stage after all: Super Bowl XXXI.
The 5-foot-10, 190-pound playmaker did as he had all season, getting a game-breaking return when the Packers needed it most. With New England cutting Green Bay's lead to 27-21 near the end of the third quarter, Howard took the ensuing kickoff 99 yards for a back-breaking touchdown (the longest in Super Bowl history), bursting through the middle of the Packers' well-blocked wedge then juking kicker Adam Vinatieri to break free.
Howard finished with 244 total return yards in the game en route to becoming the first special teams player to ever win MVP.
Howard, who now lives in Florida and works for ESPN's College Gameday program, said recently that the Super Bowl was a dream come true for him.
"It's really one of those honors that when it's bestowed upon you, there's really no words that explain it, Howard said. "There are probably a handful of experiences in life that can fall under that same category. That's just one of those crème de la crème. It doesn't get any better than that."
The fact that it's been 10 seasons since the Packers won the Super Bowl also comes as a surprise to Howard. He mentioned that the highlight clips he sees of that special day make it seem more real.
"They (movies and documentaries) do such a fabulous job building up that excitement and getting that adrenaline flowing again, letting you know how special that moment really was," he said. "I think that's when you get an understanding of what you accomplished."
Speaking of recognition, Howard may have had one of the all-time best seasons in not only Packers lore, but NFL history as well. But it wasn't good enough to get him voted into the Pro Bowl in Hawaii.
Interestingly enough, Howard likes to use that story to illustrate just how good the Packers' special teams units were, and he doesn't mean just the return units, either.
"Some people don't remember that, but I was pretty much snubbed for the Pro Bowl that year, and they chose Michael Bates from Carolina," Howard explained. "Well, not only did we return kicks well, but we shut him down in the NFC Championship Game and he was the NFC special teams Pro Bowler returning kicks.
"And then in the Super Bowl, I believe New England had Dave Meggett and he was the representative from the AFC. So obviously we had a monster game returning kicks because I got MVP, but the flip side was that we also shut down the AFC Pro Bowler, Meggett, because they really didn't do anything. They didn't really bust a grape in the return game."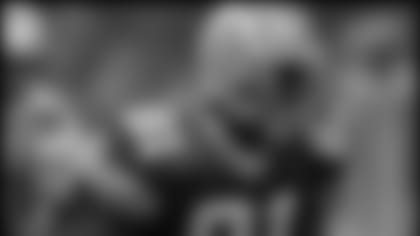 For all the success he had, it wouldn't be out of the question for Howard to take a bulk of the credit, but that's not his style. Instead, he gushes when he speaks of the quality teammates he had, not to mention Nolan Cromwell, his special teams coach.
"I think that those guys were very, very special," Howard said. "I always tell people when I talk about special teams -- and I don't know how much airplay this particular response gets -- but we had a great special teams both ways, returning kicks and defending against them. The kickoff team was special, the punt team was special. We covered kicks well and we returned kicks well. We were a very, very good special teams.
"That has to be attributed to Nolan Cromwell. Nolan Cromwell did a great job of preparing for us for teams week in and week out. But it wasn't just the return game, we took a lot of pride in stopping the top returners also. And I don't think that our special teams, those individuals that were a part of it, get enough credit."
According to Howard, it also didn't hurt that a certain leader stepped up and let the team know, after a Monday night loss versus the Cowboys in Week 12, that it wasn't acceptable for Howard to be suffocated every time he touched the ball the way he was that particular night.
"I pretty much just got pummeled by their best special teams coverage person," Howard explained. "And after that game, we watched film on Tuesday evening and I remember Reggie White stood up in the meeting and he was like, 'Listen, I don't want to see little Desmond getting hit like that back there again. If you got an assignment, you've got to get your man because we've got a guy who at any point at any time can go the distance. And if not go the distance, at least put us in excellent field position. So, I don't want to see this happen again.'"
It turned out to be a powerful memo, especially coming from a man of White's ilk. Fortunately for the Packers' sake, Bill Parcells and the New England Patriots didn't get the message until it was too late and Desmond Howard went from preseason pickup to Super Bowl hero.
Hey, if that's not a script straight out of Hollywood, what is?