Blair from Los Angeles, CA
Vic, despite the loss, somehow I feel OK about the future, seeing Aaron Rodgers play well.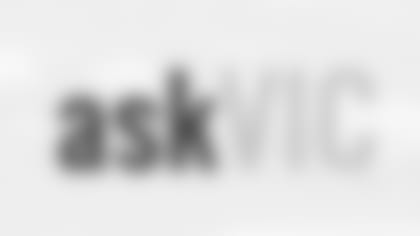 Caleb from Eau Claire, WI
Vic, would a more consistent pass rush have provided the difference we needed, or is that retrospective wishful thinking after facing one of the league's best offenses?
Clay Matthews would've made a difference.
Vic, what a great game. The only thing missing was luck. How does Green Bay turn it around for next week?
The Packers don't need to turn it around. They just need to make one more play, so to speak. A win would leave the Packers at 5-3 and on a playoff pace heading into the final eight games of the season. That works for me. It's all going to come down to what happens in December. It nearly always does.
Jerry from Wilmington, NC
Vic, your radio prediction was spot on this time.
It was spot off. I said the Packers would win if they had the ball last and needed only a field goal to win. That was my expectation and I blew it.
Greg from Hamilton, Ontario
Anybody else in your inbox complaining about the amount of commercial breaks on TV?
No, but I will. I found myself watching a documentary on ghosts because I couldn't watch that commercial about the guy walking into the door one more time.
Lots of people calling for the NFL to get rid of ties after the past two weeks. What is your opinion of ties?
They matter, so why get rid of them?
How does Sanu get matched on a LB?
Julio Jones was lined up on the same side of the field. Jones cut to the corner and took with him two defenders, including the safety in the middle of the field. Sanu cut toward the middle of the field, behind the linebacker and into the spot vacated by the safety. How do you wish to die?
Daniel from Fond du Lac, WI
The Packers are trying, but what is coach doing? There's no emotion. I don't see the coach even trying. He just stands there with a blank face.
Behind that blank face is the mind of a man who's thinking about challenging the spot of the ball because it would also allow the officials to review a possible 12th man on the field. Behind that blank face is the mind of a man who's thinking about plays he wants to call later in the drive or even later in the game. You want a cheerleader, not a coach.
Great game, except for crunch time.
For the good teams, the true championship contenders, it's about crunch time. The Packers have been championship contenders for a long time. The Falcons became one yesterday. That's what crunch time will do for a team.
Can you please tell Vic leaf blowing is rather therapeutic and tranquil as well?
You can't live where I do without owning a leaf blower, a pressure washer and a chainsaw. Matthew introduced me to a new sport: chainsawing a tree while simultaneously swatting mosquitoes.

Connor from Milwaukee, WI
I stopped reading "Ask Vic" because he is an idiot! Why did it take so long for the Packers to get quality reporters? The answers are amazingly great! I am thankful my prayers have been answered. This game will be the best test of football to date. May you live five times as long as Vic. Thanks for all the great answers to the insider questions. God bless.
OK. Bwahahahahahaha. I miss Vic. Now I'm sad again.
Besides the obvious answer of Jerry Kramer, who would be your top three Canton enshrinement oversights? I would say L.C. Greenwood, Jim Marshall and Ken Anderson, with honorable mentions for Chuck Howley and Alex Karras.
If Pete Johnson had gained one more yard, Ken Anderson would be in the Hall of Fame. Of course, then he wouldn't be the most underrated quarterback in history. Karras and Big Daddy Lipscomb were the most dominant defensive linemen of their time, but neither one is in the Hall of Fame. I don't get it.
Vic, I know you won't print this, but it's time to blow up this team like Ted Thompson did in 2005. This team peaked in 2014. The vets from that 2014 team, except Rodgers, aren't delivering anymore, and there is good talent waiting in the wings. You have always said a team must either be contending or rebuilding. Anything else is no man's land.
I apologize for printing this.
Ruble from Sioux Falls, SD
Vic, I'm glad to see you are taking a much needed break after a long time of football journalism. I enjoy your weekly short answers to our demanding Packers fans. Do you still enjoy answering them for us? Do you still love the game of football as much as you did 40 years ago? Thank you.
I love doing this column, mostly because I love reading the emails. Yes, I still love football, but the injuries and the penalties are beginning to frustrate me.
Are the offense and defense ever going to show up in the same game?
FULL CONSISTENCY? You don't get a lot of that in games against the upper crust of the league. You find a way to win. Any way is a good way.
Why does everyone rave about our offensive line? Seems to me Aaron Rodgers was the quarterback running for his life yesterday and most every Sunday.
A running game would help. It's a very effective pass blocker.
Justin from Stephenson, MI
What are you thinking, Vic?
I'm thinking if the Packers can get a healthy Eddie Lacy back, look out.
I felt better about the Packers performance this week in a loss than in any of their winning efforts thus far. Can you explain why that might be?
I think it's because Packers fans love offense. I think they'd rather lose 33-32 than win 6-3.
Can/should we just blame it on injuries, Vic?
It's not permitted. It's the siren song of the truly hopeless.
Now wasn't that a great game?
I can't remember seeing opposing quarterbacks in the '70s play at the combined level Aaron Rodgers and Matt Ryan did on Sunday.
Why didn't McCarthy take a timeout when the Falcons had the ball inside the 10 with a minute to play? That extra 30 seconds could have made a big difference in how we played that last possession. I've always been a big McCarthy supporter, but it seems like he just doesn't get clock management.
He gets it. As long as he had those times out and manageable time remaining on the clock, he was in control of his team's destiny. Had he spent those times out while the Falcons had the ball, the Falcons would've been in control. There was no predicting how many plays it would take the Falcons to get into the end zone. You might've had a pass interference penalty and a whole new set of downs. Having the ball and two times out remaining, needing only to move 40 yards to have a reasonable try at a game-winning field goal attempt, was manageable. It meant the Packers could work the middle of the field, instead of being pinned against the sideline. If the pass to Jordy Nelson had been complete, the Packers would've used one time out there, and still had one left to take before the kick. The Packers didn't run out of time, they ran out of downs. I'm comfortable with the circumstances the Packers faced when their offense took the field. I believed the Packers would win.
The worst thing that happened yesterday is we watched a great football game.
Losing is never the worst thing that can happen to you, unless it robs you of your dignity.
Toz from Golden Bay, Australia
Huge catch by Janis in the back of the end zone. I wasn't sold on him after the playoffs last season, because you could still see the mental lapses, but that's a big spot to make a play. Davis made some good ones, too.
How about Davante Adams? The young receivers are becoming dependable performers. The development of young talent is a wonderful event to witness. Patience truly is a virtue.