Derek from Eau Claire, WI
Vic, it has been approximately one year since the "Insider Inbox" launched. Can you reflect on the year for you personally and for the inbox?
It's been a year of transition, and now the transition is complete.  Next week, I will write my final column for packers.com. "Ask Vic" fully will become "Insider Inbox." It will belong completely to Mike and Wes. I give everyone this one-week warning so we might use next week's column to give "Ask Vic" a proper farewell. Let's make next week's column about memories, not plays. Let's reach down inside ourselves and find the riches "Ask Vic" has provided during the last six-and-a-half years. What has it been for you? For me, it's been everything.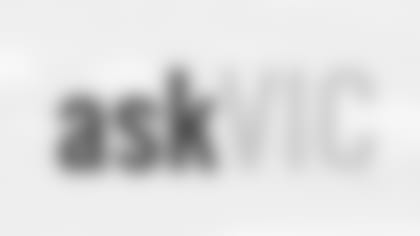 Tell us a football story we haven't heard before.
It's from very early in my career. I was walking with a couple of coaches back to the dormitory from lunch at training camp. One of the coaches noticed a player walking ahead of us who had been cut by the team a few days earlier. He called to the player to stop, which he did. The coach asked the player why he was still there. The player's answer left an indelible mark on me. He said, "I have nowhere to go." That's the moment I realized training camp isn't for the star players, it's for the desperate dreamers. It's for the players who have nowhere else to go. I have always looked for them, sought them out and their stories. I can still remember some of their names and the stories I wrote. I had this conversation with Donald Driver a few years ago, and he recalled having been one of those players. What a great story he wrote. It's the story of human confrontation. If you want to find the true meaning of professional football, look for the human confrontation. Find the desperation and you'll find meaning in what you're watching.
Vic, Cliff Christl's article on training camp lore included stories about hanging laundry out to dry on goal posts and a guy who was waived after running one lap. Do you have a favorite training camp story?
A journeyman receiver named Johnnie Dirden told me how he kept his dorm room dark and his door slightly open so he could sit behind it, look through the crack between the door and the jamb and see who was knocking. "They can't cut you if they can't find you," Dirden said. It's one of my all-time favorite quotes.
Vic, despite all the talk about Rodgers and the weapons he has or doesn't have, our success seems to come down to the defense, which has been in the bottom half of the NFL for years. Is it scheme, personnel or a combination?
In my opinion, it's never scheme at the NFL level. Why not? Because the investment of time at this level is too great, coaches are too football smart and the players' talents are too defined for them to be put into a consistently bad scheme. One coach will pencil-whip another coach on a play or in a game here or there, but not game after game. Performance is about everything else. It's about personnel and it's about developing that personnel. It's about finding and acquiring talent and teaching that talent proper technique and execution of scheme. The Packers have invested a lot of picks on the defensive side of the ball in recent years. My expectation, for lack of a better word, is for the acquisition and development of that talent to begin producing positive results.
Eric from Stramproy, The Netherlands
Your Packers legacy has now been defined. You will forever be remembered. How about that?
You've made me feel warm inside. Packers fans are good at that. No fan base has a better memory.
What are the advantages and disadvantages for a running back running from under center, pistol and shotgun?
I assume you're talking about the quarterback being under center or in the pistol or shotgun formations. The advantage for a running back with the quarterback under center or in the pistol is the running back lines up behind the quarterback, which means he can run downhill at the defense. The quarterback under center is a pure power formation. The pistol is an under-center/shotgun hybrid. In a true shotgun formation, the running back lines up in front of the quarterback, which means running plays are draw plays run from a stand-still start at hand-off. I see no advantage in the running game; pass rushers still have to respect the threat of a run.
Vic, if players had a choice of a super stat (fantasy best) year or a Super Bowl ring, which do you think they would pick?
No player would admit to picking a stat year over a championship. Are there players that might pick the stat year? Yeah, but not many. At the end of the day, it's all about performance. Did the player do his job? If the answer is yes, he can bathe himself in stats, if that's what he likes. Whatever it takes.** Brian from Alta Vista, IA
So, when you say best receiving corps, does that include tight end? If so, I think you have to give it to Green Bay.
In Green Bay, best receiving corps definitely includes the tight end position. I think that's true throughout the league in today's game. In the old days, the tight end was often not included in talk about the receiving corps. Chuck Noll believed tight ends were first and foremost blockers. He said when you throw the ball to the tight end, you throw it to the worst receiver on the team; every wide receiver can run faster, jump higher and catch better than the tight end can. It made sense back then but it doesn't today because today's tight ends are, in effect, wide receivers that are often not tight to the formation.
Vic, I don't like rule changes much either. If you could go back and remove 1-3 current rules, what would they be?
I don't like the coach's challenge. It's a ridiculous rule. Coaches shouldn't be responsible for officiating the game. Beyond that, justice shouldn't be at the mercy of intrigue. I believe football is more sensitive to rules changes than any of the major sports. Just think what adding or subtracting one down would do to the game. Three plays to gain a first down would all but eliminate the running game; five plays to gain a first down would produce a sharp increase in running plays. The game continues to evolve and I think we're going to see massive rules changes in the future, as the sport continues to react to its dangers.
Steve from St. Charles, MO
Given time, any good receiver can get open. Is there now or has there ever been a shutdown corner without decent pass-rushing teammates?
There probably has been, but when I think of some of the game's star cornerbacks, I'm reminded of star pass rushers with whom they were paired: Herb Adderley had Willie Davis, Rod Woodson had Kevin Greene, Deion Sanders and Charles Haley, Darrell Green and Charles Mann, Mel Blount and the Steel Curtain, Lester Hayes and Mike Haynes had Lyle Alzado. Defending against the pass goes hand in hand with rushing the passer.
The incredible readership of the "Insider" column was mentioned. What kind of numbers are we talking? Do you keep score between the three of you? What was the highest readership number recorded and when was it?
I don't have that information in front of me. What I can tell you is I remember two games being seminal moments in "Ask Vic" history. The first occurred in 2004 in Jacksonville, following a thrilling Sunday night game between the Steelers and Jaguars. Steelers fans took over the Jacksonville stadium, renaming Jacksonville Jacksonburgh, and Jaguars fans exploded my inbox the next day with Steeler hate. I've often referred to that column as the day "Ask Vic" was born. I have a feeling you can guess what the other game is. Yep, it's the "Fail Mary." By the time the plane landed in Green Bay, my inbox was beyond management. Insomnia was Wisconsin's No. 1 health problem in the wee hours of Sept. 25, 2012. That was the day "Ask Vic" was born in Green Bay.
Vic, what divisional skill position player will be most challenging for the Packers defense this year?
Lloyd from Albuquerque, NM
One of the lesser known statistics is that when Aaron Rodgers throws three more touchdown passes, he will reach 300. He will become the first quarterback to have done this without 100 interceptions. Do you know of any quarterback who could approach Rodgers with such pinpoint passes?
I don't think it's about accuracy as much as it's about seeing the field. I think Rodgers sees the field as well as any quarterback ever, and his pocket courage is the best I've ever seen.
John from Sioux Falls, SD
Insiders, I agree Aaron's hard count and long looks at the defense are an asset, but in defense of those who don't like it, I think Rodgers can grow too fond of it. Three negatives to doing the hard/extended count are: 1) It can disrupt the rhythm of an offense. 2) Having 300-pound men sit in their stance for long periods leads to inertia. 3) When you run the play clock down to zero each play, the defense can jump the snap because they know it has to come. I love the strategy in general, but I'd like to see Aaron mix it up more and not make every play into a plus-sized version of Simon says.
It's the trend in today's game and everybody's doing it. I'm not crazy about it because I like to see lines come off the ball low and hard, but those days are over, too. My big concern with the "tricks" game is teams that use them often rely on them.
Trevor from Bountiful, UT
Does Aaron Rodgers have the same arm strength as Brett Favre? I always hear stories of Favre breaking receivers' hands, ribs, etc. Does Aaron have the same strength but doesn't want to injure players, or was Brett just a different breed of QB?
Rodgers' arm is as strong as any quarterback I've seen play, and I covered Terry Bradshaw, who threw touchdown bombs with a feet-together flick of his wrist.** Bill from Menominee, MI
The closest us current fans will ever get to a Lombardi sweep is the Rodgers hard count. It's a play all defenses study and expect, yet, they still fall victim. Maybe they'll be talking about the Rodgers hard count era 50 years from now.