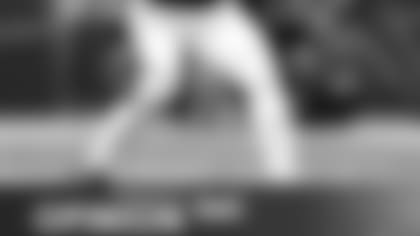 S Ha Ha Clinton-Dix
Why can't our team site report the undrafted free agent signings? Why do I have to read bits and pieces as I manage to find them? Why isn't there a definitive list of all who we've signed?
It's because they have either yet to sign their contracts or the conditions of that contract being final have not been satisfied. It's our policy not to declare that a player has signed a contract until, in fact, he has signed the contract and all of the conditions of that contract being binding, such as passing a physical examination, have been satisfied.
Kieffe from Carson City, NV
Vic, I don't understand why people are upset about drafting three receivers. It just insures we will always have targets for Rodgers. Wouldn't you agree?
When fans see a team has drafted a wide receiver, they envision receptions and immediately attempt to fit that player into the offense. When a team drafts a wide receiver, especially in the late rounds, it tends to see that player as he might contribute to special teams. Wide receivers are great athletes and they address a lot of needs on special teams as return men and gunners. Lynn Swann wasn't a starting wide receiver as a rookie; he was the most natural punt returner I have ever covered. Jared Abbrederis and Jeff Janis likely must prove they can contribute on special teams for them to make it onto the Packers' active roster.
Vic, no more chortling over how right the fans were, no more judgments of whether the third-round picks were reaches. I happen to think, as a whole, this draft was pretty solid. Even though Ha Ha Clinton-Dix may not become a star, I believe he will be a solid starter for the next five years and, hopefully, more. I love the Bradford pick, as I was able to watch a good amount of his games here in Phoenix. He's a high-motor pass rusher. Please give us your honest thoughts of the potential for the players in our draft class.
Darn it, I wanted to give my dishonest thoughts. OK, here are my honest thoughts: Ha Ha fixes safety. Done! I don't want to hear any more about it. I think Davante Adams will become the star of this draft class, not only because he's an undervalued talent, but because he'll be playing with the best quarterback in the game. Khyri Thornton is a tough-guy two-gapper, and they're always underrated and underappreciated. Joel Steed is the best defensive lineman I've ever covered that nobody remembers; all he did was eat blocks. Richard Rodgers is a project. If he was, in fact, a reach, why did the Packers reach for him? It's probably because they had information that another team liked him and was ready to pick him. Again, team boards are different from the draftniks' boards. I don't know much about Carl Bradford; our paths didn't cross during the postseason process. Tony Pauline says Bradford plays like his hair is on fire. I like that. The lack of length doesn't bother me. A lot of great linebackers lacked length. When they lack length and play well, everybody says their lack of length allows them to play with leverage. Whatever! Corey Linsley is a true center. The rap on him is that he's not real athletic. I don't remember describing Mike Webster as a great athlete. I can only remember one center I've ever covered that was a great athlete, Dermontti Dawson. Center is about being smart and tough. They say Linsley is smart and tough. I interviewed Abbrederis at the Senior Bowl. I thought he was the best receiver there. I professed my love for him long ago. I think I've already written that he reminds me of Wes Welker. I don't know much about Demetri Goodson. Why not? Because Baylor and defense don't go together. Goodson would seem to be a talented player hidden on a team that gave up points as though it was playing basketball. Janis and Abbrederis were on my planes to and from the Senior Bowl and coming back from the combine. I was stunned at how much bigger Janis is than Abbrederis. Janis really looks the part and he runs 4.4. Why was he available? Probably because he's coming out of a small school in one of the deepest wide receiver drafts ever.**
In the past, I just waited until the draft was over to read about the Packers' picks in the newspaper and never gave any thought to any other teams' drafts. The last couple of years, though, you've sold me on prospects the Packers didn't draft. Last year, it was Stepfan Taylor; this year it's Jordan Zumwalt. As a result, I find myself excited to compare their NFL careers to the players at the same positions the Packers drafted in favor of them. For example, Taylor and Johnathan Franklin. In this way, I think not getting my guy is helping expand my enjoyment of the leaguewide show.
Good for you. This is supposed to be fun; it's always been fun for me. A few days after the Packers' season ended in a loss to the 49ers, I was on my way to Mobile. It's how I turn the page. It was time to begin learning about the new men that'll be entering the league. I'll always remember this most recent Senior Bowl for how Aaron Donald and Chris Borland dominated, and I'll remember it for the interview I did with Zumwalt as he was leaving the field, blood trickling from his forehead. I remember the coaches telling him to stop hitting so hard, and I remember Zumwalt telling me about all the things you can do with a brick, including throwing it through a window. I'm a sports writer, not a scout. You know what I mean? Then came the combine and the pro days and the overkill and four months dedicated to learning about hundreds of prospects has been replaced by only needing to know about nine of them. So what do I do with all of that stuff stuck in my head that I don't need? I'll use it in this column along the way.
Vic, I'm on to you. You are letting us bask in glory for being right about Ha Ha because you know there's a decent chance he could not turn out to be the savior we think, at least not right away. Then you're going to remind us of it and it's going to hurt.
That's not it. I'm allowing you to bask in the glory so you might accept responsibility and ownership for this pick, because with responsibility and ownership comes anxiety. How's it feel to be the guy making the pick, huh? Little nervous?
If Jerry Jones' mouth is to be believed and Johnny Manziel was the best player on the Cowboys' board, they whiffed, right?
There are football people and then there are marketing people. A football person would never divulge the order of his draft board. Jones is a marketing person, and he's a darn good marketing person because he has managed to take nearly two decades of abject mediocrity and grow the Cowboys' brand to what you would expect of a team that has dominated the game during that period. When Jones speaks on football, I turn a deaf ear. When he speaks on marketing, I listen.
Vic, I just read an article that spoke of Vince Lombardi and his opinion of gay players, specifically Ray McDonald in 1969. "If I hear one of you people make reference to his manhood, you'll be out of here before your (butt) hits the ground." It must have been especially hard to make a statement such as that in the time period in which he said it. Even though we all have our own opinions on the subject, I hope there's a day in the future when we only care about football players for what they do on the field.
You don't have to be soft to be kind.
I like the Packers picks overall, but do not like that we did not draft an inside linebacker. Do you think that will come back to bite us?
What good does it do to say you drafted an inside linebacker if the guy isn't good enough to make your team? Do you remember what Tony said about inside linebacker? He said it was very weak and if you wanted one you had to get your guy early. You can't draft everybody. You do what you can do in the draft and then you turn to other platforms to patch perceived needs. Undrafted free agency is one of those platforms. So is what's left of veteran free agency. Or maybe the Packers have plans for addressing that position within their existing roster or within their scheme. Relax and trust that there's a plan.
No run on quarterbacks? It seems to me like teams have finally learned not to overvalue quarterbacks.
NFL.com's "draft tracker" offers numerical grades for each player selected in the draft. I couldn't help but notice that those grades, with a few exceptions, fell in a tightly descending order as the draft proceeded, which made it very clear teams were drafting from the top of their boards. Address needs? Every team is addressing needs with every pick because in the salary cap era every team has a need at every position. Where don't the Packers have a need? Would you turn your nose up at another left tackle? Even when you've got a couple of left tackles, every team needs a left tackle; it's that important of a position and it translates to nearly every position on the offensive line. BAP vs. needs drafting is no longer an issue and we need to let it go. Everybody is drafting for need and they're doing it without leaving the top of their board.
Vic, I saw the Packers signed OLB Hubbard from Alabama. What do you and Tony know about him? His ratings look like he should have been drafted in the middle rounds.
Adrian Hubbard was the subject of debate between Tony and me at the Senior Bowl. Hubbard passes the eye test. He's got the body of a first-round pick. If you like length, Hubbard is your guy. Tony loved him at the Senior Bowl. He kept going on and on about Hubbard looking like a power forward. I was more reserved in my judgment and I reminded Tony that we were looking at prospects to play football, not basketball. As I watched Hubbard, I didn't see a power forward. I saw Kevin Hardy, and he was a pretty good linebacker.
Patrick from Salt Lake City, UT
Vic, I was disappointed with the Richard Rodgers pick in the third round, but without any knowledge of Rodgers I don't know why I was disappointed. Was it because I had not heard of him? Or because his name wasn't mentioned anywhere in "Ask Vic"?
Vic, how do the Packers draft picks line up compared to Tony Pauline's rankings? For example, did Tony have our third-round picks rated about where they were drafted?
Tony had Thornton and Rodgers ranked a couple of rounds lower, and he had Bradford, Abbrederis and Janis ranked higher.
All I can say is finally a Wisconsin-born player drafted. It has been too long for that.
I'm happy for all of the Badgers fans and for the state's proud football fans that one of their own has been drafted by the team that defines football in Wisconsin, but please remember that this is the NATIONAL Football League, and you find football players where you find football players.
Scott from Bloomington, IL
Do I feel better? Yes, and your article was very helpful with giving me a better perspective. I especially appreciate your sentence, "Somewhere between fan perception and Thompson's rigid adherence to drafting the best available player lies the truth." With that statement, I can better reconcile what I saw with statements made by Mr. Thompson. In the end, I do like the players we drafted and hope to someday feel better about the tight end Rodgers.
There will be hits, and there will be misses. Relax with that inevitability.
I'm sure had we taken Abbrederis in the second round, no one would have said it was a reach. Low and behold, there he was in the fifth. Packers fans, focus on what you can get better at, cheering.
They're not gonna like you.
Josh from Salt Lake City, UT
Vic, what kind of pitch do teams make to secure the best undrafted free agents, and how hard do teams compete for players?
It's very competitive and the recruiting begins during the seventh round, as prospects begin wrestling with the disappointment they won't be drafted. That's when you can get your guys, and the common sales pitch is that we have need at your position and we have a track record for giving undrafted free agents a fair chance to make our team. In the Packers' case, that claim is the truth and the player's agent will confirm that fact to his client.