Tom Izzo can coach as long as he wants. Bo Ryan could have coached as long as he would have wanted. One title between the two of them over many, many years. In your opinion, what makes the difference between these coaches and the NFL coaches who the fans want fired all the time, even after they've won the ultimate title?
Reasonability. Pro football has lost it. Why? Because the game's owners are overly sensitive to the howl of the wolves. The more sensitive they are, the louder the wolves howl. The sad fact is it's good for business. I hate that.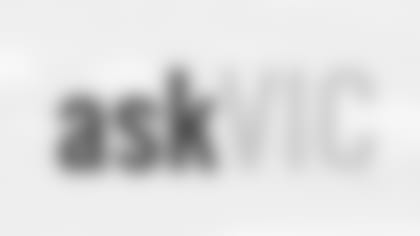 Sorry if I'm late to the great overtime debate, but what if the ball was given to the team that had the most time leading in points during the game? I realize dramatic finishes would be less likely, but doesn't a team that leads for 60 minutes of the game deserve the slight advantage?
Your suggestion is kind of nuts, and I'm kind of worn out by the great overtime debate, but if the NFL decided to satisfy the they-didn't-get-a-chance-to-score whiners by extending overtime by one full quarter before going to sudden death, I'd be OK with it. Be that as it may, isn't that what we already have? The fourth quarter was one whole quarter's chance for the Falcons to score. All they had to do was score one more time, but they didn't do it. Whose fault is that?
Which free agent in the NFL should the Packers be aggressive to try to pick up in free agency?
I won't brush off these types of questions this year. I acknowledge Aaron Rodgers' career has reached the point that a premium needs to be put on the present, so if the Packers can find a difference-maker in free agency, I'll sign off on taking a swing for the fence. Who is that player? We won't know until the tags go out and potential free agents have re-signed with their current teams.
Will Ted Thompson sign some defensive free agents to establish a solid defense or will he rely on the draft like countless years in the past?
I think he'll rely mainly on the draft; I doubt that will change. In my opinion, free agency is greatly overrated. Josh Norman did not make a difference for the Redskins, and he was a blockbuster acquisition in last year's offseason. That doesn't mean you can't find a guy; it just means the odds are against you. The Packers' salary cap is healthy enough for them to take a long, hard look at what will be available to them. If they believe an upgrade is available to them, I would sign off on trying to sign that player. Sign a free agent for the sake of signing someone? I'm bitterly opposed to that strategy.
People have made reference to it being easier during Lombardi's era to win NFL titles because you had fewer playoff games, but what people don't take into consideration is that now, with more teams, the rosters are weaker. Players who play today may not have even been on a team back then.
I would agree it was easier to win titles during the 1960's, but it wasn't because there were fewer playoff games, it was because the product had become diluted by the emergence of the AFL and the subsequent war between the leagues that left nearly half of the NFL uncompetitive and just trying to survive financially. Also, there was no salary cap in the '60's. If there had been, it would've been Taylor or Hornung, not both; Nitschke or Robinson, not both; Adderley or Wood, not both, etc. What the Packers did in the '60's has been committed to football lore and it should remain there.
Can you stand one more comment on this business of comparing Lombardi-Starr to Belichick-Brady? In today's short passing game, I think Starr would be terrific if he were playing today but, in my mind, as much as I love that man, there is no question Brady has more pure talent, so I'll take Brady. Now, isn't it true Belichick has never had a winning season in the NFL anywhere without a QB named Brady? So, is it Brady or Belichick? Lombardi took a one-win team and turned it into a powerhouse that never had a losing record under him. Then he went to the Redskins, who had been awful for years, and had a winning season there. I'll take Lombardi.
Let's try to sort all of that out. I agree, Bart Starr would've been perfect for today's checkdown passing game. His performance in the Packers' game-winning drive in the "Ice Bowl" was a classic example of it. Bill Belichick coached the 1994 Cleveland Browns, with Vinny Testaverde at quarterback, to an 11-5 record and a wild-card playoff win over the Patriots. Is it Brady or Belichick? Well, Belichick was 5-13 in New England when he made Brady his starting quarterback. Most great coaches have had great quarterbacks. It's a combination that seems to go hand in hand. Lombardi or Belichick? Each was perfect for when he coached. Lombardi was a teacher. He developed players. I don't think he would've been as successful in a salary cap system. Belichick is a manager. He replaces players. I don't think he would've been as successful in Lombardi's era.
With Rodgers being 33, it is probably safe to assume he has no more than seven or eight years left, and maybe less than that. How many rings does he need to challenge Brady for the title of GOAT, and is that number even attainable?
There is no official GOAT title. If you believe Aaron Rodgers is the greatest of all time, then he's your GOAT. If you believe it's all about Super Bowl titles, then he needs four more. I think Joe Montana nailed it last week when he said there is no greatest quarterback of all time. Why? Because there's no comparing the eras. Johnny Unitas played in a kill-the-quarterback era. Joe Namath said, "We're the trophy," referring to defenses treating quarterbacks as big game to be slain. Unitas didn't enjoy the protections Brady does. Think back to the brutal punishment Montana endured in the 1980's. I like sports debate, but we've taken it too far. I recently referred to Brady as the greatest quarterback of all time because I am in awe of his penchant for getting it done in crunch time. At that, he's the greatest I've ever seen.
Franz Liszt said: "If I miss practicing one day, I know it. If I miss two days, my friends know it. If I miss three days, the public knows it." Vic, do you still write every day?
No. Franz needs to play some golf and spend some time in the grill room. As I wrote in this column at the start of 2016, my new year's resolution was to be new. To that end, I am the new chairman of The Hammocks ARB. It's a new career for me, if you know what I mean. I tell people in the neighborhood they can't cut down that tree limb. I recently said that to a guy – he's from Wisconsin, by the way. I said, "Hey, I can make that limb go away, if you know what I mean." I'm still waiting for him to know what I mean, if you know what I mean.
Years ago, when I was the commissioner for our youth basketball league, I made up the schedule by hand on paper. Is that how the NFL still does it or do they have some fancy computer program that can account for all of the details?
Bert Bell did it by hand on paper. Bell died in 1959. Bell had heart problems and was advised by his doctor to stop watching football, to which Bell said he'd rather die watching football than in "my bed with my boots off." He got his wish. If Pete Rozelle isn't the greatest commissioner in NFL history, Bell is. He gave us the inverse-order draft, sudden death overtime and so much more. He taught us how to do it. Bell makes for a very good read on the roots of the NFL.
Vic, Perry, Hyde, Peppers, Jones, Lacy, Lang, Tretter and Cook. You can keep four without damaging your cap into the future, and your primary goal is to win the Super Bowl next year. Who are you keeping and why?
I favor young and ascending players.
What positions need more talent in order for the Packers to make key stops in which the defense gets off the field in playoff games?
One impact player can make all the difference on defense. If he's a pass rusher, he makes the coverage instantly better. If he's a shutdown corner, he cuts the field in half and allows double teams on the other receivers. The Packers need to find that guy and, based on what I saw this past season, a lot of teams also need to find that guy. Defense is tough to play in today's game.
With all the talk of the overtime and tweaking the rules, do you feel it is actually the rule or the fact a lot of people did not want the Patriots to win?
It's replay review. It's given license to debate and second-guessing. We're never satisfied.
Cindy from Sheboygan Falls, WI
Super Bowl 2017: Did the Packers join together as a team to watch the game or do they spend the time with family and friends?
I love your question. I love its innocence and sensitivity. Please stay young as long as you can.
Robert from Hagerstown, MD
Which player this year made the biggest impact, but no one seemed to notice?
I'll go with Lane Taylor.
Dennis from Fond du Lac, WI
Is free agency on the table to get secondary help and corners?
We won't know until after the tags go out and potential free agents are or aren't re-signed. My expectation is the pickings will be slim.
I attended a game when I was a child between the Detroit Lions and the Chicago Bears, back when Soldier Field was being renovated. The game went to overtime, and the Lions won the toss and chose to kick. Mind you, this was when first team to score won! My family still laughs at this on a regular basis.
I covered the first regular season game that went into overtime; it was in 1974. The overtime quarter ended with neither team having scored. Football was a defensive game back then. It was a game of field position. Teams elected to kick because they expected to get a quick stop. Players from that era should not be compared to players in today's game. They are very different games.