Ryan from Platteville, WI
Another fight broke out in practice, punches were thrown at helmets and Kevin Greene was caught in the middle of it. I like the nastiness of it, but I don't like how it's being presented.
What do you want them to do, shout I love you as they punch each other? All offseason I kept hearing soft, soft, soft. You want tough? This is how you do it. I've been waiting for this for two years.
Mike from Pickerington, OH
You must've loved covering that 1999 Jaguars team. Talk about one team having another team's number, though. Wow! Do you remember any other team beating every team they played but losing to one team three times in a season?
To this day, I'll tell you the Jaguars were the better team, but the Titans proved pro football is a game of matchups. The Jaguars kept throwing the ball and the Titans kept intercepting it.
Noel from Los Angeles, CA
Vic, I love reading your column and I'm excited the season is just around the corner. I don't know if you were able to catch the "Hard Knocks" series on the Cincinnati Bengals recently but I watched a very disturbed and annoyed James Harrison in the first episode and he has now spoken out to the media saying "they don't deserve to be here." What would this football world look like without the hard works of Ed and Steve Sabol? I think it's fascinating that people really see what goes on during the harsh times of the training camp process. What is your take on this, Vic?
Pete Rozelle's decision that allowed for the creation of what would become "NFL Films" was pure genius because he accompanied that decision with the commitment to present professional football for what it really was, and people ate it up. It was rough and tough. It was played by quirky men. It had an edge to it that fascinated fans. The game was built on the hard-edged personalities of players such as Harrison. He's the modern-day Bill Saul, who was the first NFL player live-miked in a game by NFL Films. The audio that was captured became a classic. It caught Saul actually targeting an opponent for injury. Harrison is out there, baby. He's a different dude and I get a kick out of him because he reminds me of the game I used to cover. I'll never forget his line to the media when he was asked what his thoughts were when he knocked out Josh Cribbs. "There goes the wildcat," Harrison said. I'm going to miss Harrison. He's the last dinosaur.
Don't worry, Vic, real fans know exactly what you meant about your casual fans love the passing game comment. Great teams have balance and there is nothing better than knowing your opponent can't stop your running game. That's the pure essence of football. Real fans understand.
I'm a casual fan of "America's Got Talent." I like it when a guy stinks and they rip him. My wife knows all of the contestants' names and how they performed previously and she almost always knows who's going to win. She has a rooting interest. I just watch it to get a little entertainment before I go to bed and read. As far as the show is concerned, however, I'm no different than her because I'm watching and that's good for ratings. I promise you, there are a whole lot more people like me watching that show than people like my wife.
Jim Thorpe would have played to win in the preseason.
I have never read a story that mentioned Thorpe sustaining an injury. He caught his own punts and never got injured. What would he be worth in free agency today?
Don't count us all out, Vic. Plenty of women love the run game. I like a rainbow as much as the next fan, but what I really want for Christmas is an offensive line that can run block and a two-headed monster that controls the clock, gives the defense a breather, gets me three tough yards when I need 'em and brings that extra man into the box so Aaron can do what he does. Run and pass, not run or pass.
What's wrong with being a casual fan? I enjoy football, but I have no time or patience to delve too deeply into the fine points of the game, from cover two to the salary cap. Yet, I still enjoy the game every Sunday. I even enjoy a good running game. If someone calls me a casual fan, I'm not even a little bit offended. It just means I like football, but that I also recognize that in the scheme of things football just ain't all that important.
There are a lot of advantages to being a casual fan: 1.) You don't care who wins the game so if it's a bad game you can take a nap. 2.) At the water cooler the next day, you can totally agree with whoever's favor would benefit you. 3.) You can buy whatever jersey is on sale. 4.) No one will hate you. 5.) You're the fan the NFL is targeting, so you're gonna get what you want.
Whoa, whoa, whoa, Vic. I'm not trying to sound feminist or anything here, but assuming all female Packers backers are simply casual fans is not wise. Sure, we may love seeing pretty pass plays, but some of us prefer smash-mouth, pads-down football. Personally, I would rather see a low-scoring, intense, physical game than a shootout. For some of us lady fans, the games really are more than just three and a half hours of entertainment. I do realize what the stereotype is, but that doesn't mean we're all the same. Give us a chance.
You're right, it would not be wise to say that, and that's why I didn't say that. As I went on to write in yesterday's column, women are occupying 50 percent of the seats at games. The game's explosion in popularity can be directly traced to its explosion in popularity among women. Women are driving the TV ratings and they are gobbling up NFL merchandise. They are the new NFL.
Jarrod from Monticello, MN
Vic, another zone-blocking question. At what point does it make sense to go away from zone-blocking and go to a more drive-blocking scheme?
When your linemen's talents fit a drive-blocking scheme, you use that scheme. The Packers' offensive line is a bunch of left tackles. The Packers like left tackles, which is to say the Packers like the lateral movement and athletic ability you get with a left tackle. Usually, a left tackle is athletic enough to be able to play anywhere on the line, especially in a lateral-movement scheme.  Zone-blocking is all about lateral movement, but that doesn't mean you do it all the time. In short yardage, you have to be able to move the line of scrimmage, and that involves drive-blocking.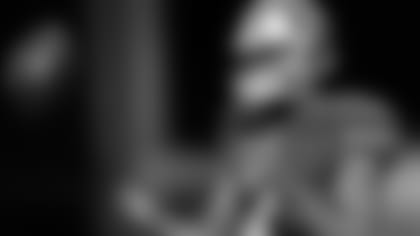 49ers QB Colin Kaepernick
I'm confused. So, casual fans and fans in general don't like running, but new-age quarterbacks are exciting because they run?
It's not about run or pass, it's about compressed or wide open. The running game is usually played in a compressed space that makes it difficult for fans to see the action. The passing game is executed on an open field that creates far more movement, and that's what fans find entertaining. New-age quarterbacks run in space. They're not pounders, they're open-field runners.
Thomas from Park Falls, WI
Vic, give us one guy who you thought didn't have a shot at making the roster in OTAs and first days of camp, that now due to his performance you think has a legit shot?
It's Tyrone Walker. I barely noticed him in OTAs. Then the pads went on and he jumped out at me. That's what you want to happen. OTAs aren't football.
Vic, I read on espn.com that the NFL and NFLPA have agreed upon and plan to include around 100 former players in HGH tests to determine a decision limit on the acceptable level of HGH allowed. Is it just me, or does this seem a bit unethical?
HGH is naturally produced by the body. From what I can ascertain, this study would include two groups of men. One would submit to receiving levels of HGH; the other group would receive a placebo. The intent is to determine where the level of natural HGH production is. I have no doubt the test would be executed with great caution and expert medical supervision. I would support any safe measures to heighten the process for detection and prevention of the use of PEDs in football.
I like that we are getting a lot of information on the right tackle position battle, but why don't we hear anything about the other offensive line positions? Has the rookie David Bakhtiari really been so good to have locked up the second most important position on the team? Are there really no other options (like Marshall Newhouse or Andrew Datko) in the mix for the starting center or right guard positions? I just don't want the starting job given to someone, like how I felt the starting center position was given to Jeff Saturday last year.
Yes, Bakhtiari has been that good. Sept. 8 is fast approaching. The Packers need to settle on a starting five as soon as possible because those guys need to work together. Line play isn't all about beat your man. It involves a lot of tandem blocks. The Packers offensive linemen practice those tandem blocks every day – I think it's one of the most entertaining drills in training camp – but nothing beats doing it in live action. Nothing is being given away. When it's decided that one guy is better than another guy, the switch will be made. I think we saw hard evidence of that when Saturday was benched in favor of Evan Dietrich-Smith late last season.
Lions WR Calvin Johnson
Vic, is there a certain team the Packers should watch out for this season?
Yeah, the other three in their division. Don't get so obsessed with the 49ers that you go to sleep on the other teams in the NFC North. The Packers are the target in this division. The Bears, Lions and Vikings all want to take the Packers down, and I think the Vikings and Lions got better in the offseason. What's Ziggy Ansah going to mean for that defensive line in Detroit? What's Cordarrelle Patterson going to mean to Christian Ponder's development, and what would a deep threat add to Adrian Peterson's game? If you like to worry, you've got plenty to worry about within the NFC North.
Let's assume the coach wants the next game to turn into a kicking competition. Does he tell Rodgers to go to the 30 and intentionally stall on separate drives so he can get that?
The coach is the play-caller; he can work it any way he pleases. I don't know what Mike McCarthy might do, but I can tell you that if I was the coach and I wanted to make a decision on my kickers and I needed more information on them, I'd work it so they were afforded opportunities to be evaluated. This is the preseason. It's about evaluation and preparation.
In the great pass vs. run debate, can we call it a draw? I believe it's a team's ability to correctly balance both that keeps a team winning.
Of course it's a draw. I'll tell you that in today's game the ability to pass the ball is far more important than the ability to run it, but I'll also tell you the threat of run will aid your ability to throw the ball and your ability to pound out first downs on third-and-one is critical. The 2010 Packers won the Super Bowl with the league's No. 24 run game, but it was the emergence of James Starks late in the season that helped balance the field and take the offense to a peak level of performance. The 2011 Giants won the Super Bowl with the league's No. 32 run game, but that's misleading because the Giants didn't catch fire until late in the season when Ahmad Bradshaw emerged as a rushing threat that balanced the field. I like the running game. I favor it for several reasons and I always have, but I acknowledge that this is a quarterback-driven league and you must be able to pass the ball.