*As part of the Green Bay Packers' celebration of the 10th anniversary season of the Super Bowl XXXI Championship, Packers.com is running a series of stories about the people responsible for bringing the Vince Lombardi trophy back home to Titletown.
Three-time MVP. Eight Pro Bowls. 52,615 passing yards. 4,678 completions. 396 touchdowns. 139 regular season wins.
In case you were wondering, the aforementioned numbers all belong to Brett Favre. Spectacular accomplishments to be sure, but anyone who has watched the legendary quarterback play -- even for five minutes -- understands that the most important, if not most impressive, feat of his career is the Super Bowl XXXI victory.
Of course, you'd need a dump truck to carry around all of Brett Favre's awards and accomplishments throughout his 15-year career, but make no mistake about it, bringing the Vince Lombardi trophy back to Green Bay had been his primary goal since he first donned the Green and Gold in 1992.
In fact, Favre has spent his whole career focusing so hard on winning it all that even he admits he doesn't know where the time has gone since that Jan. 26, 1997, evening.
"You know what I honestly think?" he said. "Damn, that was a long time ago, but it doesn't seem like that long ago. How quickly time goes by. I mean, it's been 10 years. I know that's a long time in some respects, but it seems like it was yesterday. And over those 10 years, I think about the changes that have occurred.
"You know, you lose Reggie (White), you keep in touch with some guys and lose touch with others. I think about all the guys I've played with in those 10 years. I'm still standing here in this locker room and most of those guys are gone now, but those memories will be there for a long time. I'm thankful of how far I've gone, but it's kind of an eye-opener to think about. It doesn't seem like 10 years."
Making the game even more special for Favre was the fact that it was played in the Louisiana Superdome in New Orleans, a short distance from his hometown of Kiln, Miss. But beyond the win, and beyond being surrounded in the company of family and friends, Favre topped his day off with another spectacular performance.
It's safe to say that expectations were high for the Packers and their 6-foot-2, 225-pound gunslinger entering the game, but it didn't take very long to realize what kind of day Favre and his teammates were in for. He passed for 246 yards, connecting on 14 of 27 attempts, with two touchdown passes and a rushing touchdown.
It certainly was an impressive day overall, but according to Favre, his first pass of the game was his favorite. It also turned out to be a tone-setter and gave the Packers the early momentum boost, as Favre found wide receiver Andre Rison down the sideline for a 54-yard bomb that gave the Packers a quick 7-0 lead with 11:28 left in the quarter.
At that very moment, it was the epitome of everything Brett Favre stood for as a football player: great play call at the line of scrimmage, beautiful throw, and then a celebration that symbolized exactly how much the game he grew up playing as a young boy still meant to him.
Favre immediately removed his helmet, clutched it above his head and ran down the sideline like a kid who had waited his whole life for that very moment. It certainly was a time that Packers fans will never forget, and it meant just as much to Favre.
"Probably throwing the touchdown pass to Andre, the first one," Favre said when asked what his favorite memory of the game was. "The one to Antonio was awesome, too, and was a record for a long time. But with Andre, here we are in the Super Bowl and I audible to this play ... It was everything you dream of, and it worked on top of that, so that's probably my fondest memory."
The aforementioned pass to Antonio Freeman was an 81-yard touchdown completion in the second quarter. It gave the Packers a 17-14 lead and was a Super Bowl record until Carolina's Jake Delhomme hooked up with Muhsin Muhammad in Super Bowl XXXVIII for an 85-yard touchdown pass.
Favre has continued to rewrite the history book as he has set almost every passing record in Packers' annals and is closing in on several of Dan Marino's NFL records, including touchdown passes and passing yards.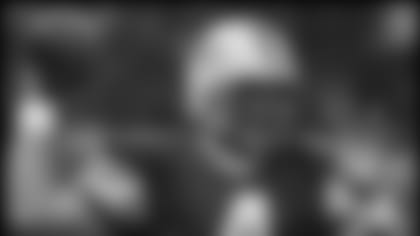 According to Favre, it's always been about winning and having fun, not setting records. His 221 consecutive starts make it easy to believe him when he says that he's always played for his teammates and given everything he's had in the name of victory.
However, it's the memories with those teammates that make Favre, 36, feel a little old.
"You know you're getting old when some of the guys you played with are now coaching," he said, referring to running backs coach Edgar Bennett (1992-96) and assistant offensive line coach James Campen (1992-93).
Favre primarily keeps in touch with former center and longtime roommate Frank Winters and is also close with Doug Pederson, now the head football coach at Calvary Baptist Academy in Shreveport, La. He also had remained in touch with Reggie White and even spoke to White during the week prior to his death.
As Favre mentioned, a few things have changed since the Super Bowl win 10 seasons ago. He possesses more records, has played in several games since, and most of his teammates have moved on or retired.
However, there is one thing that still remains the same.
Favre was the leader of a team that will undoubtedly go down in Packers history as one of the best ever, and in such a storied franchise, that just might be all you need to know to understand his legacy.