With my projections of improvement from Martinez, Elliott, Lowry, Fackrell and other young defensive players, do you think we would have the personnel flexibility to run the "Psycho defense" again? I feel like the exotic blitz packages would help with turnovers and build confidence to get back to our ball-hawking, bend-but-don't-break defense that will hold up just enough for Aaron and company to take over a game.
The "Psycho" wasn't a defense, it was a disguise. It was a gimmick that enjoyed some temporary success, and I suspect it could surprise an opponent and cause some confusion at identifying rushers and matchups, but individual improvement is more important because it's lasting. The degree to which the players you've mentioned improve their play will go a long way in determining the fate of this year's Packers.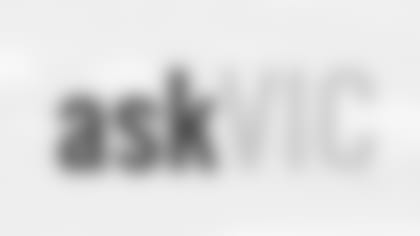 I was looking at the roster and noticed there are those who are listed with an "R" for rookie and those with a "1" in the experience column. What is the difference?
You can only be an "R" once, but you can be a "1" forever.
Coach McCarthy seems to have both hands firmly on the wheel of this coaching thing. Been watching his press conferences on packers.com for a few years now. Always well spoken and articulate with his comments, no matter what. Without ever meeting him, I can honestly say we're very fortunate to have him as head coach. Something he said struck me about his character: "Develop the man, then develop the player." Shows he cares about more than just the game on Sundays.
A coach needs to know what's inside his players to know how they'll react at crunch time. Can the coach count a guy to get it done? When you develop a man's inner strength, you develop his ability to win. I think that comment still rings true, but in today's game of replacement, it's becoming increasingly difficult for coaches to develop the man. Coach McCarthy is one of the best at it.
Rishit from Clarington, Canada
What if Bostick had recovered that onside kick? Do the Packers win the Super Bowl?
It seems every year a team makes the playoffs because of an easy schedule, and then gets exposed the next year when they have to play a first or second-place schedule. In an extended 18-game season, do you think the league would change the formula of first through last-place schedules so division winners aren't always handing each other losses, while lesser teams are stacking up wins over teams that are even worse?
Once upon a time, I would've agreed with your "easy schedule" comment. I referred to those teams as weak-schedule impostors. Those days are gone. True parity exists in the NFL. I see nothing wrong with the schedule formula.
"It's time to be new" was this column's headline when we learned you were taking a different and less significant role with packers.com. Any thoughts on what the headline will read when you say goodbye to us forever?
I guess it'll say it's time to be gone. Stephen Hawking says we have a hundred years to colonize a new planet or we'll all be gone.
George from Hutchinson, MN
Vic, in what ways might the coaching staff treat the rookies differently from the veterans during the OTAs and training camp phases of the preseason?
OTAs are about learning. The rookies have to learn the playbook to be able to compete in training camp, so I would say coaches are more patient with rookies during OTAs. Training camp waits for no one. At that point, it's game on.
Maxime from Messancy, Belgium
Great job you guys are doing here, but I freaking miss Vic; he was so great. Are you still in touch with him? If yes, what did he think of the players drafted and the offseason events ongoing?
Vic thinks the Packers drafted sensibly. He thinks they faced a choice early between rush or cover and they chose cover because their board dictated it. Vic thinks the Packers are enjoying an uneventful offseason, which helps focus a team on what's important.
Luke from Lake Delton, WI
I saw an interesting question about the Packers' celebration of their 100th anniversary in "Murphy Takes Five." According to what Mr. Murphy said, they will be commemorating the Packers' 100th in 2018, rather than celebrating the 100th anniversary of the Packers' incorporation in 1919. Will there be a celebration in 2019 as well?
You're only 100 once, so I get the sense next season will get all the candles, but the celebration will extend to the team's birthday in August of 2019. West Virginia celebrated its 100-year anniversary in 1963 by putting "100" on the sides of its helmet. I thought it was really cool. Patches are OK, but the G's the thing, baby. How about a G with the number 100 in it?
Spofford, I just want you to know a couple of things and how I feel, so you can give your OK. You're not the greatest thing since banana bread, as you seem to believe. Your choice of comments and questions ranks as the worst of any venue I've recently visited. You've become ETC (Entirely Too Cocky) as of late and it's really unbecoming. Your condescending attitude and I'm-better-than-you persona totally suck! And your sense of humor isn't. Just sayin'.
Dave from Lake Zurich, IL
There's a mini-camp invitee who's a kicker from Pembroke. Would that be the school affiliated with Oxford in England? If so, that could be an interesting story.
The player is Matt Davis and he's from the University of North Carolina at Pembroke. One of my college roommates was assistant basketball coach at Pembroke when my first son was born, and my roommate sent us a recruiting questionnaire addressed to my son. I still have the letter.
Defense is about attitude. Great defense has a leader that constantly motivates the other players and raises their ability and confidence. In 1996, we had Reggie White. In 2010, we had Charles Woodson. I know Mike Daniels is intense, but he isn't the vocal leader as much as he is the example. So is Vince Biegel the future vocal leader?
Daniels is all the voice any team needs. His bold style reminds me of another defensive lineman I covered: Dwight White. Of course, Dwight played with Joe Greene, L.C. Greenwood, Jack Lambert, Jack Ham, Mel Blount, etc. It's about playing, not talking.
Tony from River Falls, WI
When you watch football now, do you notice new things since your role has changed for the Packers? Do you have more time to enjoy the game, too?
I have more time to listen to the broadcast commentary, which helps me analyze and enjoy the game, but sometimes the TV analysis is over the top and I mute the TV because I don't need someone to tell me what my eyes see: The team losing is getting its butt kicked. When that happens, analysis becomes an excuse.
Vic, I look at all these young guys with incredible physiques coming into the league, and then I see the retired players who've had numerous surgeries, have chronic joint issues and hurt every day. They all know what is going to happen to their body, yet, they still keep coming year after year. Why? It's not fame or fortune because guys from the old days didn't make a fortune and most players aren't famous. Is it the human confrontation? The knowledge of knowing you are better than the other guy? What drives these young players into a profession where they know their incredible body will suffer?
You do what you do best. I've had numerous surgeries, have chronic joint issues and hurt every day, and I never played a down of college or professional football. None of us are going to die healthy.
UDFA is both cumbersome and redundant. Since undrafted is just one word, I submit the designation be officially replaced (on packers.com, from now through the end of time) by UFA.
I've always used undrafted because it was easier to type than hitting all of those shifts for UDFA. When we colonize a new planet, I'd like to see us adopt a no-caps writing style. Maybe President Trump could do an executive order banning capital letters.
The Packers potentially could have three tight ends with pass-catching skills on the 53-man roster. Would using all three as big-bodied receivers on some plays be another way to create mismatches?
Sure, but the thing I liked most about the Packers offense last season is it didn't have to create mismatches to win. It won the one-on-ones.
Vic, you wanted a banger. Scouts say Jamaal Williams runs hard, but all the real bangers like Lacy, Blount, Perine, Conner are 230 or more. How can a 212-pound running back be a banger?
Maurice Jones-Drew played at 5-7, 207 and he's one of the best pounders I've covered.
Yannick from Gatineau, Canada
I'll be attending my first Packers (and NFL) game this year in Cleveland. Any good advice for a fan to make this experience memorable?
Herb from Palm Desert, CA
Vic, I miss your daily wit and wisdom, but truly hope you're enjoying your new lifestyle. Is there any chance you may just get a wild hair and buy a ticket to an NFL game and sit in the stands surrounded by screaming fanatics, enjoy a beer and a dog, and watch a game from the same perspective as you did in your youth?
Buy a ticket? Sir, I am media. We don't buy.