There's clearly grass on the field for the first 32 pictures.
Then, that's also a relief. Good morning!
Zachary from Harrington, DE
Wes, do you think you could make the same catch on the boat with Aaron throwing you the ball?
Not a chance. I could hit water if I fell out of the boat, though.
How do you see the backup quarterback position playing out?
It's going to be fun to watch. There's intrigue with DeShone Kizer's potential, interest in seeing how Brett Hundley bounces back, and Tim Boyle finished the offseason program on a high note. There will only be so many snaps to go around with Aaron Rodgers taking the lion's share of the work, making each rep so important for all three backups. I don't know who will prevail, but the competition will bring out the best in all three.
Dan from Little Chute, WI
Why do folks think this year is a revenge tour for Aaron Rodgers? This isn't revenge; it's a reckoning.
It's not about revenge. It's about sending a message.
Training camp is just around the corner. There will be lots of interesting roster battles. Can you give us names of two or three players we know nothing about today that might make the final 53?
I've been trumpeting Emanuel Byrd for some time now and not only because **he has an inspiring story**. The guy isn't the biggest tight end you've ever seen, but he's the definition of an undrafted player who has done everything that's been asked of him. Don't sleep on him. Lenzy Pipkins and Lucas Patrick also are former UFAs competing for spots at deep positions. I thought both played well down the stretch last season, especially Patrick with a club on his hand again. That's what I look for most during camp – seeing how players who received opportunities the previous year due to injuries and how they put that experience to work in training camp. Now is when you put a name to your game.
Tommy from Reedsville, WI
If it's only "good" to have an ace in the hole, is it still "necessary" to have a hole in your ace?
That depends on the health of your football team and how the season unfolds. In 2014, the Packers were lucky enough not to need many next men up. The past two seasons have been a different story. Regardless, GMs want to build the best 90- and 53-man rosters possible to be equipped to handle it all.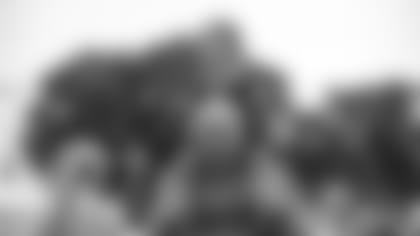 Which is more common: the sophomore slump, the second-year leap or the third-year leap?
Easily the second-year leap. At least, when it comes to the NFL.
The Yancey Thigpen picture made my day. I was smiling ear to ear. We were there the next weekend, New Year's Eve for the Atlanta game.
I have to double-check this with my father, but I believe the Thigpen game was the first NFL game I attended. Not a bad start.
To answer Christopher's question, my friends and I had a particularly unlucky cheesehead a few years ago. It had to be destroyed, but we didn't know how. The only proper way we could think to end it was by holding a proper Viking funeral, with the sound of "Taps" softly playing in the background.
People store old TVs, broken computers and iPhone 4 cords in their basements, so what's an extra foam cheesehead? Put it in a Packers shrine. Cherish the memories.
Matt from Los Angeles, CA
I am optimistic, but cautious, in regards to Jimmy Graham. How is it that he disappeared in Seattle with Russell Wilson at quarterback? Admittedly, I didn't watch a ton of Seahawks games, but yikes. Any idea what went on up there?
People ask this question all the time, but it's not like Graham was bad in Seattle. He actually set quite a few team records in his three seasons with the Seahawks. It just didn't match his outer-worldly production in New Orleans. Only time will tell, but I feel Graham is a better fit for Green Bay's offense than he was in Seattle.
Do you find your work is better when written under a tight deadline, or when you have a longer period to craft your words?
Deadlines push me to write faster, but not always better. I enjoy having more time to write, especially if the story is worth it.
Randy from Clarksville, TN
After seeing Jerry Kramer's kicking stats, I started thinking about who might be the best kicker/punter duo in Packer history. Thoughts?
If you mean "duo" as in who could punt and kick, I'd say Craig Hentrich. If you mean actual "duo," I'd say 1998, Ryan Longwell and Sean Landeta.
I think the very fact that Anthony from Baraboo, WI, feels the play of the year hinges on a single missed tackle proves that the decision-makers got it right. That single event determined the NFC champion. Hard to argue there could possibly be a more significant play than that.
There typically are somewhere between 120-140 plays per game each week, which is why we remember the missed tackles, forced fumbles and game-winning Hail Marys. As Spoff said, it's drama at its finest.
Wouldn't the same be said for retiring No. 12? After all, why would they retire Lynn Dickey's No. 12 only to give it to the No. 1 draft pick in '05?
Maybe someday they can do a dual retirement ceremony.
Steven from Coates, Stephens City
The Arizona game will always hold a special place in my heart. It showed Packers fans no matter how much our backs are against the wall, there's still hope. It doesn't just suck that we lost the game. It sucks Jeff Janis couldn't become the hero of the playoffs. I sincerely hope he shines in Cleveland.
I remember talking to my former colleague, Pete Dougherty, after the game. We both agreed the heroics and drama didn't fit the conclusion, making it difficult to summarize. The story should have been about Aaron Rodgers' greatness, Green Bay's resilience in the face of injuries and Janis breaking out. The ending muddled what should have been a beautiful portrait, but that's sports.
If GB had won in AZ, not only would that play have surpassed the Lions one, but it also might have been considered a Top 10 play in team history. It had everything – an unlikely hero, a season hanging in the balance, the playoff stage, the drama of a replay review. Amazing, yet tantalizing.
One of the best moments that never was.
Do you think there is any correlation between injuries and the restrictions the collective bargaining agreement puts on practice time?
I can't say that with absolute certainty, but the facts are what they are. Being in shape and football shape are two different things. I think the restrictions have stressed the latter when weighed against a 16-20 game season.
Darren from Alice Springs, Australia
As we still have a bit of time left before the new season begins and we forge ahead, what has been your most poignant memory about the Packers you got to share with a family member? I have a handful, and it helps me realize how my family loving this team has helped me stay connected to a father and brother who are of the "less than communicative" variety.
My most poignant memory is my Grandpa Hank telling me as a child how important it was for the Lambeau Field renovation referendum to pass in Brown County. He said it would ensure the team stays in Green Bay. I think about that often, especially after he passed away in 2015.
"Sweetness," "The Fridge," and "Bag o' Donuts" are all well and good, but can I get some love for Detroit Lions offensive coordinator Jim Bob Cooter? I know it's more of a "baseball" name, but every time we play the Lions I can't help but chuckle.
What makes me laugh is announcers always state his full name whenever he's referenced on TV unlike most coaches and players who become "Rodgers," "McCarthy," "Stafford" or "Caldwell" by the second half. It's always "Jim Bob Cooter."
How can we forget "Fuzzy" Thurston for a nickname?! How many fans know his given first name?
True. There's a good handful of Packers fans out there who don't even know his actual name was Fred.
James from Cumberland, WI
With all of our young receivers, do you feel that there is a need for another veteran WR or do we wait and see how training camp turns out?
You don't cut Jordy Nelson and draft three rookie receivers just to go sign a veteran off the street in July. The have Randall Cobb and Davante Adams, two solid veterans to help bring along the rest.
Marcus from Greenville, TX
How come there aren't as many players with awesome nicknames now-a-days? Is it laziness on the part of the journalists? Usually it was the journalists who coined the nicknames.
I wouldn't call it laziness, but you have a point. Journalism has changed over the last 40 years. Reporters aren't as "fan-centric" as they were early on. You don't see anyone throwing out nicknames like the "Four Horsemen of the Apocalypse" these days.
Patrick from Pearland, TX
The best sports nickname in my book is Stormin' Gorman Thomas. He earned it, running full speed into the outfield wall to make a catch and separating his shoulder. And yes, he hung onto the ball. Honorable mention goes to Mike "Yankee Killer" Caldwell. I hate the Yankees.
I see your Stormin' Gorman and raise you Russell "The Muscle" Branyan.
Kyle from Sun Prairie, WI
At a rehearsal dinner last weekend in Appleton, I asked the bartender for a pint of the Point and pointed to the tapper. My wife asked what I bought, I sheepishly said root beer. "Yeah right, what'd you really get?" I actually got root beer, on accident, and thought of II. What is your favorite BBQ item to eat? Ribs (baby back or spare), brisket, tips, pulled pork, loin, healthier like turkey, chicken, salmon, other? I'll set up in the parking lot at Lambeau so it can be ready for lunchtime.
I hope you enjoyed your unexpected surprise. I enjoy brisket and ribs. Pulled pork is OK, but everyone makes pulled pork.
My favorite nickname: Shane "Footsteps" Falco. I know it is fictional but "The Replacements" is one of my favorite football movies. I am also a huge Keanu Reeves fan!
I crack a lot of jokes about "Draft Day," but "The Replacements" is legitimately one of my favorite movies – and possibly my favorite football film. I toss the remote every time it's on TV.
Pancho from New Castle, PA
Let's not get caught up in who is the most, or least, diehard. If I'm wearing my jersey from the '70s, and yours still has the tags attached, I'm glad to cheer with another Packer backer.
What's this I hear? Common ground? The extension of an olive branch? Cats and dogs living together. Mass hysteria!