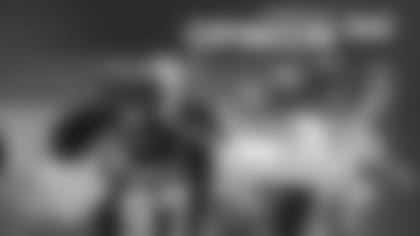 Pitt DT Aaron Donald
They wouldn't let me go. I begged.
Vic, Johnny Manziel is the next Doug Flutie.
Vic, what is the biggest difference in skill set between a safety and a cornerback?
A safety in today's game is a cornerback that can tackle. That's what you want your safety to be, but for that to happen, you have to have an oversupply of cornerbacks because the tendency is to keep a cornerback that can tackle at cornerback.
What are your thoughts on Jordan Matthews? You got to see him up close at the Senior Bowl.
He's Jordy Nelson but without Nelson's speed.
Adal from Moose Jaw, Saskatchewan
Do you believe the Patriots are still capable of winning a Super Bowl under an aging Tom Brady?
They surprised me last season. I didn't think they'd go as far as they did, which is a testament to Brady and Bill Belichick. Take either of those two away from that franchise and the window slams shut. It helps that the Patriots play in a division that doesn't present a threat to their dominance. I suspect it will stay that way this year.
Vic, do you think we need another cornerback?
Yes, I believe the Packers need another cornerback. That position is absolutely vital to a team's success; you can never have enough cornerbacks. For starters, another cornerback would allow Micah Hyde to make a full move to safety. Until you can flood the field in dime with six guys that you can say are all legitimate shut-down type cornerbacks, you don't have enough cornerbacks. Tony Pauline believes Darqueze Dennard could be available at pick 21. I would consider him a prospect for the Packers. Chris from San Francisco, CA
Adding your love of Motown to your feeling that people need to better appreciate the great moments of the game, here's Bill Withers: "One of the things I always tell my kids is that it's OK to head out for wonderful, but on your way to wonderful, you're gonna have to pass through all right. When you get to all right, take a good look around and get used to it, because that may be as far as you're gonna go."
And on your way to all right, you might spend a lot of time at stinks.
Love the column. You probably are the only sportswriter that truly seems to be non-biased, which is funny since you are actually an employee of a franchise. Are you a fan of any particular team in general? I know you have a thing for Chuck Noll.
I don't have a "thing" for Chuck Noll, I have a fondness built on appreciation for all of the years he graciously answered my questions. I am a fan of the Packers and good football in general. I watch for the scores of the other two teams I've covered, for I am also fond of them. I delight in knowing so many of the faces I see in press boxes around the league, and every game is a good game because it's another day in my life I was able to make a living doing what comes naturally, watching football. The obligation I feel is to my readers.
Why don't the Packers utilize a split backfield with Starks and Lacy more often?
Runners run and blockers block; that's the modern game. This is an age of specialization. The days of split backs are over. I covered one of the best split-backs backfield in history: Franco Harris and Rocky Bleier. Harris was the fullback and Bleier was the halfback. Larry Csonka and Jim Kiick played in split backs. So did Jim Brown and Ernie Green, and Jim Taylor and Paul Hornung. In split backs, the halfback is the blocker and the fullback is the featured ball carrier. The halfback is a guy that can block a lot and run a little. He's a kind of jack of all trades, as Hornung was. John Kuhn has some of that in him. He would've been a halfback in the split backs formation.
Vic, I think the Packers should select Calvin Pryor in the first round of the draft. Wouldn't it be great to see Calvin Pryor playing against Calvin Johnson twice a year?
Ben from Indianapolis, IN
Vic, you're the GM of the Houston Texans. You drafted Clowney with the first overall pick. You are now on the clock for the first pick of the second round. All QBs are still available. Who do you draft? Do you trade back?
At that point, I'm either going to draft a quarterback if he's at the top of my board, or I'm going to try to move to where the one I like fits.
Thomas from Milwaukee, WI
Are there any offensive linemen that fit at 21? Gotta get the big guys early, right?
Weston Richburg is the top center in the draft, and you're nearing his territory at 21. If I could trade back a little, get him and an extra pick, it would put a smile on my face.
As a kid growing up in the 1970s, I was awestruck by the Steel Curtain. My favorite player was L.C. Greenwood and his gold-toned shoes. Do you have any good L.C. Greenwood stories from your time in Pittsburgh?
On the day of the 1974 AFC title game, which was played in Oakland, Greenwood was sitting on a folding chair in a hallway outside the Steelers' locker room door. He was watching a TV monitor that was showing the NFC title game between the Vikings and the Rams. Raiders offensive tackle Art Shell walked by and playfully said, "Whatcha doin' L.C.?" Without taking his eyes off the TV, Greenwood said, "Just watching who we're gonna play in the Super Bowl."
Chris from Apple Valley, MN
Vic, has Tony Pauline talked about Zach Martin from Notre Dame and if he would fit in the NFL? Would he be available at 21?
Martin made a lot of money at the Senior Bowl. He clearly put himself into the first round. I suspect he'll be long gone by pick 21. One of my enduring memories of this year's Senior Bowl was Martin giving Aaron Donald a hug on the final day of practice. They were two men that truly distinguished themselves at the Senior Bowl. It's really a pleasure to cover practices that are as hotly contested as those at the Senior Bowl are.
Vic, now SI is running a story saying this is one of the deepest safety classes in years. Who do I believe?
I put my faith in Tony Pauline and he says it's a weak safety class. The crazy thing about this draft class is that I hadn't heard or read anybody praise it until Kevin Colbert exploded with his evaluation at the combine. I was stunned by what Colbert said, but he seemed to trigger an avalanche because since then everyone is saying this is an all-timer. Hey, I'm not a scout nor am I a draftnik, so take this with a large grain of salt: I thought the talent at the Senior Bowl was a definite step down from the previous year. I didn't see a lot of first-round type of talent at the Senior Bowl. Is there any chance this draft class is being overrated? Is the long wait possibly causing that? Are we trying to entertain ourselves?
Chris from Eau Claire, WI
Mel Kiper's latest mock draft has Teddy Bridgewater going in the second round. He actually has him rated higher than Bortles, Manziel or Carr, but he feels teams are looking elsewhere. If Teddy Bridgewater is on the board when the Packers pick, do you think the Packers will select him? This could be tremendous value.
If Bridgewater falls that far, the value for the Packers is the potential for finding a team that would be willing to trade picks to move up and pick Bridgewater.
Doug from Prescott Valley, AZ
Speaking of Arnold Palmer: In another life I was a marshal at the Bob Hope Chrysler Classic and was with the group ahead of his the last year he played. As he finished a hole, Arnie wearily borrowed a chair while he was waiting, and I realized this guy is as old as I am and gets just as tired. He autographed a ball for me. Really nice man.
Since we're telling Arnold Palmer stories, here's my favorite. I don't know if it's true or not, but I still love it. At the height of his popularity, "Arnie's Army" followed his every shot. On one particular occasion, a wayward drive landed next to a Porta Toilet. The "Army" surrounded the Porta Toilet as Palmer stood over the ball. He addressed the ball and there was silence. Just then, the Porta Toilet door opened. The guy coming out of the Porta Toilet stopped, looked at Palmer, who had backed off the shot, looked at the "Army," paused and then went back into the Porta Toilet and closed the door. There was laughter. Palmer addressed the ball again, but then stopped and knocked on the Porta Toilet door. The door opened and Palmer said, "I can't hit with you in there." Embarrassed, the guy left the Porta Toilet. The rest of the day, everywhere he went, people pointed and said, "There's the Porta Toilet guy."