How far away are the Packers from being a Super Bowl team?
They lacked a power running game this season, the result of injuries to Eddie Lacy and James Starks that ended their seasons early. The Packers did a wonderful job of scheming a running game, but I don't think it forced defenses to scheme to play the run. When Lacy was on his game in 2013 and '14, he was the object of the defense's early-downs focus. An offense needs balance, even when Aaron Rodgers is its quarterback. Defensively, they have to find ways to avoid injuries. They were overwhelming this season.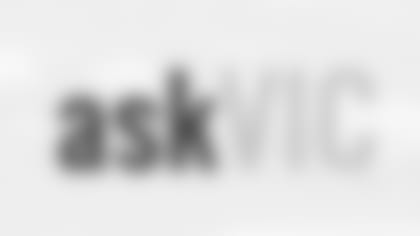 Guilherme from Curitiba, Brazil
What happened, Vic? Were we outplayed? Is it that simple?
I think the Packers are man enough to admit they were outplayed, but I don't think it's that simple. A missed field goal attempt and a fumble combined with a bad start on defense to put the Packers in early catch-up mode. All of a sudden, the game plan is out the window. It was similar to the game in Tennessee. With no threat of run, the Falcons teed off on Rodgers, and with that the Packers faced a doubly steep climb.
Are the Packers going to take steps to figure out why they have so many injuries year in and year out?
Mike McCarthy did that in the offseason prior to the 2014 season, and he devised a practice regimen I remember as having been praised by Peter King of SI. Coach McCarthy moved the Friday practice to Saturday, effectively giving the players a second day off every week. The strategy was praised for a somewhat injury-free '14 season. I've covered teams that have employed a wide range of offseason training regimens. Tom Coughlin wanted his players to get as big and as strong as possible. I remember a strength and conditioning coach who believed a team should do the least necessary, that one rep more than necessary was one rep too many. Some strength coaches are big on machines; others are big on free weights. Jack Del Rio hired a guy who used beach balls. The Steelers did downhill running in the '70s, the thinking being it would stretch hamstrings and help avoid pulls. Bill Cowher's players ran up the hills in the streets outside Three Rivers Stadium. The "Steel Curtain" trained on cheeseburgers and Kools, then Chuck Noll brought in a health-food guy and they stopped winning Super Bowls. I think you have to find players that don't get hurt, and I don't know how a team does that. Curtis Martin spent his college career sidelined by injuries, then went on to become one of the most durable players in NFL history.
We ran out of healthy bodies.
Yeah, about a month ago. I don't know how the Packers did what they did. Well, that's not true. I know how they did it: With Aaron Rodgers and a head coach who knows how to use him.
Team, all I can say is thanks for a great ride! No negatives from me. Your thoughts?
Raj Kamal Singh from Panama
Vic, now that the fun and good Packers season comes to an end, which position do you think the Packers need to draft?
They'll know where they stand at running back heading into the draft. It could become a position of focus. Otherwise, I don't see a position of glaring need, only the routine need for young additions across the board. It's what a draft-and-develop team does; it adds young talent every year and continues the process of developing that talent. It's how a team stays young and keeps its salary cap healthy. Draft a good player at any position and you won't regret it.
Getting to the Super Bowl is hard.
You bet it is. Only two teams get there. Consider this: Matt Ryan will be playing in his first Super Bowl. What's that tell you?
Herb from Palm Desert, CA
Vic, you officially spent the year as a fan. Tell us how differently you viewed the season. More importantly, did you enjoy it?
It's different because I'm not busy writing during the game. Now, I can sit and watch without the pressure of having to write fast enough to keep up with the action. I enjoyed it. I was able to digest more of the information the announcers provided. Be that as it may, I miss the press box, my friends and the atmosphere.
Christian from Champaign, IL
So what's the appropriate reaction? Lose hope for the future because we can't win with our current roster? Or point to missed opportunities as the cause for the loss and stay on the same track for next year?
The appropriate reaction is you feel bad. Don't manufacture a reaction. Let it happen. You shouldn't brush it off, but neither should you lash out. You maintain your composure and your dignity and you just feel bad. It'll pass in a day or two and you'll be happy you reacted as you did. This loss reminded me of the one in Arizona during the 2015 regular season. The Packers lost decidedly in that game and then returned a few weeks later and took the Cardinals into overtime. The Packers played the Falcons tough in Atlanta early in this season. Yesterday just wasn't their day. I think the grind and the injuries became too much to overcome against a Falcons team that appeared fresh and energized by the home crowd.
Vic, I salute the fine year the Packers had, but I'm disappointed in the performance yesterday. They were clearly outplayed by the Falcons and especially by Julio Jones. What was the biggest factor in the loss?
The Falcons' balance on offense demanded the Packers respect the run. It helped open the passing lanes for the Falcons.
Jerry from Wilmington, NC
Vic, it appears young Coach Quinn is an excellent NFL coach.
He absolutely is. He's the toast of Atlanta today. Do you think Falcons fans will remember that the next time they're feeling as Packers fans are feeling today?
Which is worse, losing the NFC Championship in a nail-biter, or losing the NFC Championship by getting beaten soundly for four quarters?
The loss in Seattle in the 2014 NFC title game is the most gut-wrenching defeat I have ever covered. I never felt as low about the outcome of a football game as I did on the plane ride home that night.
Tough way to go out, but more good than bad on the season. Which way is the arrow pointing as we head to the offseason?
For a final four team with a young roster and a quarterback for the ages? Really?
You write as though you enjoy it. Bring someone in that will share the pain.
What are your thoughts on our early running game? I thought we gave up early on it.
Had Aaron Ripkowski not fumbled, and had the Packers gone on to score a touchdown in that drive, I think you would've seen more running plays. That fumble was a game-changer. I think it was the turning point in the game. The touchdown pass to Julio Jones on the last play from scrimmage in the first half was the dagger. It reminded me of the Tramon Williams interception for a touchdown in the 2010 playoff game in Atlanta, except in reverse. Sometimes you do it to them, and sometimes they do it to you. When you become a fan of this game, you accept that inevitability.
Adrian from Milwaukee, WI
Was this a case of you can only get hurt at important positions so much before you're doomed, or was it a case of just getting beat down by a better team, or all of the above?
I'm fond of saying you're not hurt until your quarterback is hurt, but that's just a way of emphasizing the importance of the quarterback position. Through their winning streak, the Packers were able to win without the contributions of several key players, and it's because they have a quarterback who tilts the field. As I watched a procession of Packers players leave yesterday's game due to injuries, it became painfully obvious not even Rodgers could overcome the tilt of the field the Packers were facing.
It's time for you to print a comment and believable response to our defensive scheme, regardless of injuries and your bias toward Aaron Rodgers single-handedly beating the opponent. Will you do it?
Sure. The 3-4 is a time-honored defensive scheme employed by several championship teams, including the Patriots. It uses its defensive line to two-gap and keep blockers off the linebackers, who are then free to run to the ball and make plays. The coverages played behind that front are standard throughout the league: zone, man, press man, cover one, cover two, quarters, etc. You play what your personnel will allow you to play. Scheme wasn't the problem yesterday. I think you know that. That same scheme wasn't the reason the Packers beat Matt Ryan and the Falcons in the 2010 playoffs, and it wasn't the reason they lost to Ryan and the Falcons in this postseason.
Robert from Rotterdam, The Netherlands
Vic, I remember when the Falcons made that massive trade in 2011 in order to draft Julio Jones, you were asked whether it was a good trade or a bad one. Your reply was the price will have been worth it if Jones is able to take them all the way. Matt Ryan played great in that game but I think as much can be made of Jones showing the Falcons and the rest of the league the price was definitely worth it.
It's not a trade up I would make to draft a wide receiver, but Thomas Dimitroff made a bold move and he deserves credit for the result.
Tracy from Sioux Falls, SD
Would it surprise anyone if the false alarm at the Steelers' hotel could be linked back to the Patriots?
Jake from Los Angeles, CA
Thanks for the memories this season. It certainly didn't end the way we hoped, but I can't remember a more memorable season.
That's the proper perspective because memories make us rich, even when they make us feel bad.