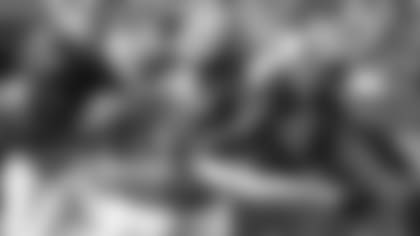 RB Johnathan Franklin
Vic, I just read Gil Brandt's rant on the possibility of the Packers being paper tigers. Maybe he isn't seeing the same games I've been seeing. Unreliable running game?
I would call it an emerging running game. I see the Packers as a team in transition. I see them building a strong running game and defense. Change doesn't happen overnight, and it can be awkward. If this all comes together later in the season, as I envision it happening, look out.
Denis from Philadelphia, PA
Is it just me or is anyone else getting excited about Johnathan Franklin? Fumble aside, the stats speak for themselves and his elusiveness is impressive; 103 yards in a half of football. The bitter taste is starting to fade away.
He was good in space; he found the cutback lanes. Franklin isn't a pounder, but that's OK because the Packers have one of those. Franklin can be a change-of-pace back who'll make Eddie Lacy a better back. James Brooks is one of the most underrated players from the years I've covered the game. I'm not suggesting Franklin can play to Brooks' level, but that's the kind of back I see in Franklin. Jacob from Eau Claire, WI
If the NFL is worried about player safety, then why is it that in the past two games we have lost players due to injury from head-to-head hits, and there have been zero penalties given on either one of those hits?
It's because the officials can't see everything. The official nearest to the Jermichael Finley play has to determine if Finley maintained control of the ball through contact with the ground. How can he watch for something else, too? What have I been saying for three years in this column? The rulebook is too thick. This week, Mike Pereira said it. Our expectations of the officials are unfair and unrealistic.
I think you skipped over one of your reader's questions about our efforts to lessen the hamstring injury issue. Does the Packers conditioning staff employ yoga techniques to stretch and improve the conditioning of the players' hamstrings? If not, they are missing out on a tried and true solution.
I don't know the answer to that question, but my guess would be that the Packers employ yoga techniques in their strength and conditioning. I'll also tell you that a player once said to me that he never had a hamstring problem until "I started doing all this damn stretching." Nobody knows for sure what the solution is, but I have a feeling that once you pull a hamstring, you're likely to re-pull it.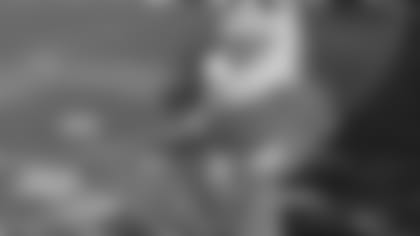 San Diego Chicken
Wow, that "Holy Roller" play was insane! I also find it funny that the video is on the Raiders page. Thanks, Vic!
Football had a more playful quality to it back then. We laughed more. Frankly, I think the "San Diego Chicken" provided the best entertainment in the "Holy Roller" play. Players spoke more openly. Writers framed their stories more entertainingly and less analytically. We weren't as consumed by details, and we weren't nearly as afraid of the fallout for what we said or wrote. I'd be lying if I said I don't miss those days.
Zack from Tallahassee, FL
Vic, a referee made a call, "False start, everybody but the center," this past weekend. I laughed at it, but I wonder if extra personality in refs has always been around or did we see the advent of look-at-me referees with the rise of TV?
It wasn't with the "rise of TV," it was with the advent of the miked-up ref. Before then, referees communicated their calls with body gestures. I'll never forget the first time I covered a game in which the coin toss was miked. It was for the season opener in 1976. The Steelers and Raiders were at the height of their "Holy Wars." The referee introduced the captains for both teams to each other, as though this was some SEC game, and Jack Lambert greeted one of the Raiders captains with two words that no doubt made the FCC blush but caused laughter in living rooms across the country. The advent of the miked-up ref has probably created the most dramatic change in officiating in my lifetime.
After seeing how the loss of Finley interrupted the flow of the offense, do you think we need another receiver?
Do I need to go out back and take a look at the quality veteran pass-catching tight end tree?
Cameron from Las Vegas, NV
Hey, Vic, with the bye week coming up, what do you plan on doing this weekend instead of watching the Packers game?
This is get-ready-for-winter weekend. I'll cut the grass and trim the bushes so they'll be ready for my wife to put up the Christmas lights after Thanksgiving. I'll also move all of the summer stuff out of the garage and into the basement, and then move all of the winter stuff into position. I'm talking about snow shovels, boots and, of course, "The Snowinator," which I will prepare this weekend by changing the oil, giving it a start and making sure it's ready to go. I will also watch a lot of football.
Is it common for coaches to be coordinators for a different position for which they played?
Chuck Noll played the offensive line but was a defensive line coach, defensive backs coach and defensive coordinator before becoming a head coach who served as his own offensive coordinator. It's more common for coaches to specialize at the positions at which they played, but good coaches can coach any position and on either side of the ball. Coaching is teaching and good coaches are good teachers. Cross-training forces coaches to know technique for all positions, and I think that makes for a better coach.
M.J. from Stevens Point, WI
What would be your favorite part about flying off to London to cover a game?
I think it's about time you have an article where you ask the questions and the fans answer.
Why is "everybody" so angry?
All this hamstring talk has me thinking about Clay Matthews' career. It seems like hamstrings are an issue for him every year. Do you feel his career is in jeopardy of being shortened?
I don't know about shortened, but it's causing him to miss games, games are sacks and, for him, sacks are the key to the Hall of Fame.
Vic, as an avid reader of your column, I can't help but notice your "Ask Vic" columns have gotten noticeably shorter while you have created an "Ask Vic Extra!" with a few additional questions that, together with the regular column, essentially equal about the same amount of questions that you used to field every day. What gives?
That is absolutely not true. I continue to use the same minimum requirement for "Ask Vic" edition: six computer pages on my computer. If an answer runs over six computer pages or if I need to go a little longer on a particular day, I do, but six computer pages has always been the minimum daily requirement and it remains that way. "Ask Vic Extra!" is an abbreviated in-season platform that provides a forum for breaking news. When you factor in the new comments section, which has exploded the content in "Ask Vic," the column's volume has been greatly increased. I think the comments section is the highlight of the column. I congratulate my readers on keeping it clean. I'll let you know if that changes because I monitor it carefully.
Gabriel from Appleton, WI
Do you have a favorite football movie?
It's "Rudy," but not so much for what's in the movie but for what happened when I took my sons to see the movie. On the way home, the youngest one asked where Notre Dame was. I told him it was in South Bend, Ind. A couple of weeks later, an envelope addressed to him came to the house from Notre Dame. I handed it to him, he opened it and inside was an autographed picture of Lou Holtz.
Vic, who's the first quarterback to pop into your head when I say accuracy?
Troy Aikman. You did that on purpose, didn't you?
I was just noticing the snow blower ad on this page. Is that you?
No, but I intend on making another snow blower video this winter.
Cameron from Lees Summit, MO
Vic, I was wondering what you thought about the Bucs benching Freeman.
Noll benched Bradshaw. It made him a better quarterback. Nobody is above benching.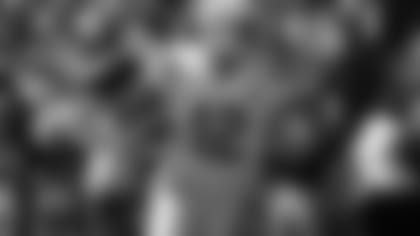 Colts QB Andrew Luck
If you were to take a survey of every NFL fan for every NFL team and asked them if they would rather have Aaron Rodgers as their starting QB or keep their current QB, how many teams do you believe would take Aaron?
I don't know what the fans would say, but I think every team in the league but one would trade their guy for Aaron Rodgers. The lone exception would be the Colts, because Andrew Luck appears to be headed for the same level of play and he's six years younger.
Jeff from Albuquerque, NM
Really, Vic? Are we here to humiliate? Given the extreme scoring at all levels of the sport, what do you want the winning teams to do, hike the ball and run the other way? If a team clearly cannot stop an opponent, then they should throw in the towel. It should be on the losing coach's head, not the winning coach.
Is that the new Olympic creed? "The most important thing in the Olympic Games is not to win but to humiliate your opponent, just as the most important thing in life is not the triumph but the enormity of the victory. The essential thing is not to have conquered but to have crushed your opponent so that everyone blames it on the coach."
Morgan from Fort Collins, CO
When you look back on your early days in football, were there moments teams were obviously about to start a decline? With the salary cap and all, it seems more obvious these days that the train is coming.
I think decline was easier to detect back then because there wasn't as much replacement on the rosters from year to year. We saw the Steelers getting old. We knew the end was near when they won their fourth Super Bowl.
In the one-on-one with Bakhtiari, he quotes Orakpo saying during the Redskins game, "I like you. You keep battling. I like this battle." Having played football, I enjoyed the battle as well and often wonder if the fans that aren't as attuned to this confrontation have never played before. Thoughts?
Football isn't for everyone, and that's a shame because it's difficult to understand and fully appreciate the real charm of the game if you haven't played it and experienced the human confrontation. The feeling that goes with leaving the huddle knowing you're going to get the ball, or the ball will be thrown to you, or you have to make the block on fourth-and-goal to win the game, is like no other feeling I've ever experienced. You don't have to play the game at the professional or collegiate level to appreciate it. To play it at any level is to have played it at all levels, because it is that human confrontation that is the foundation on which the game is built. Beat your man! Nothing, in my opinion, represents that confrontation more dramatically than runner vs. tackler.