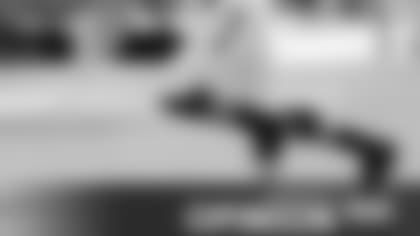 WR Jared Abbrederis
Justin from Rochester, MN
Vic, last year Mike McCarthy made his big-letters statement about the run offense and then followed it up with the flip-flop of the offensive line. That was a bold move that had plenty of potential to backfire, but whether you thought it was a good idea at the time or not, you could see undeniable visible evidence of his efforts to back up his statement. Now that he's made a big-letters statement about the defense, do you suspect we will see any noticeable change in approach on the defensive side of the ball this year?
Yes, I think we'll see a noticeable change on the defensive side of the ball this year. I don't know if that means a noticeable change in scheme, but I believe Mike McCarthy has made a deep commitment to improving that side of the ball and I think that will introduce a sense of urgency that will be easily detected. As for the flip-flop on the offensive line last year, that was meant to improve Aaron Rodgers' pass protection. The idea was to put the Packers' two best pass blockers on Rodgers' blindside. Then the most important of those two blockers, the left tackle, was injured on Family Night and lost for the season. That says it all about perceived needs and how quickly they can change.
Margo from Bloomington, IL
Why are OTAs referred to as the Underwear League? While I wouldn't mind seeing some of the players in their briefs, there are some who definitely need to keep their jerseys on.
Ruthann from Chippewa Falls, WI
The Packers were thinking defense. Why do you think they passed on Chris Borland? I loved watching him at Wisconsin.
We have to let this go now. It's becoming dangerous and I'm afraid I'll have to call in Father Merrin.
Nate from Minneapolis, MN
I watch as much college football as I do soccer.
Vic, I know some rookies have been successfully plugged in and done well (Hyde, Lacy), but it also seems coaches are quick to shut down some rookies quickly. You refer to it as giving them a redshirt year (Barrington, Tretter, House). Is it a tool used by draft-and-develop teams?
When a rookie sustains an injury that's going to keep him out of practice, in many cases he's going to fall too far behind to make up the ground in his rookie year. At that point, you might shut him down and bring in a veteran off the street that knows the game and can address an immediate need. As I've written, these rookies that get shut down are often forgotten by fans and become the equivalent of a second draft class the following year. Sam Barrington and JC Tretter are perfect examples of what I'm describing.
It's been a long day here in Fallbrook, Vic. We had nine fires in San Diego County today, but no reported deaths. I spent the whole day brushing up on my disaster-preparedness skills with my three sons. Seeing two different fires miles from my house was quite stressful. I'm looking forward to "Ask Vic." Thanks for providing healthy diversion to many like me.
California is hot and dry and we're cold and wet. I was muttering to myself on the way to work this morning, complaining about the longest stretch of miserable weather I have ever experienced, and then I read your email and I felt guilty. Thanks for providing perspective and I hope it rains in southern California.
Do you think we perceive a bigger need at inside linebacker because we were convinced Ha Ha was not going to be there so we became fixated on inside linebacker because we thought Mosley and Shazier were our guys?
No, we just like to complain. The draft, the weather, whatever.
I believe Andrew Quarless will be Underwear League MVP. It's his show now at tight end and he knows that if he wants to keep it that way, he'll have to bring his A game.
Uriah from Marysville, OH
Vic, last year Lacy rushed for more yards than anyone after October. Do you see him doing even better and leading the league for the whole year?
Why manufacture disappointment? What was wrong with what Lacy did last season? It's not necessary for him to lead the league in rushing. I want him to be exactly what he was last season, which is to say the pounder that forces defenses to get that eighth defender up to the line of scrimmage. That's what a pounder does. Defenses fear being overpowered. Lacy is everything I wanted him to be when he was drafted. I see no need to increase expectations.
William from Jacksonville, FL
You have a lot of OTAs under your belt. Who is in the "Ask Vic" Underwear League Hall of Fame?
Chad Owens is the greatest Underwear League player I have ever covered. He took the league by storm as a sixth-round draft pick in 2006. He caught passes and fielded punts with ease and made everybody miss in the open field. He looked like the next Az Hakim, and Owens carried his performance into training camp. Then the lights went on in the regular-season opener and Owens froze. He muffed three punts and had to be pulled from the game. He was never able to overcome his jittery nerves and his NFL career quickly ended after being given one more chance and he muffed another punt. In the Underwear League, he muffed nothing, and Owens went on to have a great career in the CFL. He won the 2012 CFL Most Outstanding Player Award. What does it mean? It means the NFL is a very different league from all of the others, especially the Underwear League.
Vic, interesting that the four free-agent linebackers the Packers signed to recent free-agent contracts also had the highest signing bonuses of any of the Packers free agents, $5,000 apiece. That might say something about how the Packers leadership defined their needs for the team after the draft.
One, two, three, squeeze.
Micah Hyde will be on the field frequently next season. Even with the return of Casey Hayward and the selection of Ha Ha, I would love for Capers to use Hyde as a roaming type of linebacker next to Hawk on passing situations. This would greatly improve our third-down defense. What do you think?
Douglas from Binghamton, NY
I grew up with a mom and a sister who would always have the gossip mags lying around, and when I would complain to my dad, he would say they have the celebrity stuff and we have the Packers. I just saw a headline on nfl.com that said, "Are the Browns trying to change Manziel?" I'm afraid I'm no better than my sister reading about the Kardashians.
Can Michael Sam find happiness in St. Louis? Will Ha Ha play Well Well in Green Bay? Join us tomorrow for another episode of, "As The League Turns."
Daniel from Des Moines, IA
I have recently started reading your column daily. I can say it has really been great. I love the objective coverage of the team.
Pay no attention to that man behind the curtain.
John from Port Edwards, WI
I pick Jared Abbrederis to lead the Underwear League.
Packers fans are desperate for a hometown guy to be a star on this team. Hometown guys are popular all over the league, but I didn't realize how desperate the need was here. If Abbrederis becomes a star player for the Packers, I believe he will become the team's most popular player. A mountain of endorsement money awaits him, if he can play. Tomorrow is the first day of rookie camp practices, and I get the sense Abbrederis will be the headline player.
I think it's absolutely ridiculous that people are even entertaining the thought of moving Matthews to inside linebacker; however, if the Packers did decide to move somebody from outside to inside, I believe Perry would be the best candidate. Who do you think would make the most sense, if anybody?
Nick Perry has the anchor for it. He's a knee-bender and he has the speed to run down the deep seam. I can see some LeVon Kirkland in him, but I also see a lot of pass-rush potential, and you don't move pass rushers inside. Nothing is more important than rushing the passer.
Vic, I am very excited to see what the linebacker Hubbard out of Alabama can bring to the table. I know he's an undrafted free agent but, as you said, he really passes the eye test. Please bring me and my expectations back to Earth.
Adrian Hubbard possesses the potential to be an OTAs star. As Tony Pauline said, Hubbard moves like a power forward, and when you see a guy with his size move with his grace, you get excited for what he might do. It's when the pads go on that the lights will go on for Hubbard.
Kylon from Talofofo, Guam
Vic, maybe the NFL should add a little spice to the draft coverage by having a Simon Cowell-like draftnik sitting in on the picks.
I completely agree. The draftniks are soft. I want some F grades. The most memorable moment in draft history might be Mel Kiper's tirade on the Colts pick, followed by Bill Tobin's sharp rebuke, "Who the hell's Mel Kiper?" We need more of that. I'm tired of hearing the draftniks describe prospects as though they were machines. Boring! Say something we can understand.
Vic, do you think Jeff Janis at 6-3, 220 could make a move to tight end? Put 10-15 pounds on him and we got ourselves a VD.
I hope you're referring to Vernon Davis. Let's allow him to be a JJ first.
William from Carthage, MO
I saw a question that said the guy was an American football fan and also a futbol fan. Your response was simply, "There's the problem." What exactly do you mean by that? To me it sounded rude. So you tell me what you meant.
I apologize for being vague. What I meant by that is I hate soccer. I despise soccer. If they were playing the World Cup in my backyard, I'd close the blinds, and then I'd call the police. If Pele called me on the phone, I'd hang up. I heard the Pope likes soccer, which only proves that when it comes to sports, the Pope is not infallible. I especially hate driving behind a van that has a soccer ball sticker on the back window. I have never hated anything more than I hate soccer. I hope that explains what I meant.