*As part of the Green Bay Packers' celebration of the 10th anniversary season of the Super Bowl XXXI Championship, Packers.com is running a series of stories about the people responsible for bringing the Vince Lombardi trophy back home to Titletown.
It's not surprising that Travis Jervey loves surfing and hanging out at the beach, having been born and raised in South Carolina.
Needless to say, when Jervey served as a backup running back with the Packers' Super Bowl XXXI team, he didn't get a chance to catch any waves during the season. But once the offseason arrived, Jervey would head to his favorite vacation spot: Costa Rica.
After four years with the Green and Gold, two with the San Francisco 49ers and three with the Atlanta Falcons, Jervey is now officially retired in South Carolina. But, he'd be the first to tell you that he's basically the same fun-loving extremist who loves to surf, work out, and spend time with his new wife Annie Vann Harlingen. He even has the same pet, Jaco, the Labrador he had in Green Bay.
Clearly, he still has the same interests, but Jervey also now finds more time for his business called Fit Street Fitness. He was a part owner of the fitness center for four years, but as of December, he took over the business completely, which has been a rewarding experience for the 34-year old Jervey.
"It's been really good for me so far," Jervey said. "I've been making some money and also interacting with people and helping them feel good, showing them how to work out, that sort of thing."
Jervey, the muscle-cut speedster who was always in impeccable shape during his NFL career, said he still works out every day himself. But when his career ended, Jervey was in unfamiliar territory and in some respects didn't know what to do with himself. He bought a house two doors down from his parents' residence where he grew up and spent six months in Costa Rica. And Jervey even took up gardening, until he admitted he got bored with it.
Jervey said it's difficult to beat the relaxation of Costa Rica.
"I hang out in Costa Rica all the time," Jervey explained. "I have 12 acres down there in the Dominical. I surf down there, and I have a bunch of friends down there. I've been going there for 10 years, ever since my first year in Green Bay. In the offseason, I was spending a couple months down there. Every year, I would spend more and more time.
"There are a whole lot of people from Wisconsin from down there. I bet my in my village there are probably 250 people, and there are probably 10 Wisconsin people down there. It seems like in all tropical places, there are a lot of people from Wisconsin."
Despite spending so much time in warm weather, Jervey laughs at the notion that playing in Wisconsin and getting acclimated to the cold temperatures would be a tall order for him.
"You know people think it's so cold there, but it's also one of the hottest places I've ever been," Jervey said of Wisconsin. "I mean Wisconsin summers are like 100 degrees. It's so hot. But I always enjoyed playing in the cold. I'm a big weather person so I like any kind of extreme weather."
Extreme weather in Wisconsin? Jervey certainly can attest to that.
"I saw hail in Green Bay and it was the craziest thing I had ever seen," Jervey said. "I went out in the middle of the night and it was completely silent, and then there were these crashes every now and then. It was hail the size of a softball and it wasn't shaped round. It dented my car all up."
Weather wasn't the only thing in Jervey's life that would fall under the "extreme" classification while he was in Green Bay, either.
Jervey lived with fellow running back LeShon Johnson during part of his time as a Packer and the two lived by the Oneida Indian Reservation, near the airport. At the time, Johnson had 18 pit bulls, and they both took care of a female pet lion named Nala.
According to Jervey, Nala was a great pet. It even slept with Jervey from time to time. But after five months, there came a point when they knew it was time for Nala to find a new home.
"It did bite me one night and that's pretty much when we decided to get rid of it," Jervey explained. "Once it got to the size of a dog, it started to get pretty aggressive. I mean, it was so durable and it looked like a cat, but acted like a puppy. It started to chew on everything. I felt sorry for it too. We played with it all the time, but obviously it's cold in the winter and we had to keep it in the house.
"We took it to a ranch and they are taking care of it. It's really doing well, it's out in Oklahoma at this ranch where a guy had been in the business for like 40 years. Kids can see it and it's got a good home."
A different home altogether is what Head Coach Mike Holmgren preferred.
"He was more concerned than anything," Jervey recalled. "He just wanted to find out if it was true that we had it and why we did. It was funny. He didn't want it to affect our game, I guess."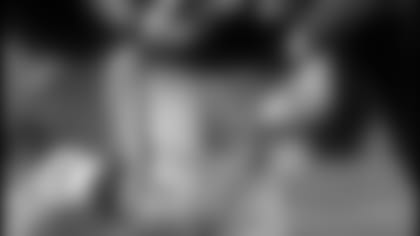 It turned out that Holmgren never really had anything to worry about. In '96, Jervey tied Bernardo Harris for the team lead in postseason special teams tackles with six, including three in the NFC Championship versus the Carolina Panthers. He also backed up Edgar Bennett and Dorsey Levens, which made carries difficult to come by.
But Jervey's role was still impressive considering he came from the Citadel, the military college of South Carolina. Even though the school was not known to produce a great deal of athletes, Jervey never thought his odds were longer than anyone else's to make it in the National Football League.
"Everyone's different I guess, but ever since I was a little kid, I said I was going to play in the NFL," Jervey said. "I really thought I would. I was always the best player on my team. The fastest. The strongest kid in my high school.
"I think my senior year we had the most yardage of anyone in the NCAA and I had the highest average per carry of any player. And once they timed me, I ran so fast, and I was definitely going to get drafted."
While Jervey acknowledges he had a lifelong goal of making it in the league, it would have been difficult for even him to predict he was going to play on a Super Bowl team once he got there. Just like so many of his teammates, Jervey cherishes the title he won in Green Bay and the piece of jewelry that came with it. And now he shares that excitement with those at his fitness center, too.
"I've been carrying it (Super Bowl ring) around in this leather bag lately," Jervey said. "Some people at the gym want to see it. I don't wear it, but I'll carry it around in this bag and break it out and show it to them. I'll wear it to special occasions, mostly. When I'm older, like 50, I'll wear it all the time I decided."
By then, Jervey will probably still be working out, surfing, and enjoying life on the beach. And he'll still carry the same allegiances to his favorite team.
"I'm still a huge Packer fan," Jervey explained. "I'll be a Packer fan for life. We were all family. They're my family's favorite team. Everybody that I meet, if they remember me, they remember me as a Packer."