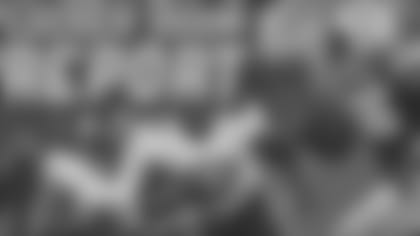 GREEN BAY—Julius Peppers made his 49-yard interception return for a touchdown look pretty easy.
It was the Lambeau Leap that was a tad difficult.
"I was pretty tired after that run," Peppers said of the score that began to turn Thursday night's showdown with the Vikings into a 42-10 blowout at Lambeau Field.
"I barely got up there. It was tough."
It might have been the only thing that was a struggle for Green Bay's defense, which overmatched Minnesota's emergency quarterback, Christian Ponder.
Ponder began the season as the Vikings' No. 3 QB but was forced into action following a season-ending foot injury to Matt Cassel two weeks ago and an ankle injury to rookie Teddy Bridgewater four days prior.
"That's the NFL," linebacker A.J. Hawk said. "He definitely got put in a tough spot. Coach (Dom) Capers did a great job calling a great game where we tried to create pressure the whole time."
Ponder never had a chance, putting up a paltry 45.8 passer rating and getting sacked six times. The pick-six by Peppers came after Ponder appeared to be hit by defensive lineman Luther Robinson, promoted from the practice squad earlier in the day.
The wobbly pass floated right to Peppers, who cut back across the field and got a nice block from teammate Clay Matthews as he cruised up the sideline and into the end zone to make it 21-0 midway through the second quarter.
"He's been running around like that all offseason, outrunning everybody," defensive lineman Mike Daniels said. "He outran everybody tonight."
On the play, Peppers scored his first touchdown since 2009 while playing for Carolina. He also became the first player in NFL history with 100 sacks and 10 interceptions in a career.
"It's a neat stat," the understated Peppers said. "That's pretty much it."
Ponder followed with another interception, the first of linebacker Jamari Lattimore's career, which the Packers turned into another score, and the rout was on.
Of the half dozen sacks, two were by outside linebacker Nick Perry, while Daniels and former Viking Letroy Guion each had 1 ½.
"It felt good to get to the quarterback," said Guion, who performed a bizarre sack dance no one could quite explain, even him. "You get juiced up when you're playing your old team."
A fumble by running back Matt Asiata gave the Vikings turnovers on three straight possessions in the second quarter, and they didn't even take a snap in Green Bay territory until three minutes remained in the third quarter.
At the time the Packers scored to make it 42-0 late in the third quarter, the Vikings had only 123 yards of total offense and eight first downs.
The dominant win sends the Packers into a weekend off with a record above .500 (3-2) for the first time this season. Having played three division games in a span of 12 days, their next game is 10 days away.
"Today, it seemed like it was close to a complete game," Matthews said. "We'll enjoy this one."