Jim from Menomonee Falls, WI
How do player contracts deal with injuries? A player could miss a few games and/or go on injured reserve. How do these situations impact his salary? Can the contract protect the team regarding an injury-prone player? What are the cap implications of the above?
Unless a player has what's known as a "split contract," he is paid in full when he is injured and/or goes on injured reserve. Undrafted rookies and other marginal-roster players often sign a "split contract," which provides that the player will be paid at a contracted rate that's less than a full year's salary, should he be placed on injured reserve. Star-quality players don't have split contracts. As far as the cap is concerned, just remember this: You pay it, you cap it.
Vic, I sense an uptick in your glibness. Maybe the Wisconsin winter is getting to you?
Maybe? My brain is fried. Sundays are the worst. I just sit in the house and stare out the window. I can't wait for the meaningless golf tournament of the week to come on TV so I can see green grass and blue skies. I haven't seen the ground in my backyard since Dec. 7; that was the day before the Atlanta game. You have to be either tough or numb to make it through these winters. I used up my toughness before Valentine's Day. I've been working on numb ever since. I don't know what I'd do without this column.
Vic, I love your sarcasm. I have one comment, though, as yesterday you said Cleveland is nicer than New Jersey. Whether you were being sarcastic or not is beside the point. New Jersey is way better than Cleveland. A lot of people say New Jersey is a bad state, but that is just a stereotype by people who have never been to New Jersey. New Jersey is really a beautiful state, hence the term, "Garden State."
I don't know. Cleveland is awfully nice, especially at this time of the year.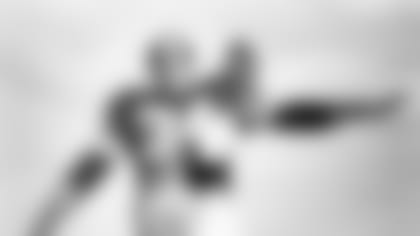 * Don Chandler*
Henrik from Uppsala, Sweden
Maybe the rule proposal about raising the field goal bar is to make it harder for players to dunk?
The proposal is to raise the uprights, not the crossbar. Raising the crossbar would be a major story. It would be the most dramatic rules change since the forward pass was allowed. Scoring would drop dramatically and that's not what the league wants. The Patriots are proposing that the uprights be raised from 30 feet in height to 35 feet. Some are applauding this proposal. I'm not. I know what caused the uprights to be heightened after Don Chandler's field goal in the 1965 playoffs, but what's causing this? In my mind, this is the product of having nothing better to do but sit around and make up silly rules-change proposals. Mark my words, if they raise those uprights five feet, a strong wind is going to bring those goal posts down or cause them to tilt, and then there'll be a long delay until they're leveled, and then we'll have a real controversy on our hands and there'll be a groundswell movement for the goal posts to be replaced by beams of light. We need to let the game alone. We're fussing over it too much. We're strangling it. We're losing touch with its roots. There is no impetus to this proposal by the Patriots. Wait until there is.
Robert from Oak Creek, WI
Another gripe from Vic about the weather in Green Bay. I'm sure you've seen worse. You have to be here because of your job. Outside of the time I spent in the Navy, I've lived here for 65 years. My question is why do I keep living here?
Because you found home. You know it when you find it, and bad weather is never reason to leave it. We're all trying to go home.
Vic, I was wondering what you would recommend to someone looking to become a sports writer?
I would recommend that you treat it as a secondary avocation. The days of coming out of college and stepping into a sports writing job are, by and large, over, which is a result of a shrinking newspaper industry. Newspapers were wonderful employers. They had heart and they were deeply rooted in their communities and loyal to their employees, and vice versa. Red ink changed that. A lot of my sports writer friends were forced to take buyouts. I'm fortunate to have made the move from print to digital when I did or I might've been forced to take a buyout. Sell insurance or cars or do brain surgery during the day. In your spare time, cover high school games for the local weekly or write for a website for fun, not money. See where that takes you. I'd be afraid of misleading you if I told you to chase a full-time sports writer job. I'm a dinosaur. I got lucky.
We have this old expression in my sales job regarding training. The sales manager says to the CEO, "What happens if we spend time and money training our employees and they leave?" The CEO replies, "What happens if we don't and they stay?" Reminds me a bit of your thoughts on draft and develop. Thanks for writing this column every day. I enjoy the heck out of it.
It's a game of replacement, even in your game. We need a constant supply of good people to replace good people. Develop is another word for education. When we stop educating, where do we get good people?
Josh from Oxford, England
I'm unclear about the circumstances under which M.D. Jennings left. He was an RFA, which I thought meant Ted Thompson had to tender him at a particular round level? Did this happen?
The Packers elected not to tender Jennings, which effectively meant the Packers did not intend to retain Jennings in 2014. He was an undrafted free agent, which meant he wouldn't return a draft pick as compensation had he been tendered at the original draft pick level and signed by another team. Anything above that would've been too high of a tender. He likely wouldn't have been signed by another team and the Packers would've been forced to pay Jennings at a salary higher than the value they assigned to him, if he made the team. It was better for him and the Packers to make a firm decision on his future with the team; it allowed both parties to move on.
Dennis from Charlotte, NC
Vic, how do you ban people? They can very easily just change their name, location and email address. I doubt you have the skills necessary to track and trace an IP address through an email address. By the way, banning me won't work.
John Hadl
Patrick from New York, NY
Do you have any memories of games the Packers played at County Stadium in Milwaukee?
Just one; it was the only game I ever covered there. It was 1975 and I remember that John Hadl was the Packers quarterback and both teams' benches were on the same sideline. I also remember thinking to myself, "What's happened to the Packers?" They were one of the flagship teams of my youth. My high school team fashioned its uniforms to resemble the Packers' uniforms. On that day in '75, I felt no Lombardi-like mystique. I blamed it on County Stadium and decided all would be different if I was sitting in Lambeau Field. It wasn't until eight years later that I covered a game in Lambeau Field, and it wasn't different. I was stunned by what I saw. Lambeau Field was sorely beneath NFL standards, and I remember thinking the Packers franchise was in danger. I don't think it's an exaggeration to say Bob Harlan and Ron Wolf saved this franchise. What a tragic loss it would've been to pro football had Harlan and Wolf not come to the rescue.
Mandy from Kansas City, MO
Vic, let's say the next Aaron Rodgers is on the board when the Packers pick this year. Does Ted select him?
I don't know what Ted Thompson would do, though I'm sure he would recognize the value available to him and find a way to maintain it. Quarterback is a special position. Everybody needs a great one, but nobody can afford two of them. That's the dilemma. I can tell you what I'd do: Draft him. If I really believed the next Aaron Rodgers was available to me, I couldn't sleep at night knowing I gave him away to the competition without being compensated. In my opinion, to do that is to tempt fate, and you'll regret it.
I know the Panthers and Jaguars did quite well when they were added to the league. Did that occur because both teams back-loaded too many of their contracts, or was the expansion process favorable to them at the time?
It wasn't about back-loading in the beginning. That came later, when the Jaguars pushed the envelope too far. In the beginning, it was about having an empty salary cap at the beginning of the free agency/salary cap era, when nobody knew what they were doing. Bill Walsh called it. He said the two expansion teams had a huge advantage. He predicted they would get real good real fast, and he was right. The Panthers signed Kevin Greene and Lamar Lathon. The Jaguars embarked on a project of addition through subtraction, by signing free agents from within their division. They signed Leon Searcy from the Steelers, Keenan McCardell from the Browns and Eddie Robinson from the Oilers. Later, they signed Carnell Lake from the Steelers and Gary Walker from the Oilers. The 1995 draft was pretty strong and the two expansion teams got extra picks, but other than for the Jaguars selecting Tony Boselli, I don't think either team drafted especially well in '95. Free agency was a big part of those two teams' early success. The Jaguars' trade with the Packers for Mark Brunell put the Jaguars over the top.
Michael from Wauwatosa, WI
If the kickoff was eliminated from the game, how would the game start?
It would start as a scrimmage would start, with one team having the ball at its 20-yard line. I actually think it would be kind of dramatic. The referee would blow his whistle and either the offense would break the huddle and come to the line of scrimmage, or it would already be at the line of scrimmage ready to snap the ball. I can feel the anticipation in the crowd. What do we have now? A kickoff that's going to go through the back of the end zone, which will put the ball at the 20-yard line. It's not always that way – Cordarrelle Patterson, for example – but until the weather turns cold and kicks don't travel as far, that's the way most games begin. Maybe we should give the receiving team the option to put the ball in play at its 20 or receive the kick. If it elects to receive and the kick results in a touchback, the offense puts the ball in play at its 15. If the kickoff is such a dangerous play that it's best if it goes away, then that might be a way to make it go away without it being eliminated by rule. I like kickoffs late in the season. I think it's a big part of late-season, cold-weather games, and I think teams that play outdoors should enjoy that advantage.
Alan from Springfield, MO
Vic, I'm 33 years old, have two kids, a Masters degree and have never played an organized game of football in my life, but I want to declare for the NFL draft. I have no illusions but I think it would be fun to do. Is that possible?
You were already in the draft. You weren't picked.
Adam from Chippewa Falls, WI
If the kickoff was moved up to the 40, would you expect an increase in onside kicks?
Yes, I would. If the kickoff line is moved to the 40, there would likely be an increase in onside kicks, which is one of the most dangerous plays in the game. That's not what the league wants. Receiving teams would likely put more good-hands players up front to guard against onside kicks, which means they would be light in the pants and lack blocking power for the return man, which would likely result in more pooch-style kickoffs. That's not what the league wants. I wonder what Rich McKay thought when he read that proposal.
Steve from Three Lakes, WI
Vic, 2/140ths of your salary for a New Jersey game? Why that percentage?
Income is allocated based on "duty days," which equal the number of days a player is required to be at work. In general, that ends up being about 140 days each year, from training camp until the end of the season. We usually spend two "duty days" on site for a road game. But, hey, I'm not a player! My "duty days" are, like, 250 or something. In this reporter's unbiased opinion, I am getting screwed.
Dave wants to thank Vic for his contribution to his state. Tell him when you see him.
Vic said he is not happy. Vic said to tell Dave Vic does not like Dave's state.