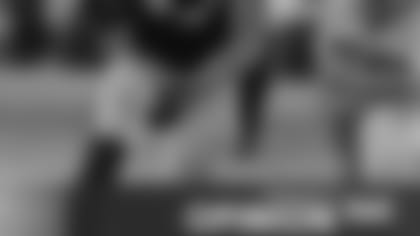 WR Jordy Nelson
The regular writer of "Ask Vic," packers.com Editor Vic Ketchman, needed another morning of rest. Staff Writer Mike Spofford is temporarily filling in to answer your "Ask Vic" questions.
Let me guess, an early morning April snowstorm in Green Bay and only Spofford could make it in to work? Is that why Vic could not write the "Ask Vic" column?
Thank goodness there was no major snowstorm, and Vic has a better snowblower than I do anyway. No, Vic's just been a little under the weather, but he's on the rebound, and he appreciates all the well-wishes many of you sent.
Vic, when do you expect the Packers to re-sign Cobb and/or Nelson this offseason? Or do you expect it to happen this offseason? It would be great if they could sure up those two receivers for the future.
I would expect the Packers to try to extend both players before the regular season starts. Kellan from Madison asked this, too, and these things have been known to get done just before training camp, but they can happen anytime. Once that contract year kicks off, though, players are often inclined to play it out and see what the market will bear. That can work for the player (Joe Flacco) or against him (Greg Jennings). The Packers were either extremely lucky or prudent – probably some of both – with Nelson back in 2011, his first contract year. He signed his extension after Week 3 and then went on to post 1,062 receiving yards and 13 TDs over the final 13 regular-season games. His 48-game career totals when he signed the new deal were 1,469 yards and eight TDs. He could have broken the bank after '11, but instead the Packers made a wise investment and have had his services for a relative bargain since then. Nelson won't be a bargain this time around. With both players, it's all about finding a "win-win" number that also involves concessions by both parties. The team sacrifices money and cap room now to lock up a player long term for less than the market might dictate later on. The player likely sacrifices maximum market value for a substantial raise and up-front bonus money now without the contract-year injury risk. When both sides truly want to get a deal done, it usually happens.
Not that I dislike any of the prospects hailing from the Big Ten, but I was wondering if there will be any Prospect Primer videos not on Big Ten players? Thanks!
Yes. We decided to start with the Big Ten, and our last two videos from that conference were posted yesterday. Today we'll start on the Pac-12, and we'll also have sizable batches of players coming from the SEC (East and West) and ACC, plus a few from other leagues, independents, small schools, etc. Hopefully my voice can hold up between now and the draft.
Do you have the list of who the Packers will draft in front of you?
Of course. I just don't share it with Vic, because I don't want to spoil his fun.
Andrew from Arden Hills, MN
Vic, with Matt Flynn still unsigned, are there plans of bringing him back to back up Aaron Rodgers or will they target a QB in the upcoming draft to fill that need?
The same question came from Mark from Toledo. Mike McCarthy has stated his desire to bring Flynn back, and I think the odds of that happening are good. It's possible the Packers are waiting to see if they get a quarterback they like in the draft, or perhaps Flynn is waiting to see how the draft shakes out and whether he might prefer to take a shot elsewhere. Or both.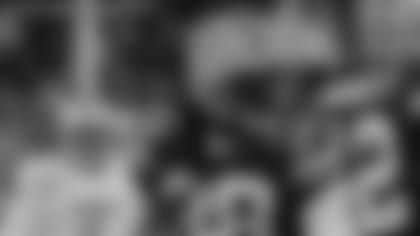 CB Tramon Williams
Vic, I think one thing the Packers defense is lacking is a solid leader. Aaron is clearly the leader on offense but do you see a leader on defense? Or is the Pack still in need of someone to step up and take that role?
I think the leader on defense is clearly Clay Matthews, but when he missed half the season last year, there was a void in more ways than one. That said, Tramon Williams and A.J. Hawk are bigger leaders on this defense than many realize by the example they set. They aren't rah-rah guys but they are highly respected in that locker room, and for good reason. Williams getting back to his top-notch form in the second half of last season made a huge difference in his presence. The guy who appears to be an emerging leader on the defensive line is Mike Daniels. He's not afraid to speak his mind, and the more his game develops, the louder his voice might become. And then there's Julius Peppers, whom you could call a wild-card in the leadership category.
I see the Rams are considering trading the No. 2 pick. Am I wasting my time or should I ask a question about it?
Looks like you did, and you are (as did several others who are actually dreaming of the No. 1 pick). Moving up from 21 to 2 won't happen. Draft trade charts aren't an exact science, but depending on which one you consult, the Packers would have to give up their entire draft this year (minus the compensatory picks, which can't be traded) plus something like a second-round pick next year to move up to No. 2. The chances of Thompson doing that are as good as me being named his successor as GM.
Vic, I'm from Connecticut and I'm a huge UConn fan. Did you follow the tournament at all? And if so, what do you think about UConn's run?
Impressive, obviously, and congrats to the Huskies. The NCAA Tournament was full of drama and intrigue, as always, and it was a great run for Wisconsin fans like myself as well. UConn needed overtime to win its first game, and less than three weeks later it's the national champion. That's the tourney, and that's what makes it great.
Vic, in regards to your comments about if Kuhn's last name was Smith … Packer fans do love their fullbacks. William Henderson was a workhorse for us for 11 years and we as fans didn't have a catchy call for him.
I had been waiting for Vic to drop his line about Kuhn's last name on you guys. I can't tell you how many times I've heard him say that. Several others mentioned Henderson, too, and I remember the fans' affinity for him. I have no problem with Kuhn's cult-hero status, but be forewarned his re-signing is no guarantee he makes the final roster, depending on how the running back/fullback/tight end numbers look. If Lacy, Starks, Franklin and Harris all make the team, as Rusty from Fond du Lac suggested, a fullback on the final roster is not a given. Kuhn will be the first guy to tell you he still has to earn his roster spot, and if he does, he'll deserve it.
With such a deep RB core, why don't we consider DuJuan Harris at kick or punt returns?
Who's to say the Packers won't? I don't see Harris as the punt-return type, but he did return kickoffs briefly for Jacksonville in 2011.
Is there a date yet for Family Night at Lambeau?
Not yet. Once the preseason schedule is set, which should be later this month, then the training camp schedule can be finalized and Family Night is part of that. For reference sake, last year the date of Family Night was announced in mid-May.
I like the philosophy of acquiring compensatory picks. But since it's not the picks but what you do with them that matters, in your opinion have the Packers been able to recover the value of the players lost with something close to equal value from the players chosen with those picks? I'm not asking with a hidden agenda or because I have an axe to grind with how TT chooses to run his team. I would just like to know whom they've used those picks on over the years. P.S. - Thanks for expanding my knowledge.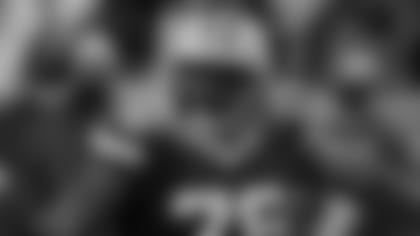 DL Mike Daniels
Like anything in the draft, there are hits and misses. When the Packers lost Ahman Green in 2007, they used a 2008 compensatory pick on Josh Sitton. More recently, the Packers have gotten good value by using compensatory selections on Marshall Newhouse, Davon House and Mike Daniels, while the compensatory picks used on Jerron McMillian, Andrew Datko and B.J. Coleman didn't work out so well (though the latter two were late seventh-rounders). We'll see what happens down the road with Josh Boyd. Don't get caught up in replacing one player with another, however. Getting more picks is all about getting more chances to step into the batter's box, because in the draft, nobody bats 1.000.
Thanks for filling in, it's a nice change of pace. Hope Vic is OK. Anyway, you guys do a good job of explaining comp picks, etc., and my question regards our yet unsigned free agents such as Finley. When is the timeline of when he could sign with another team and our free-agent claim would have expired?
I don't know if there's a statute of limitations, per se, but the biggest factor in the compensatory-pick formula is the size of the contract signed by the free agent. Generally speaking, the further we get into free agency, the smaller the contracts become, and therefore the less value recouped. Finley could be an interesting case in that regard, however.
Mike, I dislike the entire concept of NFL teams playing in England, in part because faithful fans are deprived of home games. Does the fact that the Packers have a Gold Package (which already requires Green Bay and Milwaukee residents to split games) sway the NFL not to schedule Green Bay to play in England, or is it just a matter of time?
The split packages have nothing to do with it. As I've said in this space before, I don't see the Packers giving up a home game to play in London, and most teams won't want to give up their home date with the Packers because those games always sell out. If the league wants the Packers to play a game in London, it will have to force someone's hand, and I don't know if/when that might happen.
Vic, does McCarthy still have his "quarterback camp" or was it a casualty of the new CBA? If he can't have it, would that change your mindset on the ability to take a later-round QB as a "project" and turn him into a quality backup or future starter?
The new CBA reduced the length of the offseason program, which significantly shortened McCarthy's annual quarterback school. It still takes place, just in a more condensed form out of necessity. I don't think it changes the wholesale mindset, but the lesson from the Graham Harrell and B.J. Coleman fallout is that the QB maybe can't have quite as far to go in the development process anymore in order to make it work.
Stephanie from Porterville, CA
What is the biggest concern for Packers fans and the team going into the upcoming draft?
There are plenty, but I'm sure at the top of the list is that Vic gets back to work.
I like Mike, he personifies winsome, but I like my columns like I like my football, with an edge.
You can have all the snark and sarcasm you want in Vic's draft chat today at 11:30 a.m. CT. He saved up his energy for it.