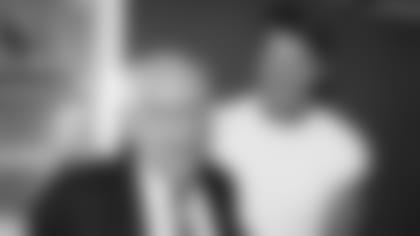 Lee Remmel and Brett Favre
Lee Remmel started writing about the Packers in 1946 as a young sportswriter for the Green Bay Press-Gazette and continued covering the Packers until he joined the team as its publicity director in 1974. During that span, he covered the first seven Packers head coaches, including Curly Lambeau and Vince Lombardi. Remmel worked for the Packers in public relations and as team historian until Dec. 31, 2007. He had the opportunity to deal regularly with the seven most recent Packers coaches. He was inducted into the Packers Hall of Fame in 1996.
On how he became a Packers fan as a young boy in Shawano, en route to his 62-year relationship with the team:
Remmel: "I grew up with Russ Winnie (play-by-play announcer for WTMJ radio). I liked his dramatic style. He had an excellent vocabulary and expressed himself very well. One of my fondest memories of Russ was in 1949 when they held an intrasquad scrimmage to try and raise money to end the season. The team was in desperate financial straits. One of the things they did as a feature was to have Russ Winnie on the field recreating that Herber-to-Hutson pass. It sent chills up and down my back to hear him do that."
On Packers co-founders Curly Lambeau and George Whitney Calhoun:
Remmel:"I wouldn't say they were similar in any particular way. Curly, of course, was a hale fella well met, a very positive individual. Cal had some physical problems. He had some kind of sciatica, nerve damage. I don't know what it was. He had played some hockey at the University of Buffalo at the time of the injury, but he had trouble walking normally and he was inclined to be on his guard. Curly was the opposite of that. He was flamboyant and let it be seen."
On being a colleague of Calhoun's at the Press-Gazette:
Remmel:"I found him colorful. He was kind of a softhearted guy underneath it all. The story was that he allowed himself $25 a month for beer. When you think about it, in the '40s that was a lot of money for beer. He used to hang out at a place called Shamus O'Brien's; also Harry Brehme's bar on the west side near where he lived on West Walnut Street. And he took his dog, Patsy Twosy Tiger, with him. She had her own bowl of beer at the bar. He used to send out a Christmas card every year with a picture of his dog on it. It would say: 'Patsy Twosee Tiger, in her 11th season.'"
On why he thought the New York press took such a liking to Calhoun and, in turn, did so much to grow the Packers story:
Remmel: "I think mostly it was because he was telling it like he saw it. They found him entertaining. I think that's the least you could say. He'd have a couple of beers and tell stories about the players, which the media obviously would eat up. And, yes, he always had a bathtub full of beer. He'd tell Ring Lardner or whoever, 'Go get yourself a bottle of beer.' They'd go to the bathtub and pull out a bottle of beer."
On whether Calhoun ever personally told him the Packers were started from a street corner conversation with Lambeau:
"He never said that to me, no."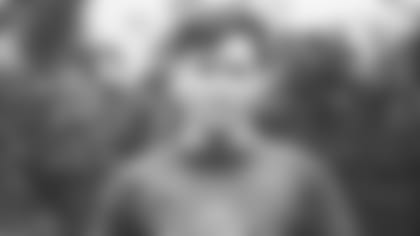 Johnny "Blood" McNally
Remmel: "According to legend, Curly locked him in his hotel room the night before a Bears game and (Blood) tied some sheets together, climbed out and went out on the town. Dave Zuidmulder (a Green Bay native who played with the Packers from 1929-'31) told me they were playing the Providence Steam Roller, and Blood and another player were drunk before the game. He said they were both bombed out of their minds when they came out onto the field. It was close to kickoff before they appeared in uniform and Lambeau allegedly was pulling out his hair. According to the story Dave told me, it was like a two o'clock game and it was between 1:30 and two o'clock when they arrived at the stadium. He said they played pretty well, but were obviously stiff as a billy goat."
On any good locker room stories from yesteryear:
Remmel: "I remember one time in '46, late '40s anyway, Pete Tinsley, who had retired, came into the locker room after a game and was almost slamming Curly against a locker. I think the issue was something about money that Tinsley believed Curly owed him. I thought, 'Oh, oh, what's going to happen here?' I forgot what Curly said, but he was able to mollify him. They parted without any blows being struck as far as I could remember. I think Pete was living in Florence, Wis., and he had become a high school football coach around that time."
On Lambeau fining the entire team after a loss to the Chicago Cardinals in 1948:
Remmel:"It was a 17-7 loss at State Fair Park and Curly fined them all a half-salary, and then refused to rescind it when they called a team meeting. They went to him and said something to the effect, according to the story I heard, 'We'll play this one for you against the Rams, but if you don't rescind the fine, you can forget about the season.' I was there in the hotel room when he announced it (the fines). He refused to rescind it and we beat the Los Angeles Rams here and then lost every game."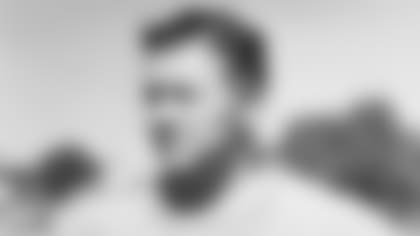 Earl "Curly" Lambeau
On covering the 1949 board of directors meeting called to debate Lambeau's future as coach:
Remmel: "It was a marathon. We could hear some occasional shouting, but we couldn't determine what they were saying. But it was an acrimonious meeting, no question about that. Finally, after five hours of discussion, Curly emerged and conducted an informal press conference of his own and announced that he had been offered a new two-year contract as vice president, general manager and head coach. One thing I do know, the contract was never proffered to him."
On Gene Ronzani, head coach from 1950-'53:
Remmel: "I think he was ill prepared. I think he was just out of his depth. I don't think he realized the scope of the responsibilities and that he wasn't capable of executing them. Yo       u have to realize, he had never been a head coach except for a minor league team. He was a wine salesman, basically. Then he becomes vice president, general manager and head coach of the Green Bay Packers. That's pretty heady stuff for a man from Iron Mountain, Mich., and a very modest background."
On Ronzani's reaction to being fired:
Remmel:"He was so overwrought by that decision that the team was taking a train to the West Coast for its final two games, and he got on the same train and followed the team. He tried to go to practice and wasn't allowed to attend, but I think he wound up in the press box for the two games. I think what happened was that he couldn't believe he had lost this great opportunity. He was just beside himself emotionally, and I think that's why he followed the team out there. He just couldn't believe he no longer had a connection with them."
On any other memories of those train rides:
Remmel:"I remember another time we were coming home from a Packers game in Chicago and Dick Afflis, who later became Dick The Bruiser, got into a hassle with a fan. He broke off a beer bottle on the car and said, 'All right, come after me.' That ended that."
On alleged interference by the executive committee and board of directors in the 1950s:
Remmel: "I've heard of isolated reports that there were -- that the coach had to be at every executive committee meeting and report on the team during the season. I've heard some people were challenging him about the season, particularly about the time when Liz Blackbourn was coach."
On the board's decision to hire Vince Lombardi:
Remmel: "I think the board was embattled at the time about being the Supreme Soviet and felt compelled to hire a strong person. My impression from that time was they had little choice other than to hire a strong man and quiet the unrest. Bert Bell was a pretty forceful guy and he really cared about the Packers and the league, obviously. I think he wanted to do what was best for the Packers. I wouldn't doubt if he promoted Lombardi's case extensively."* *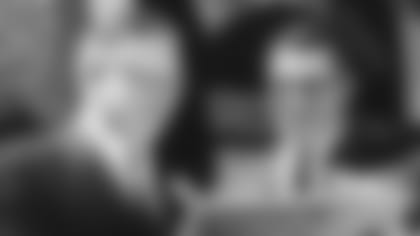 Curly Lambeau and Vince Lombardi
On the relationship between Lambeau and Lombardi:
Remmel: "I don't know how Curly felt, but I don't think Lombardi was very fond of him. I think it was probably as much a 'I thou shall have no strange gods before me kind of thing.' I think there was some ego involved. I can't say that definitively. Twice within my hearing, (Lombardi) inveighed against naming it Lambeau Field. He was diametrically opposed to it, no question about that. Back in the '60s, Art Daley got them to pose inside the stadium, and he put it on the cover of the yearbook. Lombardi was upset about that and didn't speak to Art for a good share of the season."
On whether burnout was a big factor in Lombardi's decision to step down as coach:
Remmel: "I think there were a couple factors. One, he was burned out. Another was that the team was on the decline. I would suspect that occurred to him. And I think he felt his general manager duties were going to increase. I think he foresaw some labor problems on the horizon. But I think he was definitely burned out. He drove himself to win that third straight championship, something nobody had ever done under the playoff system."
On Phil Bengtson's failings as Lombardi's successor:
Remmel: "I think the deck was stacked against him. I don't think there was any way he could have succeeded. He wasn't an impressive person. By contrast to Lombardi, he came up short. But who wouldn't? Almost anybody would."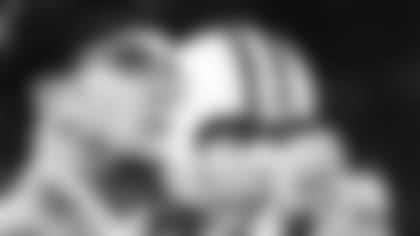 Phil Bengtson and Bart Starr
On the Packers reaching out to Don Shula after Bengtson's second season as coach and first as GM:
Remmel: "I heard that they had gone to Phil – he was in the hospital at the time; he had broken a hip around Christmas time and they also found he had a bleeding ulcer – and I don't know if it was the whole committee or if it was representatives, and asked if he would step down as head coach but remain as general manager. He apparently stoutly refused, and the story goes that the committee didn't feel it wanted to outright fire him, so they dropped the issue."
On whether Shula would have taken the job as coach:
Remmel: "Dick Bourguignon (former executive committee member) personally told me that at a Super Bowl he was dancing with Dorothy Shula, who was Don's wife. She said, 'They had wondered why the Packers' executive committee had never gotten back to them after instituting overtures about coming to Green Bay.' According to Dick Bourguignon, she told him they thought it would be a great place to rear their children, who were at an age where it would be important to have that kind of atmosphere."
On Dan Devine, Bengtson's ultimate replacement:
Remmel: "The people who knew him as a college coach said he was a great recruiter and attributed much of his success to that ability. They said he was very good with the parents of a player. He'd sit down in the kitchen with mom and dad, put his arm around mother and say, 'I'll make sure your son goes to Mass and will take good care of him'-- that sort of thing."
On the coaching split during Devine's tenure:
Remmel: "There was the Devine group, like Rollie Dotsch and Hank Kuhlmann. Then there was the other side. It wasn't a happy house. On the road, for example, the Devine people would sit together in a cocktail lounge on a Saturday night, and the others would be to themselves in another group. You knew it wasn't a warm, happy family."
Today, Remmel, 89, lives in Green Bay. The above excerpts were taken from six different interviews conducted from 2002 to 2007.