GREEN BAY – Standing in the middle of the Packers' locker room during rookie orientation, Aaron Jones could only laugh when asked about his new surroundings in Green Bay.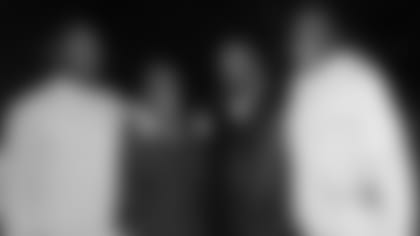 In a span of a week, the 5-foot-10, 208-pound running back went from the all-time leading rusher at the University of Texas-El Paso to a fifth-round pick striving to live his NFL dream with the Packers.
Such a life-changing moment could be daunting for many rookies, but it's nothing too out of the ordinary for Jones. In many ways, it's been the story of his life.
Born into a military family, Jones lived in Georgia, Germany, Tennessee (twice) and Virginia (twice) by the time he was a teenager. Each stop required transition, some bigger than others.
However, the one thing that distinguishes Jones' latest move from the rest is this is the first time his fraternal twin brother, Alvin, isn't standing beside him.
"Pretty much the hardest thing about deciding whether I wanted to leave early or not (was) leaving my twin brother," said Aaron, a junior entry into this year's draft.
The Jones twins began playing sports when they were four years old. It started with soccer, but their interest quickly shifted to football, basketball, and track and field.
The process of switching schools was arduous, but the siblings learned to lean on each other. Regardless of the situation, they always knew they'd have at least one person to sit with in the cafeteria at lunch. That was comforting.
Developing friends came relatively easy, though. Aaron would meet someone and introduce that person to Alvin, and vice versa. A common interest in sports also helped ease any early jitters.
---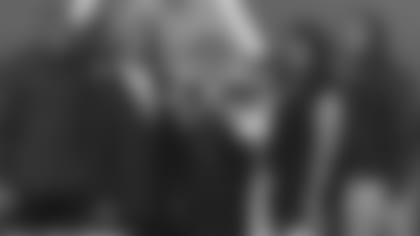 Aaron and Alvin often were the best players on the field wherever the family went. On offense, Alvin played quarterback and Aaron receiver, while the two played together at safety on defense. That was the blueprint in grade school.
"I used to try to throw him the ball and get him the ball as much as possible because I knew he was our best player on the field without a doubt," said Alvin, who'll be a redshirt senior at UTEP in the fall. "It wasn't just like it was an offensive thing, it was an all-around thing. We're always going to have each other's back."
Their success went well beyond football. They ran together on a state championship 1,600-meter relay team and started in the backcourt of the Burge High School basketball squad.
The competition between the two was endless. There always had to be a winner. It didn't matter if it was playing video games, racing to the car or being the first sibling to finish a meal.
"No matter what it was we were always competing," Aaron said. "I think it's just gotten me ready for here and the competition I'm in now."
However, it wasn't always a given they'd end up playing together in college. While UTEP offered Aaron a scholarship as a junior, injuries sidetracked Alvin's sophomore and junior seasons and slowed his recruiting process.
Alvin enjoyed a breakout year as senior quarterback, rushing for 950 yards with 20 touchdowns and throwing for another 463 yards. Yet, his only Division I scholarship offer for a while was to play basketball at the University of New Orleans.
The two brothers spent hours inside the high school library, sending out their football film in hopes of generating interest from teams in Conference USA, the American Athletic Conference, Mountain West and beyond.
Alvin estimates they sent out somewhere between 20 and 25 reels. Texas-San Antonio showed some interest, but it wasn't until Pittsburgh Steelers offensive line coach Sean Kugler was hired as UTEP's new head coach that things got serious.
One of Kugler's first moves after getting the job was to bring the brothers in for a visit. He immediately made his intentions clear.
"We went up there and he said, 'I want both of you to play for me. Aaron, you can keep your offer and Alvin I'm going to give you an offer,'" Alvin recalled. "I know Aaron was even more excited for me than he was for himself because he had seen everything that I went through, so he was more supportive and happy about it than I was."
---
Aaron hit the ground running as a true freshman, rushing for 811 yards and four touchdowns in nine games to earn a place on the Conference USA all-freshman team.
Alvin, who started his college career at safety, redshirted that first season. Still, the sibling rivalry was reignited every day on the practice field.
"We had our battles, especially my redshirt year when I was on scout team," said Alvin with a laugh. "He'd get mad at practice if I hit him and then he'd try to run me over the next time."
Staying in El Paso had its benefits. Their father, Alvin Sr., didn't miss a game in four years. Their mother, Vurgess, missed one game during their freshman year but otherwise was in attendance for all the rest the two played in.
Things began to improve during their time at UTEP. More area kids started getting Division I offers and the Miners made their first bowl game in four years in 2014, fulfilling a promise Kugler made to the brothers during that initial meeting.
Although Aaron suffered a season-ending foot injury two games into the 2015 season, he rebounded with a dominant redshirt junior campaign. His 1,773 rushing yards in 12 games shattered John Harvey's 28-year-old program record.
After finishing as the school's all-time leading rusher with 4,114 yards in only 35 games, it became apparent Aaron could be drafted if he threw his name in the hat.
If only it were that easy.
"He was like, 'I don't know if I want to leave,'" Alvin recalled. "I'm like, 'What are you talking about? You better go. Opportunities like this don't happen all the time and you have to take advantage of them.' As soon as he found out I was fine with it, his mind was made up."
With his brother's blessing, Aaron announced his intention to enter the draft on New Year's Eve. Four months later, he became the first Miner to be drafted into the NFL in nine years.
The Jones family was ready for the moment. After Aaron had an official visit with the Packers at the NFL Scouting Combine, Alvin Sr. made sure to have a hat and T-shirt nearby in case Green Bay called on draft day.
"That whole day, Aaron was really anxious sitting on the couch," Alvin said. "I'd be sitting next to him, trying to calm him down. As soon as he got the call, he's sitting there and he leans over to tell me it's Green Bay. I tell my dad it was the Packers and my dad goes over and grabs the hat. Then, everybody just started going crazy."
---
Things are going pretty well for Alvin these days. A three-year starter, the 5-foot-11, 225-pound linebacker will return for his redshirt senior year next fall after leading the Miners in tackles in each of the past two seasons.
The Packers dismissed the rookies for a week after rookie orientation wrapped up, allowing Aaron to return home for Alvin's graduation ceremony at UTEP on May 13.
Afterward, he told his twin how proud of him he was.
"And then we talked about football," Alvin said with a laugh.
For the first time in Aaron's football career, Alvin won't be with him on the field this summer and that's OK. He's already developed a close friendship with fellow rookie running back Jamaal Williams, a fourth-round pick out of BYU.
The two, who are represented by agent Leigh Steinberg, were introduced to each other at the Super Bowl and have since roomed together in Green Bay.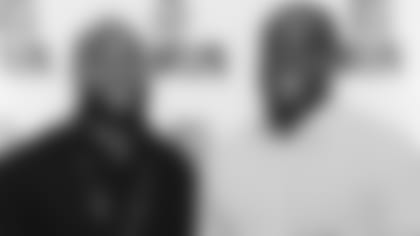 "It definitely helps that we both moved into a new place, we've got each other," Aaron said. "This is my first time being away from my brother, so in turn, I got him. It definitely helps and I'm going to help him out. We're going to be there for each other."
While Aaron begins his NFL career, Alvin is already back in the weight room in El Paso preparing for his final year of college football. He now has a bachelor's degree in communications, but he has larger goals.
One year from now, Alvin hopes to join Aaron in the NFL.
"It's very weird (but) very exciting," said Alvin of not having Aaron on campus. "It's motivation for me to try to get to where he's at. I'm going out there, trying to do everything right and get better every time I step on the field."
The brothers are naturally competitive, but they're also their biggest supporters. As they prepare to play on different teams for the first time in 18 years, Alvin is confident Aaron's talent will translate to the NFL level.
He reiterates the Packers are getting a hungry running back who isn't afraid to hit. Alvin should know. He's been on the receiving end of those collisions since the two were children.
After all, Aaron and Alvin have been teammates for 22 years. The 1,700 miles between El Paso and Green Bay isn't going to change that.
"He's so hard to get down and tackle," Alvin said. "He's a great receiver. He's going to catch a lot of people off-guard.
"He's the total package. He has everything. He's strong. He'll put his head down and try to run you over. He'll stiff-arm you. He's very fast. He outruns a lot of angles all the time."