GREEN BAY – Hunter Bradley was no more than 10 years old the first time his father, Mike, took him to the backyard and taught him the art of long snapping.
A former long snapper himself at Delta State, Mike knew Hunter had athletic talent at an early age. He had tremendous range as a shortstop for a kid his size and could play practically any position on a football field.
Still, even when it looked like Hunter had the potential to be a scholarship tight end in the Southeastern Conference, Mike kept the idea of snapping planted in the back of his son's mind.
"I told him, 'I'm going to teach you how to snap because you never know. It could be a fall-back plan,'" recalled Mike during a phone interview earlier this week. "It could be Plan B."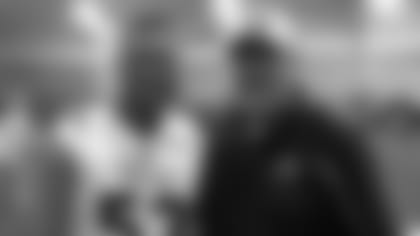 At first, Plan B didn't seem necessary. Hunter would spend 10 minutes or so snapping before practices at Collierville (Tenn.) High School, but most of his energy was aimed toward playing tight end and defensive end.
Mike, who teaches at the school and has been as an assistant coach on the football team for the past 25 years, watched his son blossom into one of the top tight-end prospects in the entire state of Tennessee in his first three seasons.
The Collierville football team had big plans for Hunter's senior year until just prior to two-a-days in July, when he tore his anterior cruciate ligament for the first time. Instantly, his senior year of football was over before it started.
"Our whole offense was based around him," Mike said. "He was going to play some fullback. He was going to play some tailback. He was going to play some slot. He was going to play a little bit of everywhere. He was our guy. When that happened, it was just unbelievable. It was a nightmare."
It was a devastating development for a father and his only son. The two spent so many Friday nights together on Collierville's sideline, with Hunter serving as the football team's water and ball boy throughout his childhood.
As disappointing as the injury was, those next 12 months taught Mike everything he needed to know about his son. Despite the scholarship pool drying up, Hunter remained dedicated to his recovery. He woke up at 5 a.m. each day, packed his school clothes and performed his rehab at Life Time Fitness before getting to school at 7 a.m.
That first exercise in patience and mental toughness served Bradley well during a six-year stint at Mississippi State and powered him through, eventually, two more ACL surgeries.
His perseverance in the face of those trials and tribulations was rewarded earlier this month when the Packers made Bradley the only long snapper to be taken in this year's NFL Draft.
"I was a tight end and that was my dream," said Hunter on draft night. "Long snapper was just kind of my last bus stop. (But) if it wasn't for long-snapping, I would no longer be playing football and certainly wouldn't be getting drafted by the Green Bay Packers."
"Why are you still here?"
Cadaver tendons were the way to go at the time. In 2011, most medical experts were in agreement it was the most efficient way for athletes to recover and get back on the field.
So when Bradley tore his right ACL, neither he nor anyone in his family batted an eye at the idea of going that route for his knee reconstruction.
The surgery was successful and Bradley was making progress when he accepted a preferred walk-on offer to play tight end for Dan Mullen at Mississippi State. He was one step closer to realizing his dream of playing in the SEC.
Mullen, now the head coach at Florida, made a positive first impression on Bradley early in the recruiting process, and the family appreciated Mullen's continued interest and support in the aftermath of his ACL injury.
Bradley opted to redshirt his freshman year but was cleared to practice in the fall. Inexplicably, he proceeded to tear the ACL in his left knee planting his foot on a dig route during only his second practice.
Another knee injury meant another surgery and another lengthy rehab. Cleared to practice in the spring, Bradley ran the same route in his second practice back before his right knee gave out again.
He didn't need a test to tell him what happened. Bradley knew the diagnosis before he hit the ground. Mentally, he powered through the setbacks, but this was the closest he came to turning in his jersey and trying something else.
"It hit me because I had to call my dad and that was probably the hardest. It was hard calling him," Bradley said. "I called and that's all he said was, 'Did you really do it again?' I hadn't had an MRI yet, but I'd felt that feeling two other times, so I knew pretty much right when I did it that that's what it was."
Tests showed the cadaver graft in Bradley's right knee from high school didn't take and he required another surgery. Doctors would follow the same blueprint they used on Bradley's left knee, taking a graft from his quad to build the new ACL.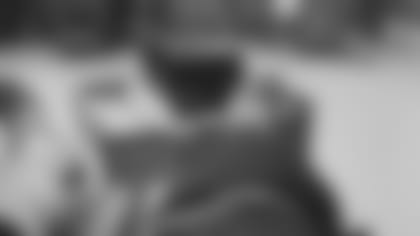 The prognosis was positive, but mentally it was a lot to process. It was around that time Bradley was waiting to receive treatment in Mississippi State's training room when one of team's star players – whom Bradley declined to identify – walked in, looked him in the eye and posed a blunt question.
"Why are you still here?" the player asked him. "You're never going to play here.'"
It was a sink-or-swim moment for Bradley. His teammate had a point. After all, Bradley had barely practiced in two years and his family was helping pay his way through college.
Bradley thought long and hard about that question and decided he was all-in on making yet another comeback. He neglected to tell his parents about what his teammate had said to him until long after the fact.
"People don't realize that just motivates him," Mike said. "When that kid did that, that just motivated him. He refused to let that be true. He refused to let that be the outcome.
"Somebody isn't going to tell me what it's going to be. I'm going to write my own outcome."
Tight end wasn't going to happen. Mike, Coach Mullen and Hunter were all in agreement on that one. If Hunter was going to keep playing football, it was time to move to Plan B.
The long-snapping lessons picked up – both at home and in Starkville, Miss.
"I knew tight end was done," Bradley said. "I already was under-recruited coming in and I'm a walk-on with three ACLs. I have no chance coming back as a tight end. But I knew long-snapping, if I wanted to play, and I did, that was my only option. I put every ounce into snapping."
Bradley didn't play much from 2013-14, but he didn't suffer any more setbacks. With any luck, Bradley would get his chance to start as a senior in 2016 after four-year starting long snapper Winston Chapman graduated.
Two games into the 2015 season, however, Chapman tore his ACL in the first half against LSU. Bradley finished the game as Mississippi State's long snapper before it was confirmed later in the week that Chapman would miss the rest of the season.
Mike and Pam hated to see it happen. They grew close with Chapman's parents and knew how difficult the recovery was having watched their son weather through it three times before.
The silver lining was opportunity. Mullen informed the team Bradley was the new long snapper and the first call he placed was to his father, who was cutting the lawn on the football field when his phone rang.
"He said, 'Dad, I'm the guy,' and I about fell off the mower," Mike said. "I couldn't text enough people. Just a lot of emotions knowing how hard he's worked and everything he's gone through."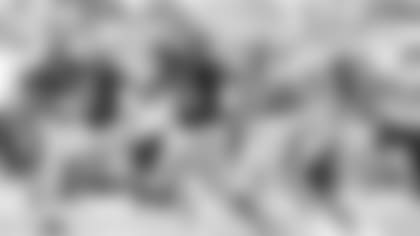 For as turbulent as the beginning of his college career was, the next 2½ years couldn't have gone smoother for Bradley. He played in the final 12 games of 2015 and two more seasons after receiving a medical hardship waiver.
Not only did Bradley prove to be a skilled long snapper, but he also became a weapon in punt coverage. There were several instances where he'd snap, Logan Cooke would punt and Bradley was the guy making the downfield tackle.
By his final year, Bradley had ditched his knee brace. He was confident again and no longer needed the crutch.
It all culminated in perhaps the biggest moment of Bradley's life. After paying his way through school for four years, Bradley was informed at a team meeting after his first full year as the starting long snapper he had earned a scholarship.
"We had a team meeting in January after Christmas break. It was for scholarship only," said Bradley, who fittingly graduated with a degree in kinesiology. "I approached our head of football operations on the time, Jon Clark. I asked him, 'Do I need to be at this team meeting?' He said, 'Scholarship has to be there.' I said, 'Does that mean I'm on scholarship?' He goes, 'You better be there.'"
Mike and Pam Bradley made it to all but two or three of Hunter's games during his final three years of college.
There were several times where a Collierville football game would end and the family immediately hopped in the car to watch Hunter play at Texas A&M, Auburn or Alabama.
So rest assured the family was circled around Hunter during the third day of the NFL Draft on April 28. He trained in Jacksonville – and even took a snowy visit to Green Bay – during the pre-draft process, but there was no place else he wanted to be but the family recliner on draft day.
The Bradleys were realistic. Sure, it would be wonderful for Hunter to get picked since nobody can recall a player from Collierville getting drafted into the NFL before. However, the more likely path would come as a college free agent.
At least, that's what they thought at first. Hunter's phone started to light up as the seventh round began, with three or four teams showing significant interest.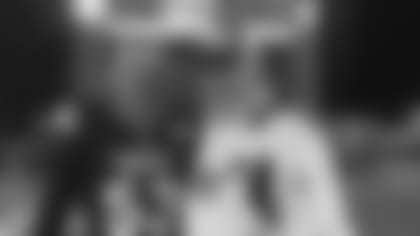 Finally, his phone rang one last time. The room silenced. The family and friends in the room barely breathed, let alone spoke. Still, no one could make out whom Hunter was talking to.
"When he got off the phone, he pointed at the screen and 10 seconds after he pointed at the big screen is when they announced it. The Packers," Mike said. "He had tears in his eyes. He and I had a big hug. His mom went outside. My son-in-law drove up in the driveway and she was crying so hard she couldn't even talk. He's like, 'Say words, what's wrong?' Finally she said, 'Drafted, drafted.' It was crazy."
There was so much screaming in the house a few family members had to rewind the DVR to hear what happened.
As great as the moment was, Bradley remained grounded. He understands all too well nothing is guaranteed. This summer, he faces competition for the job in practice-squad holdover Zach Triner and must convince the Packers they made the right move in taking him.
At the same time, he'd be lying if he said it wasn't special seeing his name on the back of a Green Bay Packers jersey for the first time.
"It was amazing. It's an historic franchise," Bradley said. "I know I have a lot of work to do. It's exciting to have your name called, but at the end of the day, if you don't perform, then it's kind of irrelevant. I know that's my mindset going in. I have to keep working to get better."
The Bradleys already are planning their first trek to Lambeau Field. After watching Hunter overcome so much adversity, Mike is confident his son is ready for the NFL after watching him perform in pressure-packed situations in front of a 100,000 fans in college football's most prestigious conference.
Mike keeps most of his retorts to himself, but there still is some playful banter about Hunter's Plan B becoming his true passion from time to time.
No, long snapper wasn't the position Hunter saw himself playing as a child growing up in Collierville. Really, what 9-year-old kid does? However, it's clear now this is what he was destined to do.
"I never wanted to listen to him. Now he's smiling saying I told you so," said Hunter of his father. "So I let him have that one."