GREEN BAY – A thousand thoughts fluttered through Denny LaFleur's mind as the lifelong football coach glanced at the sea of cameras awaiting his eldest son inside the Lambeau Field media auditorium.
A week shy of his 66th birthday, Denny had never experienced anything like this as an assistant at Central Michigan University, where he coached practically every position on defense during his more than 20 years with the football program.
Yet, there sat his son, Matt, in the front of the room, positioned between Mark Murphy and Brian Gutekunst, for his introduction as the 15th head coach of the Green Bay Packers.
A wave of nostalgia washed over Denny reflecting on the 40 years of bus rides, football practices, concession stands and countless sacrifices that led to this moment.
Midway through his first news conference, Matt made a quip about how the most important lesson he learned as a coach's son was "that I better not cross my mom," and that was the truth.
Laughing, Denny looked over to his wife, Kristi, in recognition of her role in their 44-year union. When she wasn't coaching competitive cheerleading or teaching, Kristi made the meals, got their boys, Matt and Mike, to practice and kept everything moving smoothly in the tight-knit community of Mount Pleasant, nestled in the bullseye of Michigan's Lower Peninsula.
"(Matt) didn't see much of dad. I'd go to work early and I'd come home late, every single day," Denny said. "I think that's why I really loved his answer. It was perfect. I will say this: He had a strong relationship with his mother. There's no doubt about it."
Kristi did it because football was more than a just sport to the LaFleurs. Her father, Bob Barringer, coached at Kalamazoo Loy Norrix High School and attended nearly every Central Michigan game, home or away, when Denny played linebacker and Kristi was on the cheerleading team.
Married during Denny's senior year, the couple raised a family only minutes away from Kelly/Shorts Stadium, where Denny helped the Chippewas capture an NCAA Division II national championship under Roy Kramer in 1974.
That love of football was passed down to both of the couple's sons. As a kid, Matt held phones for CMU's assistant coaches on the sideline and spent every summer attending the football camps Denny was in charge of on the school's campus.
"He was around every chance he got," Denny said. "The kid always had a football in his hand."
This was the world Matt LaFleur was raised in and what motivated him to follow in his father's footsteps despite Denny's feeble attempts to dissuade Matt from becoming a teacher and a coach, encouraging him to pursue a better paying job that didn't require as many hours away from family.
Looking back, however, there was no stopping it. It was in his blood. It's been there since Nov. 3, 1979. He was born for this.
"I knew at a young age," LaFleur said. "I knew I was going to be a football coach. That's what I'd been around. I think a lot of us are probably products of our environment, but as soon as I became a (graduate assistant coach), I definitely knew. Like, hey, this is the career path for me."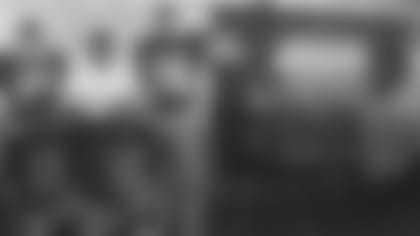 'It was his life. It was their life.'
Tommy Ruis and his family moved in across the street from the LaFleurs in 1987. Tommy's father, Rich, had relocated the family from Ludington, the small town that houses the S.S. Badger ferry to Wisconsin, due to a job opportunity in Mount Pleasant.
There were no cell phones or Facebook accounts back then. Social media in the 1980s and early '90s consisted of whatever kids in the neighborhood were within the radius of a bike ride.
Tommy had two older sisters but no brothers. Having Matt across the street was a gift from the sports gods for Tommy.
The setup was perfect. The LaFleurs had a basketball hoop, the Ruises had a swimming pool, and their fronts yards adjoined perfectly for whiffle ball games – home plate in the LaFleurs' driveway and any shot across the street to the Ruises signified a home run.
With Tommy only a year older than Matt, the two families also grew close. They went to Pistons, Tigers and Lions games together and had open-door policies with their houses – and the boys were over constantly to play the "John Madden Football" video game, trade baseball cards and just hang out.
The two played in the small youth league for baseball and traveled together on the AAU basketball circuit, but the one curious thing about Mount Pleasant was there was no organized youth football program – at least until Denny established it years later in time for his younger son, Mike, to participate in.
That required Matt, Tommy and their friends to get creative. So they'd pull together eight or nine guys and play pick-up games at the school. Even at that young age, it was obvious Matt was going to be a quarterback – and a good one at that.
In their formative years, Matt and Tommy grew accustomed to being with the CMU football players, who constantly were around the house. Some even came over to swim at the Ruis house.
Kristi occasionally brought Matt and Tommy to practice at CMU, and due to the hectic in-season schedule, that might be the only time Matt saw his dad throughout the day.
"It was his life. It was their life," said Ruis, 39, now a banker in Lansing. "They lived and died football. It's what they breathed. It's what they did. It was a unique, unique experience."
In the summer, CMU hosted a regional camp for Michigan youth football players. The school would welcome around 500 kids, splitting them between young players (seventh grade through ninth) and older (sophomores to seniors).
Denny was tasked with running the younger camp at the beginning, which typically lasted four days. Of course, Matt tagged along and stayed with Denny despite the fact he was only entering sixth grade at the time.
While his father worked with defensive backs or linebackers, Matt snuck over to the quarterback drills. By the time the day ended at 3 p.m., Matt was throwing passes to the older camp participants and the college volunteers.
There also was this one activity at the camp called the "Air Force League." It was a quasi-Rugby game where players could pass the ball at any time – forward, backwards, whatever – with six or seven boys on each team. It was tough and competitive.
Sure enough, Matt found his way into that, too.
"Somebody said one day, 'Hey, I saw your kid playing in the Air Force League.' I was like, 'No, he's not supposed to be doing that,'" Denny recalled. "But he was. He was out there and he's a sixth-grade quarterback running this group of kids who were seventh and eighth grade."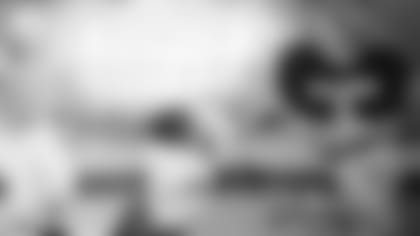 'A coach's dream'
By the time Tommy and Matt reached high school, both were champing at the bit to put on a helmet and pads for the first time.
With no organized youth program, there was no sense who would be good at football with the possible exception of Matt, a natural three-sport athlete on top of being a coach's son.
"You knew Matt was going to be the quarterback," Ruis said. "You just knew that."
It turns out Tommy wasn't too bad, either. Standing 6-foot-7 by his senior year, he caught the ball naturally and was an imposing target downfield.
During Tommy's junior year, playing for former CMU assistant Don Peddie, Mount Pleasant qualified for the Michigan High School Sports Athletic Association playoffs with an 8-1 record behind future Central Michigan quarterback Pete Shepherd.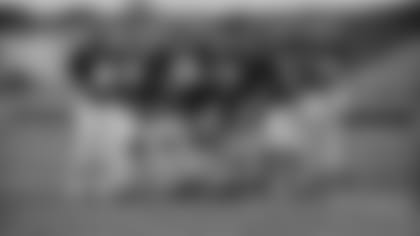 The next year, however, Ruis' senior class didn't have an obvious heir apparent at quarterback, so Mount Pleasant called up 5-foot-11, 165-pound junior Matt LaFleur to varsity.
"He was a good, tough player. A coach's dream," said Peddie, who recruited Denny to play at Central Michigan in 1972. "He was always prepared and ready to go. Just an all-around good player. He could've played other positions, but we needed a quarterback."
LaFleur could do it all with a football in his hands. He had the arm strength, pocket presence and athleticism to extend plays with his feet when they broke down.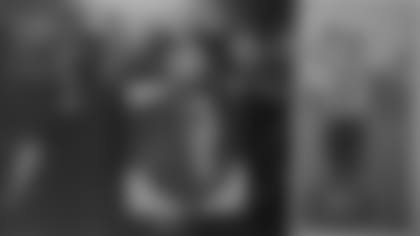 In a rivalry game with Midland Dow that season, Matt was knocked out of the game momentarily after taking a big hit. He eventually returned to a tied 0-0 game in the fourth quarter.
Facing fourth-and-14 late, LaFleur connected on a 32-yard touchdown pass to a leaping Ruis for a 7-0 lead. Midland Dow responded with a touchdown of its own, but failed on a two-point conversion. It managed to recover an onside kick, but LaFleur sealed the 7-6 win on the next play when he recovered a fumble.
"My senior year, when I could play with Matt is when it clicked, because Matt and I had been playing together for so long and shared the same coaches coming up," Ruis said. "Matt was tough – that's one way I would describe him – and determined. You get hit hard and you could get flustered, but he came right back in and threw the winning touchdown pass."
LaFleur threw for 903 yards and seven touchdowns his junior year before completing 95-of-157 passes for 1,341 yards and 12 touchdowns as a senior, all during a time when run-heavy offenses still ruled Michigan high school football.
While football was LaFleur's first love, his competitive drive also translated to shooting guard on the basketball court and running track and field in the spring.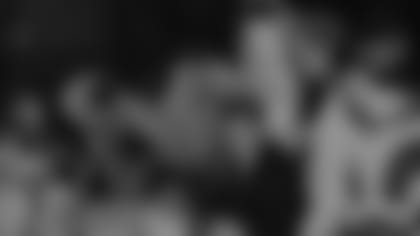 Mount Pleasant had a successful basketball program under Steve Majerle, whose brother, Dan, played 14 seasons in the NBA. A pure 3-point shooter and defensive stopper, LaFleur was consistently matched against the opponent's top scorer.
The Oilers were district champs during his junior year, picking up a win during a holiday tournament over eventual Class B state champion, Detroit Country Day, a team that featured future NBA champion Shane Battier and David Webber, the younger brother of Chris Webber of Michigan Fab Five fame.
"Matt was a great kid to coach because he had such an intensity about the way he played," said Ted McIntyre, who coached LaFleur as a sophomore on the JV basketball team. "He was just a multisport athlete who played basketball because he was a very good athlete and very competitive.
"He played hard and had an expectation in his teammates to play that hard. He played to win."
Still, it became obvious to everyone LaFleur was destined to play college football. Everything he did – his weightlifting routine, the early morning runs – was geared toward football.
It was Denny's dream for Matt to follow him to Central Michigan, but the football program made a series of changes during Matt's senior year that resulted in Denny's two-decade run on the coaching staff drawing to an end.
Unwilling to move the family, Denny took a job coaching high school football in nearby Vestaburg, while Matt walked on at Western Michigan in Kalamazoo, where Kristi's parents resided.
Within two years, Denny joined Kristi as a physical education teacher and coach in the Mount Pleasant school district. Matt, on the other hand, spent two seasons on Western's bench before the coaches asked him to move to receiver.
"He said to me, 'No, I want to be a quarterback. I don't want to be a wide receiver,'" Denny said. "So we looked around for schools in the Division II ranks because that way he could step down and play immediately, and that worked out perfectly."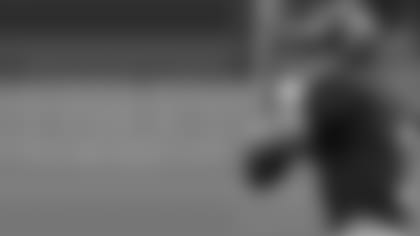 'Take us for a ride'
Randy Awrey didn't just need a quarterback. He needed a leader to build his program around after being hired as the Saginaw Valley State football coach in 1999.
At the same time, Matt and Denny were in midst of their search for a new school. Saginaw Valley, a one-hour drive east of Mount Pleasant, was a perfect fit geographically.
Once Matt met Awrey, a native of Iron Mountain who was roommates with Tom Izzo and Steve Mariucci at Northern Michigan, it was a match made in football heaven.
To Awrey, Mariucci epitomized everything a coach could possibly want in a quarterback. Serving as Northern Michigan's tailback in 1975, Awrey watched Mariucci will the Wildcats to their first and only NCAA Division II national title, one year after Denny played on Central Michigan's championship squad.
A quarter century later, Awrey saw many of those same qualities in the young LaFleur.
"When I met Matt, that was it," Awrey said. "I looked at Matt and said, 'This man is as close to that type of quarterback I was looking for.' A quarterback I could give the keys to the car to and say, 'Take us for a ride.' I'm telling you if he was bigger, he'd be playing in the NFL, not coaching. That's the only difference."
Saginaw Valley ran a pro-style offense armed with several future NFL players, including tackle Todd Herremans and receivers Ruvell Martin and Glenn Martinez. The linchpin, however, would be LaFleur over the next three seasons.
LaFleur remembers Awrey for his "tough love." The guy didn't pull a punch and ran an offseason workout program that would break the strongest individuals. At the same time, he was forward and honest with his players.
Initial plans called for LaFleur to serve as the backup during his first year on campus in 2000 before starter Garrett Small sustained a concussion in the opener that ended his senior season.
LaFleur's athleticism and knowledge of the game were as advertised, but what Awrey discovered during that first season was how much of a competitor his new quarterback was.
"Once he got on the field, there was no getting him off," Awrey said. "There were a few games in his career that we'd get ahead and he'd get mad at me if I pulled him out to let the other guy go. But the one thing that I'll always hold in my head is that when it was crunch time, that's when he soared."
There was perhaps no better example of LaFleur's cool-under-pressure personality than when the Cardinals hosted Indiana University Pennsylvania in a NCAA Division II first-round playoff game on Nov. 17, 2001.
A year removed from its first D-II playoff appearance, a 46-32 loss to Bloomsburg (Pa.), Saginaw Valley looked to be headed towards another early exit after falling behind the Crimson Hawks 32-7 at halftime. Awrey still remembers "half the stands" emptying out as the Cardinals took the field for the second half.
Those who remained were treated to an incredible comeback thanks in part to Indiana turning the ball over four times in the fourth quarter. LaFleur brought Saginaw back with a 55-yard touchdown pass to Martin and another 8-yard score to Martinez to cut the deficit to 32-27.
Finally, with the game on the line, LaFleur ran in a 7-yard touchdown with 1 minute, 27 seconds remaining to complete a 98-yard drive and the 33-32 comeback victory – Saginaw's first postseason win since it competed at the NAIA level in 1984.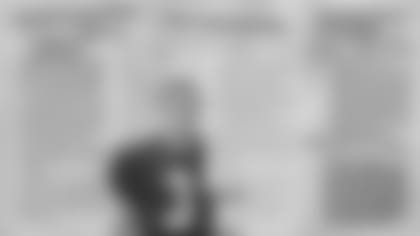 "He was a guy you could do anything with," Awrey said. "If people didn't respect his running ability, we killed them because he could tuck it and run anytime. You could spread him out. You could boot him. You could drop him back. He was that type of quarterback that it didn't matter what you drew up because he would figure a way to make it work."
Denny, free from his past coaching obligations, traveled to all but two of Matt's college games. To this day, he still kicks himself for not making it to Mercyhurst in 2000 when Matt threw for 250 yards and five touchdowns in a 46-40 win.
Matt knew he always wanted to be a coach from a young age. Once his college career ended, he took a graduate assistant position at Saginaw, while also playing for the Omaha Beef and Billings Outlaws in the National Indoor Football League.
"We had an opportunity to go out to one game to see him play and came home like, 'Wow, this is a lot of fun,'" Denny said. "They paid him a little bit of money and said, 'We'll help you out with your rent and apartment. We'll give you Omaha Beef. You can eat all the steak you want.'"
After spending 2004 in Billings, Matt called up his father and asked him to place a call to Brian Kelly, the new CMU head coach who frequently attended CMU's football camps in the '90s when he was the head coach at Grand Valley State.
"I stopped by and asked Coach, 'Hey Brian, Matt's done playing arena football and you just got hired. Are you looking for any grad assistants for anything?'" Denny said. "He looked at me and goes, 'You tell Matt get his butt in here and I'll hire him.' I was like, 'Really?' 'Yes, just tell him to get his butt in here.' That's how it happened. That's how it all started."
Those two years at Central were transformative for LaFleur. Not only was he following the footsteps of his father, who also was a graduate assistant after his college playing career, but it's also where he met fellow grad assistant Robert Saleh.
Five years later, Saleh would open the door to the NFL for LaFleur after putting in a good word with Houston Texans coach Gary Kubiak, who was searching for a quality control coach.
Like his parents, LaFleur also would meet his spouse at Central in BreAnne, a student trainer at the time. Early in their relationship, LaFleur cautioned her about what it meant to be the wife of a football coach.
That fair warning paid dividends several times in their relationship – from having to leave her in Northern Michigan in 18 inches of snow to when LaFleur blindly accepted the offer to leave his position as the Ashland (Ohio) offensive coordinator to join Saleh on the Texans' staff in 2009.
"I joked with my wife, 'Hey, just understand I'm a football coach,'" LaFleur said. "I always kidded with her, 'Hey, there's two kinds of wives. Coaches wives and ex-wives.' So thank God I've got a coach's wife. She is a trooper."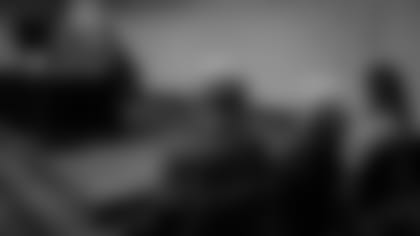 'He's done it the right way'
BreAnne, now the proud mother of two boys, directed traffic in front of the Lambeau Field media auditorium, while Denny, Kristi and the family settled in for Matt's introductory news conference.
The cameras, the lights, everything seemed surreal for Denny, who over the past 15 years has watched not one, but two sons, climb the NFL coaching ladder with Mike now serving as an offensive assistant on Kyle Shanahan's staff in San Francisco.
Since retiring as full-time teachers – they still occasionally sub – Denny and Kristi have crisscrossed the country to watch their sons. They even made their first trip to Lambeau Field last August to watch Matt in his preseason debut as offensive coordinator for the Tennessee Titans.
Now, on a tour of Lambeau slightly more intimate than their trip in August, Denny was absolutely floored by how welcoming and kind everyone has been to their family. The more he sees of Green Bay, the more parallels Denny sees to the family's home in Mount Pleasant.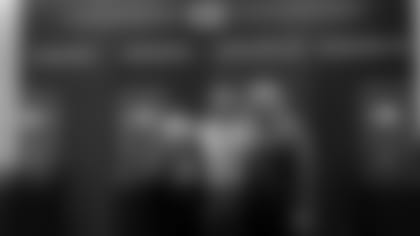 "Our plate was full for many, many years until mom said about four years ago it's time to retire," Denny said. "It all worked out. Where else would retired teachers and coaches rather be than at ball games? Are you kidding me? It doesn't get any better than that."
In the weeks following LaFleur's introduction as the Packers' new head coach, the outpouring of support from Mount Pleasant and the surrounding communities has been overwhelming.
Awrey, now retired from the college ranks and coaching high school football in North Carolina, still gets Christmas cards in the mail from the LaFleurs and was ecstatic when he received word from one of his former assistants that Matt had been hired in Green Bay.
The emotions stem from not just the accomplishment, but also the character LaFleur showed during his meteoric rise from a quarterbacks coach with Washington, Notre Dame and Atlanta through stints as offensive coordinator in Los Angeles and Tennessee.
"He really has his priorities straight and understands how to treat people," Awrey said. "In doing his craft, he's done it the right way. He's not one of those guys who'll step on people to get to the top. He's done it by genuinely working his butt off and doing the right things the right way."
From his office in Michigan, Ruis already has purchased a new Packers hat and shirt, with even more clothing scheduled to arrive soon. His parents, having retired back in Ludington, already have plans in place to watch LaFleur coach.
Looking back on the past 30 years, everything makes sense now. The kind yet competitive kid from across the street is now the head coach of one of football's most prestigious teams.
"He's a good role model for kids and for people in general because he does it the right way," Ruis said. "I think he was raised with a great family, good background and good community. I would not expect that to change one bit.
"It doesn't matter how much money he makes or how many Super Bowls they win, he'll be the same Matt LaFleur. I have no doubt about it."