GREEN BAY – His door was always open. Judge Donald Zuidmulder made that much clear the first time he met with Ha Ha Clinton-Dix after the 2014 NFL Draft.
The two had a small connection to one another through Clinton-Dix's grandfather, Julius, stemming from an improbable meeting in Orlando before he was even a safety for the Packers.
Green Bay was a new world. So Zuidmulder, the long-time Brown County Circuit Court Judge, told the rookie draft pick he was only a phone call or text away if Clinton-Dix ever needed anything.
Zuidmulder had Clinton-Dix and his family over to the house a few times for a barbeque or tailgate party during those first few years, getting to know his mom, sisters, uncles and aunts.
Then, earlier this year, the two were again brought together by a common interest in the justice system. Coming off his first Pro Bowl and All-Pro season, Clinton-Dix had gone back to school to put the finishing touches on his criminal justice degree.
"He came in and we started talking about what this was all about," Zuidmulder recalled this week. "He says to me, 'Football is sort of a window in time, but I really have to prepare myself for what's going to be the major part of my life. I want to take advantage of that.'"
What resulted over the next few months was a life-altering experience for both men. The initial goal was for Clinton-Dix to earn three credits towards his degree through a 90-hour unpaid internship.
The Packers safety wound up walking away with a lot more.
"I enjoyed it," Clinton-Dix said. "It was one of the best experiences I've ever had just being a part of the judicial system and the Brown County Courthouse."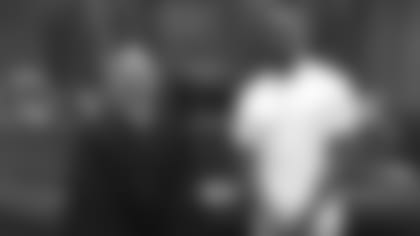 The business card still rests in Zuidmulder's desk inside the courthouse, a reminder of the day he heard Ha Ha Clinton-Dix's name for the first time.
It's been almost four years since Zuidmulder and his wife visited her uncle near the Bay Hill resort in Orlando. Needing a ride back to the airport, he called for a car to pick them up.
A Lincoln town car pulled up at 6 a.m. sharp. A gentleman got out of the vehicle, offering to help Zuidmulder with his bags. As they began loading the trunk, Zuidmulder couldn't help but notice the inscription written proudly across the back of the car.
Roll Tide. Ha Ha Clinton-Dix.
"I said, 'Who the hell is this Ha Ha Clinton-Dix?'" Zuidmulder recalled. "He says, 'Well, that's my grandson. And you know what? He's going to be the first-round draft pick of the Detroit Lions.'"
Zuidmulder, an emeritus member of the Packers Board of Directors, was intrigued. The grandfather was brimming with so much pride and passion, the love for his grandson evident.
The two continued their conversation en route to Orlando International Airport. Before departing, Zuidmulder made an offer. The Packers play the Lions at least once a year at Lambeau Field. If Clinton-Dix gets drafted by Detroit, Zuidmulder invited the man and his family to come up to Green Bay and watch a game.
The two traded business cards and Zuidmulder was formally introduced to Julius Dix.
Now with an unexpected link to a likely first-round pick, Zuidmulder and his wife made it a point to watch the draft and see where Clinton-Dix landed.
It wasn't Detroit. The Lions took tight end Eric Ebron at No. 10. An hour later, however, Clinton-Dix was still on the board when the Packers went on the clock with the 21st overall pick.
"My wife and I were like, 'Oh my God, he's coming to Green Bay,'" Zuidmulder said. "We got on the phone right away and talked to Julius and he was just as excited as we were."
Zuidmulder told Julius he'd be more than happy to meet with his grandson and welcome him to Green Bay. Days later, the judge was there to greet Clinton-Dix when the rookies arrived for orientation.
It would be another few years until Zuidmulder realized how much criminal justice and law enforcement meant to Clinton-Dix when the Packers safety reached out about a possible internship.
It's common for Zuidmulder to take on a first- or second-year law student as a judicial intern, but this request was unique. The more he pondered the proposition, however, the more it made sense.
Zuidmulder contacted Clinton-Dix's academic advisor at the University of Alabama to get the proper paperwork filled out and began charting out a schedule.
The internship wasn't going to just be Clinton-Dix following him around, though. Zuidmulder arranged an all-encompassing schedule to expose him to all aspects of the criminal justice system.
The goal was to give Clinton-Dix a wide array of opportunities in an effort to help the Packers safety discover what areas interested him most.
"It had to add up to 90 hours," Zuidmulder said. "He looked at these things and said this would be stuff he'd enjoy doing and would want to do. That's how we set it up."
Clinton-Dix's 90 hours would be divided into time spent shadowing Zuidmulder at his proceedings, even pulling up a chair next to him on the bench, and serving with all the various departments at the Brown County Courthouse and Green Bay Police Department.
While Clinton-Dix might have been Ha Ha on the football field and among his family and friends, Zuidmulder told him right off the bat he would be introduced by his given name, Ha'Sean.
He had to dress the part, too. Clinton-Dix reported to the courthouse typically in a button-down shirt and pants. It was all business, photos and iPhones largely prohibited.
There were days during the Packers' offseason program when Clinton-Dix would finish up with practice, get showered and dressed, and report to the courthouse for the rest of the afternoon.
"Very professional, very eye-opening," Clinton-Dix said. "I spent a lot of time with the DA, the judicial assistant, Kim (Pansier), I really got a feel of every part of the judicial system.
"Working with the state for the day, being with the public defenders for a day and seeing how they work and all the cases they get coming in. Going to the prison, being able to go out with the SWAT team and sitting in on different drug busts. I got the full experience. My 90 hours were definitely hard-earned hours."
Clinton-Dix joined the sheriffs one day on water patrol, checking tags and making sure boats were properly equipped with life jackets. A few days even stretched as long as eight to 12 hours.
Clinton-Dix went to the Green Bay Correctional Institution to see how the prison system is run and joined Zuidmulder during different juvenile and children's court proceedings. After cases, they'd discuss the cases in the judge's chamber.
Zuidmulder also set him up with Brown County's four treatment courts, which meet every Friday for about two hours each. The Packers safety sat through it all, observing the work of the drug, heroin, mental health and veterans courts.
"Once in a while, people would get back to me – 'Is that who I think that was?' I said, 'Yeah that is who you think that was,'" Zuidmulder said. "It was really good for him because I think he really reflected this serious, criminal justice student who wants to learn and everybody treated him that way. I think it was really healthy."
Clinton-Dix is as worldly as 24-year-olds come. Knowing how difficult things are in different parts of the country, he's dedicated his actions to helping improve relations between police and the public they're sworn to protect.
This summer, he's written the names of four fallen Florida police officers – Sam Howard, Matthew Baxter, Debra Clayton and Norm Lewis – on his cleats to honor their service and sacrifice.
Public safety is something Packers Head Coach Mike McCarthy holds close to his heart. His father, Joe, served as a police officer and firefighter in Pittsburgh for 38 years.
Last year, McCarthy and the Packers organization each made $100,000 donations to the Green Bay Police Foundation to improve public safety and partnerships in the community.
"I think it says so much about Ha Ha. It's a picture of the man," McCarthy said. "To see Ha Ha pursing that path, it's a tremendous commitment he's starting to build for his future. It's impressive and I'm proud of him. I can't say enough about it because it takes a special person to be in public safety."
Clinton-Dix also recently started his own charitable cause, Ha Ha's HERO Foundation, aimed toward improving the lives of children from low-income families in the Green Bay area.
The acronym stands for education, resources and opportunity. The organization has its first fundraising event scheduled for Oct. 9.
His off-the-field efforts come as no surprise to those who know him best. A serious and focused individual, Clinton-Dix also is known for having one of the biggest hearts on the team.
"Honestly, Ha Ha is one of the most standup guys you could have in your corner," said Packers linebacker Jayrone Elliott, a close friend. "Through the ups and downs, he's going to be there with you. When you're down, he's going to get in your face and make sure you pick yourself up. He won't let you feel sorry for yourself.
"He buys my kids Pampers and toys. He's dropping presents off for my birthday. I'm not really used to having a guy do that. He's just a great guy, all around."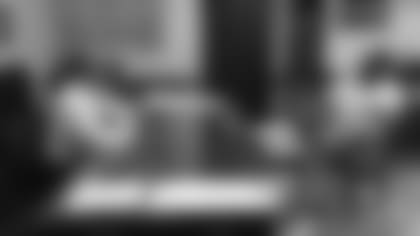 Clinton-Dix knows football won't last forever. While he may be at the peak of his powers today, the time will come when he'll need to move on to the next phase of life.
That's why he went back to school. It was a gift to his family, his coaches, and most importantly, himself. He returned to Alabama in 2016 and has been chipping away on credits ever since.
His re-enrollment has coincided with Clinton-Dix developing into one of the NFL's premier young safeties. He's coming off a career year in which intercepted five passes and played in his first Pro Bowl in his hometown of Orlando.
9,426 Likes, 115 Comments - Haha Clinton-Dix (@_ha21) on Instagram: "Had a chance to take a break from the Brown County Court House and hang out With the Green Bay Swat..."
At a time when he could be wearing blinders to the outside world, Clinton-Dix has only enhanced his exposure to what's happening off the football field.
"I think what it really says about him is how impressive he is with regard to his own sense of who he is and the stability he has," Zuidmulder said. "A professional athlete, that's a very narrow window of time. The thing all of us have is the regret when we see professional athletes who leave that glorious time and have no ability to transfer into the mortal world. They're Gods and now they're mortals.
"To see somebody at his age who has figured it all out, he's taking this for what it represents. He's taking it in stride and is a great competitor and a real professional athlete, but understands when the time comes to take all that stuff off, he's going to be fine."
Zuidmulder, who stays in regular contact with Julius, has told both Alabama and Clinton-Dix to let him know if there are any other teammates or individuals interested in criminal justice. He's always happy to take on more interns.
Clinton-Dix hopes his actions will help inspire more unity in society. If he can instill confidence in one young person to achieve his or her dreams regardless of circumstance, all the better.
Education is a large part of the culture McCarthy has built with the Packers. As important as it is to have discipline and consistency in the locker room, it's also translating those values to everyday life.
"It's something we spend a lot of time on because we want to be productive with the players while they're here," McCarthy said. "Green Bay is a special place. The Packers organization is obviously at the forefront of trying to grow the people because our goal has always been to invest in the people and the product will take care of itself."
There was no exit interview when Clinton-Dix's 90 hours were completed. Zuidmulder simply echoed the same statement he gave Clinton-Dix when he first entered the league.
His door is open. Always.
"I told him I'm not going anywhere," Zuidmulder said. "I want to be of help to him anyway I can and he's welcome to come back and be involved in anything I do, anytime he wants to."
Clinton-Dix hopes to complete his degree sometime next year. Until then, his mind is centered back on football. Should he ever need it, Clinton-Dix knows he has a friend in Zuidmulder close by.
All thanks to a serendipitous encounter three years ago in Orlando between two kind-hearted people who built a passing conversation into a lifelong connection.
"He's kind of like family to me," Clinton-Dix said.
3,866 Likes, 16 Comments - Haha Clinton-Dix (@_ha21) on Instagram: "The opportunity and experience I received in this place was one I will remember. Cherish, learn and..."