GREEN BAY – The knock on the door startled Justin McCray at first. He hadn't been in Green Bay for more than a few days, and to that point, the only friends he'd made were the four walls of his hotel room.
McCray, who signed with the Packers as a street free agent during that 2017 offseason, was among the two dozen or so roster hopefuls staying at a local hotel in Green Bay while participating in the team's nine-week offseason program.
The first thought in McCray's head was someone must have the wrong room and opened his door to correct them on their error.
"Hey, I'm Lucas Patrick," the man quickly said. "I know you just got here and don't really know anybody but if you want to get around or do anything, I'm here. I'm bored in the hotel, too."
To be certain, McCray knew who Lucas Patrick was. One of the unfortunate truths about life as an undrafted free agent is you're keenly aware of who you're competing against for a roster spot.
But that didn't seem to matter to Patrick, the affable, teddy-bearish Tennessean who a year earlier parlayed a tryout at Green Bay's rookie minicamp into a season-long stint on the team's practice squad.
McCray was floored. Where he grew up in Miami, it was every kid for himself. You take what you can and leave nothing behind, but that wasn't Patrick. He'd heard about McCray, a former hotel bellhop who punched his ticket back to the NFL through a stint with the Orlando Predators of the Arena Football League, and was inspired by his story.
As arduous as Patrick's own journey was to the NFL, he's always been willing to lend a hand or answer a question – even if it's for someone he's competing against for a job.
Maybe that's what's made the first half of the 2020 NFL season so sweet for McCray and others who know Patrick best. A top reserve for three seasons, Patrick has started all eight games on the Packers' offensive line this season. With 495 snaps played, the 27-year-old already has surpassed his workload from the past two seasons combined (415).
"He's got such a good head on his shoulders," quarterback Aaron Rodgers said. "It's fun to see him develop as a super reliable guy. He was always a guy you felt pretty good about plugging in there. You knew the effort was always gonna be there. You knew the finish was gonna be there."
As diligent as he is welcoming, Patrick invested every minute of his quarantined offseason into his preparation for this season – going so far as to relocate equipment from his training facility, APEX Performance, into his garage during the heart of the lockdown to stay on schedule.
Finally parked in a consistent role, Patrick has begun to reap the rewards of perhaps his two defining qualities: unselfishness and drive.
"There's a lot of little things that go to show the type of person that he is," said APEX head trainer Jeron Mastrud, who's overseen Patrick's offseason the past two years. "He's a quality person, not just some football player out there."
Looking back on it now, McCray recognizes Patrick had no reason to help a new guy who simply put was there to take his spot.
Few have had to work harder for a place in the Packers' locker room than Patrick, one of a handful of tryout players at rookie minicamp over the past 25 years who still found a place on the team.
Despite a season spent on the practice squad, Patrick's situation remained precarious at best in the spring of '17. The Packers lost T.J. Lang and JC Tretter in free agency but also signed six-time Pro Bowl guard Jahri Evans and drafted South Florida's Kofi Amichia in the sixth round that spring.
Training camp was a proving ground and every day was a Super Bowl for McCray and Patrick. Life on the 90-man limit is tough sledding and one misstep could very well send you packing. It teaches an undrafted free agent to be perfect in every rep.
The two battled every practice, rotating at the same three positions – left guard, center and right guard. Competition led to mutual respect and mutual respect led to friendship.
"I remember in the thick of camp … Lucas came up to me and said, 'Hey I know we're competing, man, but your story is amazing. You're a really good guy. If you were to make this team and I wouldn't, I'd be really happy for you,'" McCray recalled.
"It took me back a little bit, and ever since then, I was like, 'Man, this is really a good guy. This is somebody I could really be cool with.'"
As luck would have it, both made the Packers' 53-man roster and the brotherhood was officially born. The two shared an apartment in Hobart that first season before renting out both sides of a duplex the following year.
"(Football) is not really going to last forever. It's cool I know for sure that even when I'm finished playing I found a friendship, a brotherhood that's going to last me for my life." Justin McCray
Each guy was practically adopted by the other's family. McCray got to know Patrick's mom, "Ms. Liz," and his fiancé, Annie, while Patrick grew close to McCray's parents, Cliff and Debra, and his identical twin brother, Jordan.
During the football season, Patrick and McCray ate nearly every meal together. When they were bored, they'd walk around Best Buy "to see what spoke" to them. Patrick even took McCray fishing for the first time, an excursion that culminated in McCray catching a fish on the Fox River.
"I'm close with my brothers so it's just like having another brother there honestly," McCray said. "We'd sit in the living room and watch Monday Night and Thursday Night Football.
"When Annie or his mom was over there, I'd go over and chill. When my parents, my people came over, he'd come over. It's really he became part of my family and I became part of his."
As the circle of football life goes, the two were there for each other when things didn't go according to plan. If one had a down game, the other was there to pick him up – and there was no truer example of that than on Aug. 31, 2019, when McCray was informed he'd be released during final cuts.
McCray spent that morning at Patrick's place and was actually on his couch pondering his next move when he received another call to inform him he was being traded to Cleveland.
"I can't say he was happier than I was, but it was a close second," said McCray with a laugh.
This past July, when Lucas and Annie were married in a quaint, quarantined family affair in Oregon, McCray flew in to stand up in the wedding. While now a member of the Atlanta Falcons, McCray still talks to Patrick two or three times a week whether something about football, life, or just to discuss a funny video one sent to the other.
"We all love football. It helps us out and our families, but it's not really going to last forever," McCray said. "It's cool I know for sure that even when I'm finished playing I found a friendship, a brotherhood that's going to last me for my life. It's a good feeling knowing I got Lucas around."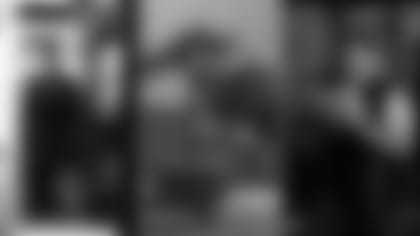 Patrick's personality is a bit of a paradox. He's jovial, generous and fun-loving off the field, yet focused, determined and a bit of a "bully," as McCray puts it, to opponents once the pads go on.
That tunnel vision and meticulous attention to detail translates to Patrick's training, as well. Mastrud only needed a few workouts to understand how invested the 6-foot-3, 313-pound offensive lineman was into improving from one year to the next.
A native of Beaverton, Ore., Mastrud returned home in 2014 to start APEX Performance Wellness & Rehab, located outside of Portland, at the tail end of a five-year NFL career that included stops in Tampa Bay, New England, Miami, Oakland and Chicago.
Patrick, now an Oregonian through his marriage to Annie, was looking for some place to train in the region when he linked up with Mastrud during the 2019 offseason.
"Although I'm from Oregon and he's from Tennessee, from the first time I met him I felt like we had more in common than we may have thought," Mastrud said. "We were both undrafted guys that had pretty big injuries in college that kind of set us back, and had to work hard for the position we did get and the time we did get. We had a mutual respect and understanding of each other in that regard."
If 2019 was a feeling-out process for the two, 2020 served as the real trust fall with lockdowns going into place nationwide in response to the COVID-19 pandemic shortly after Patrick returned to APEX.
"He's a light-hearted guy who loves to joke around but he's also a very concerned person. He's gotten me a gift each year for training him. … You always felt he was very appreciative of everyone's time and effort." APEX head trainer Jeron Mastrud
In lieu of his usual training routine, Patrick was forced to relocate to his garage. Patrick acquired a power rack, while Mastrud brought over a box for jump-training, some med balls, bands, a barbell and a few other items not in use at the facility.
"A little bit of everything," Mastrud said. "It was kind of like Noah's Ark style."
At the beginning, Mastrud provided instruction from Patrick's driveway before eventually transitioning to Zoom. Patrick set up a camera in the corner of the garage, allowing Mastrud to monitor his workouts and type notes into the comments section.
Once it became clear the Packers' offseason program would be virtual rather than in-person during the spring, Patrick and Mastrud devised a plan to make sure he was ready whenever the time came to report to Green Bay.
"I think the quarantining/COVID situation was a benefit for me," Patrick said. "We were able to develop a great plan once we found out we were going to be there the whole offseason.
"It was nice to spend that much time in a weight room. I probably haven't spent that much time in the weight room since high school, where you make big jumps in your strength and your athleticism and speed."
When the lockdown lifted, Mastrud and Patrick cranked things up. Mastrud got a hand shield and pads for blocking drills and as many footballs as Patrick needed to work on snapping. It was an unconventional regimen, but effective in further developing Patrick's core strength, functional mobility and endurance.
By the time the NFL and NFLPA agreed on protocols for players to report for camp at the end of July, Patrick and Mastrud felt confident about the offensive lineman's unique preparation. True to form, before leaving for Green Bay, Patrick made sure to leave a thank you to Mastrud and his staff.
"He's a light-hearted guy who loves to joke around but he's also a very concerned person," Mastrud said. "He's gotten me a gift each year for training him. He's gotten our physical therapist a gift, and then they had a baby, (he and Annie) got the baby a gift. You always felt he was very appreciative of everyone's time and effort."
'It's just the person Lucas is'
Patrick's drive has always been internal. His motivation comes from those who believed in him, more so than the hundreds of NFL scouts who wrote him off because of the broken ankle he suffered at Duke or the fact he played a position that's often devalued in the pre-draft process.
While past slights aren't what push Patrick to perform, he plays with an edge that would make you think they do. Patrick is out there to finish every block…whether the opponent likes it or not.
"One thing that stuck with me for the longest time, if I'm right, they have to be wrong," Patrick said. "Part of that is effort and part of that is finish. I'm just going to play to the echo of the whistle. I never know when I'm going to get this opportunity again. You never know when you're going to be a consistent starter again, so I'm not going to leave any stone unturned."
Patrick's salt-of-the-earth approach isn't difficult to spot. If there's a scuffle on the field, Patrick is the first to the fray. If a teammate scores a touchdown, No. 62 is there to hoist him up. If Mason Crosby makes a field goal, you guessed it – there's Patrick performing the duo's trademark golf-swing celebration.
"You're going to get 100% out of him every time just because he knows how hard he had to work to get where he's at. ... It's just the person Lucas is." Justin McCray
He's made a believer out of Packers offensive line coach Adam Stenavich, who admits Patrick's penchant for playing to the whistle is a trait most linemen either have or don't have.
"That intrinsic motivation and that effort is what has gotten him here to the NFL and to become a starting offensive lineman in the NFL," Stenavich said. "It's a tribute to him and his work ethic, and just kind of his mindset, and the guys feed off of it. He's a guy who's going to go out there every day and play his butt off for his teammates."
It hasn't gone unnoticed. Last December, with his mom and Annie by his side, Patrick inked a contract extension with the Packers that included a signing bonus – the first guaranteed money he'd ever received during his four-year NFL career.
"(I) was really excited to see him get that contract," said Rodgers with a smile. "Now I think he's probably underpaid. I think we can all agree on that, just the way that he's played so consistently for us and his value to this offense as not only our backup center, but our starting guard."
For McCray and Mastrud, there's a feeling of gratification watching Patrick's success this season. Because this wasn't a case of an early-round pick achieving his athletic destiny. Patrick swam against the tide and reminded everyone of what's possible when preparation meets opportunity.
The best part? Patrick made it this far by bringing people up with him when he very easily could've pushed them down.
"He doesn't take anything for granted. I think that's why he plays the way he does, and he plays hard," McCray said. "You're going to get 100% out of him every time just because he knows how hard he had to work to get where he's at.
"It's just the person Lucas is."