GREEN BAY – Tammy and Bob Tonyan have traveled anywhere, and everywhere, to see their son play the game he loves.
This is the same couple who once put 44,000 miles on a car traversing the country when Robert Jr. was playing football at Indiana State, while his older sister, Danielle, starred in volleyball at Bowling Green.
Tammy is the ball of energy driving the family forward, the unapologetically positive mom who once placed a sign reading only "Smile" at the bottom of the staircase in the family's 100-year-old house in McHenry, Ill., to remind her children every morning to be thankful for the new day they've been awarded.
When Robert started youth league baseball, Tammy gave her two-week notice at the local hospital she worked at for 20 years and started her own cleaning business, because she didn't want to miss any games or after-school activities.
On this particular evening, due to the ongoing COVID-19 pandemic, the closest the Tonyans could get to watching their son play his 31st career NFL game was at The Turn, the Topgolf-inspired restaurant a block away from Lambeau Field.
Tammy and Bob, accompanied by family friends, grabbed a table in their own secluded area and settled in to watch the Packers host the Atlanta Falcons on Monday Night Football.
What happened over the course of those next three hours is something the Tonyans won't soon forget, as Robert scored not once, not twice, but three times in a commanding 30-16 victory, nearly doubling his career totals over the span of four quarters.
"I just couldn't believe it," Tammy Tonyan said. "It's like, 'Oh my gosh, I cannot believe this is my life.' I'm actually watching my son on TV and he's scoring three touchdowns. Who can say that?"
Ten years earlier, nobody saw this coming. Well, except maybe the Tonyans. Back then, no matter how tired she felt, Tammy would spend hours every night – typically from 9 p.m. to 1 a.m. – penning emails to Division I schools on Robert's behalf.
She didn't know what she was doing. There was no manual at the local bookstore for how to get college football programs to look at your son. But she knew her son had talent, real talent, and was willing to put in the time to make sure it didn't go unnoticed.
Everyone had a part to play in the process. It started with Bob building a master list of every D-I program they could find, FBS or FCS, while Robert hunkered down in the McHenry Community High computer lab in search of teams in need of a quarterback.
Working off Bob's list, Tammy found the name of the head coach, quarterbacks coach and recruiting coordinator at every school, and started firing off emails. Sometimes she'd even look for tidbits on their off-the-field interests. If the head coach was an avid golfer, she'd personalize the email with that nugget.
Each correspondence was original. Nothing was ever copied-and-pasted, though most started in a similar fashion:
"Hi, my name is Robert Tonyan. I'm a quarterback at McHenry-East Campus in Illinois. If you could take the time to look at my film on YouTube, I'm very interested in your program..."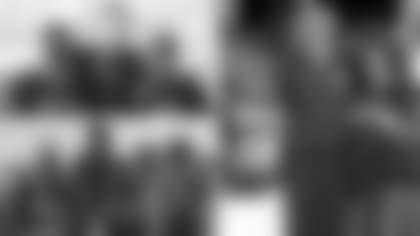 It's your call
Since the day Robert Tonyan first picked up a stuffed football and threw it across the family living room, all he's ever wanted is to play in the National Football League.
The likelihood of that actually happening was slim but that never really mattered to Tonyan. He started high school at Marion Central Catholic, about a 35-minute drive from the Tonyans' home, but transferred to McHenry after his freshman year for a myriad of reasons, including how the 2008 recession impacted Bob Sr.'s contracting business.
"When you see hurt in your own father, my thing was to give up the Catholic school and just go to public school that was right next to my house," Tonyan said. "It literally was like 30 seconds from my house, on the corner of my street."
It was a natural fit. Tonyan already had childhood friends at the school and there was a direct path to playing quarterback. A two-time All-State nominee, Tonyan shattered multiple school records at McHenry, finishing with 5,000 passing yards and 40 career touchdown passes.
Unfortunately, it didn't translate to a lot of winning. McHenry went 1-8 during Robert's junior year and 4-5 during his senior season. He once was sacked seven times against Crystal Lake Central, a memory Tammy archived in his scrapbook with the word "OUCH" spelled out next to the newspaper clipping.
"I knew it was going to be hard for him (to get recruited) because they did not win any games," Tammy said. "The only thing I knew was Robert was talented. My husband, as well, he knows football like you couldn't believe. He could tell that Robert had a natural knack."
The thing about growing up in the Tonyan household was mom and dad were willing to go the extra mile, but you had to hold up your end of the bargain, too, and Robert most certainly did. He put everything he had into football, having his dad drive him to lift weights or doing conditioning drills even when it wasn't required.
Seeing Robert's dedication lit a fire inside Tammy during one of the most difficult times of her life, as both of her parents were dealing with serious health issues at the same time the college process was ramping up for Robert.
With her father hospitalized for 108 days at one point, Tammy would get done with work around 2:30 p.m., pick up her mom and drive one hour to stay with him until 8 p.m.
"I knew it was going to be hard for him (to get recruited) because they did not win any games. The only thing I knew was Robert was talented." Tammy Tonyan
After dropping her mom back off, Tammy would get home, and she and Robert would get back to sending emails (preferably five a night) to colleges. And she was relentless, often trying schools four or five times before moving on, if she'd hadn't heard back.
The most joyous part was when she'd open her inbox and see a college had replied. Tammy would then leave a note for Robert the next morning, with the name and phone number of any coaches who expressed interest. At that point, it was up to Robert to call…and he always did.
"It was tough. It wasn't like a comfortable thing for me," Tonyan said. "I'm not much of a talker with people I don't know or I'm not comfortable with, so obviously I could be shy. It was awkward at first, but it got better."
Tammy never intervened on the calls, but occasionally listened in from beneath the staircase to see how Robert was doing. It was only later on, after offering the same advice to her friends, Tammy realized just how rare her son's willingness to call was.
"I told them what to do and how I did it, and they couldn't get their kids to call," Tammy said. "They felt too uncomfortable, too not at ease."
Most of the calls resulted in the coach extending an offer for Robert to participate in one of the school's one-day camps. With Bob often busy with work, Tammy was quick to grab the car keys and chauffeur Robert around the Midwest on weekends.
Wherever the road may lead
The road trips were special. Looking back on it now, Tonyan believes that's probably how he grew so close to his mom. There's something about driving seven hours through farmland that binds you to any person, let alone your mother.
In a day and age where iPhones have infiltrated the world, Tammy and Robert tuned out everything and shared in some meaningful conversations about everything from how school was going to overall daily life.
"Kids, they don't just sit down with their parents and talk anymore. I think that was beneficial in my relationship with my mom," Tonyan said. "We were sitting there in a car for hours and forced to talk, not in a bad way, but like a good way. I think that's why her being my 'why' is so strong because all I know is working and all I know is wanting to make my mom smile."
Tammy made a scrapbook of all the camps they attended – Indiana, Northwestern, Western Michigan, Toledo, Ball State, Bowling Green, and Illinois State among them. Bob's father tagged along for the visit to North Dakota, driving the entire 10-hour commute to Grand Forks.
The journey eventually brought the Tonyans to Indiana State, the school that identified Robert as one of its top targets for the Class of 2012. Head coach Trent Miles was in the midst of rebuilding the Sycamores' football program and showed significant interest in Robert.
"I just think adversity, for me, is really where I thrive just because I'm so used to it. I'm so used to change. … I always had the cards stacked against me, so I just thought that was normal." Robert Tonyan
After heavily featuring Robert throughout the camp, Miles pulled him aside near the end and asked Robert to call his mother down to the field from the bleachers.
"I really want your son to play for the Sycamores and help us win a championship," Miles told Tammy. "I'm offering him a scholarship."
It was not just any scholarship, but Tonyan's first scholarship offer. After taking some time to consider it, Tonyan signed on with the Sycamores, but he'd only get his redshirt season with Miles. After a 7-4 record in 2012, Miles left Indiana State to succeed former Packers offensive lineman Bill Curry as the head coach at Georgia State.
A move meant more change for Tonyan, who played one season at quarterback for the Sycamores under Mike Sanford before agreeing to transition to receiver, where he'd catch 150 passes for 2,047 yards and 20 touchdowns over the next three seasons.
By the time the 2017 NFL Draft rolled around, many scouts already penciled Tonyan in as a tight end at the next level. After a brief stint in Detroit, Tonyan found his way to Green Bay.
"I just think adversity, for me, is really where I thrive just because I'm so used to it. I'm so used to change," Tonyan said. "Whether it was from the position change, coaching changes in college ever year, and then getting here and changing another position, injuries, fighting for a spot, trying to make the team undrafted. I always had the cards stacked against me, so I just thought that was normal."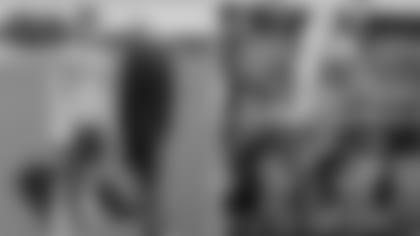 'Your life can change in a year'
Tammy Tonyan has made it a habit this year of texting motivational quotes to Robert before games. Sometimes it's an excerpt from Vince Lombardi or a current NFL player, and other times it's just a personal message meant to inspire.
But as she held her phone following Robert's three-touchdown performance against the Falcons, Tammy was at a total loss for words other than to say: "I can't believe what we just saw. I love you so much. We are so proud of you."
"People are like, 'I have the best mom,' but I truly believe I have the best mom just for the sole fact that she over-cares the right amount." Robert Tonyan
As midnight approached, Tonyan's phone was blowing up with calls and texts as he sat down to address the media in a post-game Zoom call. There was one thing he needed to do first, though.
Tonyan needed to text his mom back.
"I don't even know how to explain it … People are like, 'I have the best mom,' but I truly believe I have the best mom just for the sole fact that she over-cares the right amount," Tonyan said. "She really just saw how hard my sister and I worked at what we wanted. She's like, some people just don't catch that break. She was just making sure that we got what we deserve and what we put in."
Due to the COVID-19 precautions in place, Tammy and Bob were unable to visit Robert postgame like typical home games. Instead, they went back to their hotel and waited for Robert to FaceTime them around 1 a.m. Still buzzing from the win, Tammy wasn't able to fall asleep until around 3 a.m.
Robert estimates he was up until 5:30 a.m., spending the night on the phone with friends and former teammates, including Pro Bowl tight end and offseason workout partner George Kittle.
A few days later, when asked about Tonyan's breakout game, Kittle said he wasn't surprised whatsoever to see his groomsman's hard work pay off against the Falcons.
"I'm just so happy for him," Kittle said. "He's a really good tight end, and he has a chance to be great, and he gets to prove that now."
There's a J.Cole lyric one of Tonyan's close friends always said that the Packers' third-year tight end has adopted and applied to his own life: "Keep grinding, your life can change in a year."
And it has. While no longer the kid calling up college coaches asking for an opportunity, Tonyan hasn't lost the never-say-die drive that got him to this point in his football career.
Tammy says she doesn't know exactly where he gets that from, but to Robert, it's no secret.
"People really just let other people put their limitations on them, and that's what fuels me. When somebody puts a limit on me, you just put a big red circle on that," Tonyan said. "I think that's a credit to my parents, and how if you want it, you're going to get it because you're going to put the work in – not because someone handed it to you."