*As part of the Green Bay Packers' celebration of the 10th anniversary season of the Super Bowl XXXI Championship, Packers.com is running a series of stories about the people responsible for bringing the Vince Lombardi trophy back home to Titletown.
In his first season with the Packers in 1996, Santana Dotson was looking forward to having fun playing football again. That's what brought him to Green Bay in the first place.
But it's not necessarily the Super Bowl championship or all of the individual success that Dotson enjoyed during the season that he remembers the most.
Instead, when the 6-foot-5, 290-pound former defensive tackle recalls that unique season in Green Bay, he thinks of a certain look that he hadn't seen in a long time.
And it wasn't the look in his teammates' eyes. Rather, it was the glance opponents gave him upon seeing what they were up against.
"It was my first season with the Packers and I remember the look in one of the first games we played, one of them was Tampa and one of the first home games was San Diego, if I recall that correctly," Dotson explained. "I remember the first quarter, just the way when the offensive line broke the huddle and when they looked across you could see the fear in their eyes when they saw myself, Gilbert Brown, Sean Jones and Big Dog, Reggie White.
"They almost had a puzzled look on their face like, 'Who we going block, who we going to double-team, who we going try to keep from making plays?' I remember realizing we had something so special at the time."
Back then, this type of team success wasn't something Dotson was necessarily accustomed to, either. Sure he played well in his four seasons with Tampa Bay, but he never set foot on a team like the one Green Bay assembled in '96.
When he became a free agent, Dotson came to the conclusion that Green Bay was the best place for him, but not before he had a little help in making his decision.
"I remember when I was a free agent, Reggie called and when he asked me to be a part of something special, the deal was done," Dotson admitted. "It didn't matter what Ron Wolf said or didn't matter what Larry Brooks, the defensive line coach said. When Reggie called me, and I was at home in Tampa Bay, I was going to Green Bay. It was a done deal.
"You had somebody who was a perennial Hall of Famer -- somebody I had watched since the college years, and you know, somebody I had tried to emulate -- call me and when he did, and did his best job to recruit me, the deal was done."
Clearly, the Packers' front office had little recruiting to do in the case of Dotson.
"They could have offered me 50 cents. Well, not 50 cents," Dotson, 36, recalled with a laugh. "They had me at hello. Let's just put it at that."
Defensive Tackle Relished Doing the Dirty Work
Undoubtedly, the transaction worked out well for both parties. Dotson helped the Packers defense reach greater heights by providing an up-the-field pass rusher along the defensive line, not to mention a terrific worker, leader, and someone who helped Gilbert Brown plug the middle.
And although his teammates and coaches knew what Dotson brought to the table, defensive tackles don't often garner a great deal of attention, especially with players like White and Jones manning the defensive end spots.
But the lack of attention never bothered Dotson. In fact, it seemed to be what drove him.
"The heartbeat of the defense is the defensive line and the heartbeat of the defensive line is the defensive tackles," Dotson said. "I do a lot of speaking engagements, and the message I always tell kids, or anybody for that matter, is that you can ask anybody, and everybody wants to be successful, and everybody wants to be a champion in their different venues, in their different sports, or their different workplace everyday.
"But the way you differentiate is the people who want to put in the work or the effort to get it done. And that goes back to Gilbert and myself. Especially myself, when I came to Green Bay, I think there were a bunch of questions and the team I came from wasn't a successful team.
"So there were a bunch of questions I wanted to answer, and I wanted to answer them not only on the field on Sunday, but I felt it was a priority to answer those questions to my teammates during training camp and during minicamp, to show them the kind of effort I was willing to put forth, not just in practices but also in the weight room so they knew I was somebody they could rely on and count on."
Now Dotson is trying to pass that message on to his family as well. He married his high school sweetheart, Monique, and the couple has a son, Khari, and two daughters, Amani, and Sananaá, with another child on the way in August. They reside in Santana's hometown of Houston.
After spending six seasons with the Packers, Dotson signed with the Redskins but retired after the 2001 season when he tore his Achilles' heel. He's now an entrepreneur in four businesses, and along with two other partners, he recently purchased a tequila company called Distinguido.
Foundation, Friendships Still Going Strong
Dotson said that his business ventures keep him extremely busy, but he still manages to make the Santana Dotson Foundation (www.santanadotson.com.) a huge success.
According to Dotson, the foundation has been operating for 14 years. It raises money through a raffle and auction as well as a pool tournament that is held annually in Houston and Milwaukee. This money allows the foundation to give scholarships and grants to underprivileged youth to continue college and Dotson said it has helped over 150 kids continue their education who otherwise wouldn't be able to afford to go to college.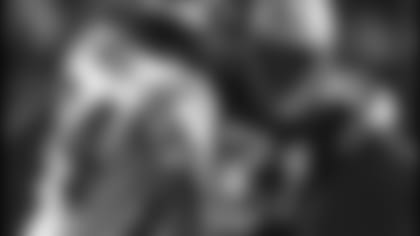 Because of this foundation, Dotson said he gets back to Milwaukee "about every other month." He also comes back to Green Bay each season for at least one game, and sometimes two. He admits that his time in Titletown was special, primarily due to the relationships he built.
To this day, Dotson marvels at the camaraderie he experienced as a Packer.
"I used to say it was because we were in Green Bay and there was not a lot to do," he said. "But now I think it's the caliber of guys that were in that locker room. What I'm talking about is we had the whole defense, the whole special teams, and the whole offensive line.
If one guy went out, if one guy was going to have dinner, we all were going to have dinner. We did everything together and I used to think it was because we were in a smaller town like Green Bay and there was really nothing else to do, but it's not like that. And I think it's really hard to build that camaraderie."
It's comes as no surprise that Dotson maintains many of those friendships today, too.
"I talk to Gilbert all the time," Dotson said. "We're like brothers. Brian Williams and I are real close. I talk to Desmond (Howard) every so often. (Antonio) Freeman and I, we keep in contact. I talk to Dorsey Levens, and Tyrone Williams, so it's still a close unit.
"The NBA All-Star game was in town earlier this year, and all those guys were in town. So they came to the house. It's like a brotherhood or a fraternity. Even though a lot of players have retired and moved to different parts of the world, there's still that common grain of sand or common unity. So whenever we're all in the same area at the same time, we always get together."
If fun was what Dotson was looking for in joining Green Bay 10 years ago, it's fairly safe to say that decision is still paying dividends.