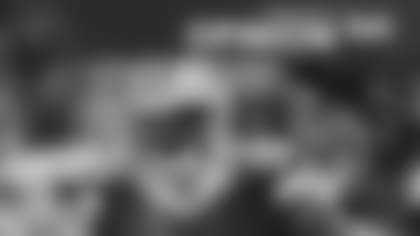 DE Datone Jones
Who are five players that could be available when the Packers select that you and Pauline think they could select?
Assuming tight end, linebacker, defensive line and safety are the Packers' positions of greatest need, and I believe they are, I've focused on four first-round prospects at those positions who offer the possibility of being available when the Packers pick: Eric Ebron, C.J. Mosley, Louis Nix and Calvin Pryor. I've seen mock drafts that have each of those players picked before pick 21, and I've seen mocks that have all of them available at pick 21. Tony and I each favor Nix. Tony believes Nix is the best value of the four, and he points to what he believes would've been a top 12 selection for Nix had he declared eligibility for the 2013 draft. I would add that I believe improvement on defense must begin with the nose tackle position. It's the rock on which the 3-4 is built, and Nix is a classic nose tackle who possesses some get-up-the-field ability.
Vic, since Friday was your third anniversary, I thought I'd go back and read your first column. You mentioned Julio Jones and A.J. Green would go early, but Randall Cobb might be available in the second round. You were looking forward to watching Colin Kaepernick at the combine. You're a pretty prescient guy.
Cobb is a better value than Jones and Green, Kaepernick is still a player whose talents are intriguing, and time flies when you're having fun.
Tight end looks like it has some decent depth this year. Which tight ends do you like that might be available on day two?
C.J. Fiedorowicz is an easy pick for a team needing a tight end because he's the classic in-line blocker and possession receiver. When you have him, you don't need all of those tight end specialists. I don't think he's the deep-seam receiver he said he is, but I think that deep-seam stuff is overrated; we have wide receivers to get deep. I want my tight end to block and move the sticks. Fiedorowicz can do both.
Peter from Mount Horeb, WI
Vic, Jimmy Ward seems the like the perfect third-round pick for the Packers. He reminds me a little of LeRoy Butler.
Billy from Las Cruces, NM
Although I do agree with what you're saying about need never superseding value, wouldn't you agree that picking the best available player, which could be a wide receiver, would still leave a gaping hole on our defensive line and at the safety position? I won't pretend to know more than you or Ted Thompson on the issue, but if a wide receiver is the 12th-best player in the draft and a safety is the 21st-best player, then why take a wide out when we're already set at the position?
So you advocate leaving the 12th-best player for the Eagles? They draft right behind the Packers. Be careful. You're going to have to play in the same conference against a player on whom you'll pass.
Thoughts on Bucs' new helmet?
It's the worst helmet I've ever seen, but it looks good on them.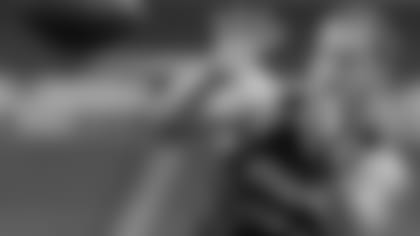 WR Jared Abbrederis
Do you think Jared Abbrederis will get drafted? Who do you think will take him?
In a year when wide receiver isn't as loaded as it is, he'd go higher than he will this year. I think he's going to make a wonderful slot receiver. I can't imagine any team not wanting him.
What is the significance of a three-down back? What difference does it make?
If you don't have to replace him, you can go no-huddle without having to substitute, which means the defense can't substitute, which means you can maintain a matchup situation that favors you.
Let me see if I got this straight. You're saying you're looking for a good player and if you're picking 24th and the top of your board is a QB, you draft Aaron Rodgers?
Well, Joe, you've decided to play the quarterback card, which is what the truly needs-picking desperate always do eventually, but you know, Joe, you're right: If Aaron Rodgers is on the board, even if I already have Aaron Rodgers, I'm pickin' him. Who doesn't need another Aaron Rodgers? I'll tell you this, I sure don't wanna leave him for the competition to pick. What if I passed on him, the Vikings traded into the spot behind me and picked him?
Brian from Kansas City, MO
I was watching your interview with Coach McCarthy. Do you ever give them the questions you plan on asking, almost a dry run, especially with people in the organization? He seemed to quickly answer each question, so I was just wondering if you gave him a heads up, so to speak.
Never, ever would I do something like that. You are describing an egregious violation of journalistic ethics. It saddens me that you would even consider that I would do something like that.
The classy designation that some want to assign seems to surprise you. Not sure I'd want to call myself classy as a fan; maybe we'd both be more content with dignified. Could Packers fans simply be dignified?
My suggestion is that we allow others to answer that question. Let them say it. I consider humility to be a main ingredient of classy.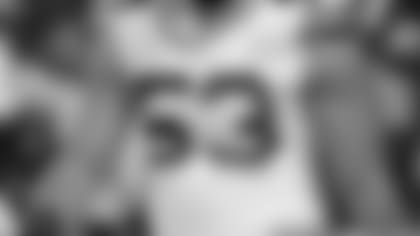 OLB Nick Perry
Vic, I just read that McCarthy and Capers want to use Perry as a seven technique. Could you elaborate on this position/technique? Some people want to call Perry a bust already, but I still love his potential. I was at camp when he put Bulaga on his butt, and his strip-sack plays this year were also flashes, but the guy has had some bad-luck injuries. Is there still hope for him?
In simple terms, an outside linebacker in a 3-4 defense playing seven technique would be the equivalent of a run-stuffing, left defensive end in a 4-3. He lines up outside the offensive right tackle, often between the tackle and the tight end, and sets the edge in the run game, while still offering the ability to provide pass-rush pressure to the tackle. In other words, you're talking about Nick Perry being used as a 4-3 defensive end. Here we go. I was getting tired of all that combine talk. It's good to be back in the office for some good, old-fashioned 3-4/4-3 debate.
Peter from Mount Horeb, WI
Vic, which player at the combine came onto the scene out of nowhere, and which player fell from first-round grace?
I don't think we had either happen this past weekend, but Jadeveon Clowney and Aaron Donald lit it up this morning. Clowney probably solidified himself as the first overall pick, and Donald likely has continued his rise up boards. The weekend was a little disappointing, and the problem with that is that it's on the weekend that the media is there to promote what happens at the combine. That's when TV viewing spikes and information to the public peaks. Too many quarterbacks elected not to participate on Sunday. For the NFL to be able to sell the scouting combine as a major event, it'll need to get a commitment from the players that they will fully participate. I don't see that happening.
Rafael from Little Rock, AR
When agents advise their clients not to participate in certain evaluations during the combine, is it for fear of injury? Is this what we should expect more of in the future, including prospects at other skill positions?
An agent's sole concern and responsibility is for protecting his player's financial interests. If his player doesn't stand to gain from participating in the Senior Bowl or combine workouts, he'll advise him not to participate. Sometimes it backfires. I thought Geno Smith made a big mistake not going to the Senior Bowl last year. In a weak quarterback class, I thought it was a chance for Smith to put distance between himself and the other quarterbacks. The fact that his agent didn't see it that way raised suspicions and invited criticism about Smith's talents. What will it do to Johnny Manziel's draft stock that he elected not to throw at the combine? It's football poker.
Vic, at the combine, both Mike McCarthy and Ted Thompson had comments about expecting more from Datone Jones. Would you say that's a case of sending a message to a player in the media?
I'm sure Coach McCarthy delivered whatever message necessary to Jones when the two of them met in Jones' exit interview following the conclusion of the season. I think Coach McCarthy and Thompson were sending a message to the fans on Friday that expectations for Jones have not diminished.