Vic, how good of news is it to not see Clay Matthews on the PUP list?
I think it's the most positive thing that's happened for this team since Aaron Rodgers returned to the starting lineup in Chicago last season. In my opinion, for this defense to be the best it can be and be what we want it to be, Matthews must be the star playmaker he had been until the thumb injury sabotaged his 2013 season. I watched him closely in each of the first two practices. I didn't see him favor the thumb. He used both hands in fighting off blocks.
Has there been a change in sports writing over time and does this affect fans negatively?
Watergate changed the newspaper industry dramatically. All of a sudden, sports departments began feeling like news rooms. Everybody wanted to be Woodward and Bernstein. I think we began taking ourselves and sports too seriously. Watergate did more to shape the newspaper industry than any other event in my newspaper career. Sports departments, on orders from managing editors, began distancing themselves from the teams they covered. I feel the divide growing wider every year, and I don't think that's in the best interests of the fan or the reader. The digital media industry is shaping sports writing in a new way but, by and large, the top sports writers on the web are products of the newspaper business.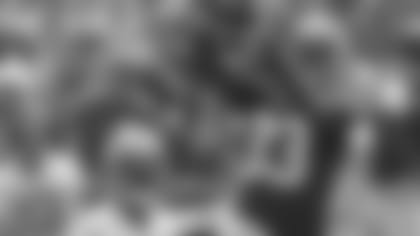 I'm not really understanding the rules of a contract. I don't understand how a player who still has years remaining on his contract can hold out to get another contract, especially after that athlete has had a very productive year, but the organization cannot deduct money from that same player's contract if he does not have a good year. Please enlighten us fans that are scratching our heads over this one-way situation.
There's no contract police. They don't arrest people for refusing to work. The team can move on without the player and he'll still be obligated to complete the terms of his contract, but it's often the case that the team softens and gives the player an extension to end his holdout. Why? Because he's good and the team wants to win. Just win, baby.
Mitchell from Saint Johns, MI
I have a good number of friends who prefer college football over professional. I prefer professional. Which do you prefer? Why?
I prefer the NFL to college football, by far. Once upon a time, I loved the two equally. What happened? In my opinion, the quality of the college product has declined dramatically in recent years. The games are seldom competitive. I see point spreads of 30 or more points all over the top 20. I have loved college football for all of my life, but I'm losing my fondness for it and that makes me sad. Saturdays aren't the same anymore.
If boxing is the sweet science and economics is the dismal science, what is sports writing?
At its best, it's art, not science.
Tyler from Silverdale, WA
We haven't exhausted it quite yet, Vic. Will the Joe Greene jersey be home or away?
Coach, it's a funeral, not a wedding.
Brian from Albertville, AL
Do you have any memories of Packers President and CEO Mark Murphy's playing days?
He was a trendsetter. Mark was one of the league's first big safeties.
About the Jordy extension, do you really believe the "it avoids a distraction" angle? I can't see how that would really affect anyone as professionals?
Yes, I believe signing Jordy Nelson to a contract will help the Packers avoid a possible distraction. If it's in the news, it's in people's minds. Chuck Noll was fond of saying football teams have to overcome everything. They have to overcome the media, bad calls, two o'clock feedings, etc. The less they have to overcome, the greater their focus on football.
Chad from Tarpon Springs, FL
What is the greatest game you have ever seen? Mine is the 2009 playoff game between the Packers and Cardinals when the Packers lost, 51-45.
That's one of my all-time least favorite playoff games. I'm just not a 96-point kind of guy. I prefer a hard-hitting, 24-21 type of game, with as many big hits and big stops on defense as there are big plays and touchdowns on offense. I thought the game in Chicago last season was sensational. That's my kind of game.
Vic, my dad grew up in a small town just southeast of Pittsburgh and was a diehard Steelers fan. My mom grew up in Louisiana but refused to live up north so I grew up in Shreveport. I became a lifelong Packers fan at the age of 13 but have always considered the Steelers my No. 2 team. I remember the regular season game between the Steelers and Packers when the Steelers won on the last second TD pass and I thought, man, that should have been a Super Bowl game. Then they did play each other in the big game. It, too, was a great game. Yeah, I cheered for the Packers. Was it difficult for you to decide which team to cheer for?
Not at all. I was sitting in one of the Packers' suites, and I was wearing my black hard hat with the yellow revolving light on top. Should I not have done that?
Vic, I noticed Aaron Rodgers saying something you say regularly: It's about being one of the teams that is playing at a high level in November and December. September is for stats. December is when you just win, baby. I love listening to Aaron Rodgers. He's a sharp dude.
It's how the Packers won the Super Bowl in the 2010 season. They got hot in December.
Vic, I was surprised Coach McCarthy is not having Friday practice this season. As I understand it, during a normal week Tuesday is when coaches game plan, then there are full-day practices on Wednesday and Thursday, and a half day on Friday. With so little practice time, what is the benefit of losing that half day?
It sounds to me as though he's trying to save his players' legs by giving them a day away from practice after consecutive practices on Wednesday and Thursday. I'm wondering what impact it might have on the injury report.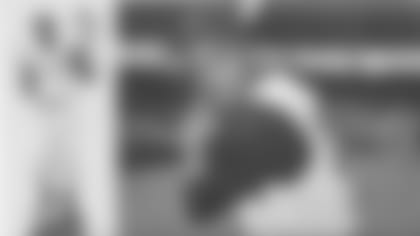 Dave from Lake Zurich, IL
Be careful for what you seek.
That's the card. It's a 1960 Topps. It's one of the most thoughtful gifts I have ever received and proves without a doubt that Packers fans are winsome. This is the Roman Mejias that will last forever. I will never throw this one away. Thank you, Dave.
Morgan from Saint Croix Falls, WI
How has Myles White looked in training camp? He seemed to be doing OK last year.
Training camp begins today. The first two days were just more OTAs.
Billy from Chaozhou, China
As of right now, which rivalry is greater, Seahawks and Packers or 49ers and Packers?
As it stands right now, I think Packers fans feel a stronger "bond" with the 49ers, but as the opener approaches, the pendulum of emotion will begin swinging in the Seahawks' favor. It's all about now in the NFL. It's always been that way. The most fierce rivalry I have ever covered, the Steelers and Raiders, lost its intensity a few years after the two teams stopped playing each other in the playoffs every year.
Andrew from Fort Collins, CO
The Packers just hired a full-time nutritionist. Do you think they'll endorse your bacon cheeseburger diet?
That was a joke, but addressing their players' health is no joke for the Packers. The fans demanded change, and the Packers are complying. Mike McCarthy is doing everything in his power, including a revision of the practice schedule, to help his players maintain strong and healthy bodies.
Matthew from Litchfield Park, AZ
I just wanted to say Mike Daniels is quickly becoming one of my favorite players. Have you seen him start to become a fan favorite with the way he talks and the way he played last season? Could he really be considered the leader of this defense?
Fans love players that communicate their intensity for the game. It allows fans to feel a connection with those players. Yes, Daniels is becoming a fan favorite. Leader of the defense? Yeah, I think he's heightened his presence among his teammates, and he'll continue to gain respect within the locker room if he plays up to the level of his words. I can remember a sign Tom Coughlin hung for the players to read: "Deeds, not words." I'm OK with words, as long as they are accompanied by deeds. The deeds part is the key. Daniels played at a high enough level last season for his words to be meaningful, but it can't be a one-year thing. He knows that.
Vic, first off, thanks for the honesty and the humor. Your column is always a fun read each day. Please don't change. Secondly, you are the first person who has aged better then Bon Jovi. What's your secret?
Vic, what are your thoughts on the first two days of training camp?
Micah Hyde is going to be very difficult to move out of the starting lineup.
Gladdys from Rolling Meadows, IL
Vic, what's the difference between practicing in pads and practicing in shells?
In the old days, when players wore hip pads and sizable knee pads and thigh pads, and significantly larger shoulder pads, the difference between shells and full pads was the difference between pajamas and a tuxedo. These days, the size and number of pads have been greatly reduced. It's the difference between a pair of shorts and a pair of pants.
Vic, now that training camp has begun, when do you get time off during the week?
The time-off days are gone. We all know that in advance of training camp, and that's why I'm manic to get all of the loose ends of life tied down before camp begins, because I don't have time after camp begins to address those loose ends. The big thing for me now is finding time to do "Ask Vic." At all other times, I do it early in the morning, but I have to be on the field at 8:20 a.m., and then Coach McCarthy's press conference and player interviews follow, and then whatever writing and editing that results from those interviews must be addressed. Today's "Ask Vic" got up in the dark. It almost felt like winter again. My sole goal in life right now is to make it to the season. When I board the plane to go to Seattle, I'll be a happy man.