Adrian bounced, that's for sure, but I saw two things that allowed it. First: grab, grab, grab. Second: no one finished.
It's the second one that worries me. Mike McCarthy used that word in his Monday press conference. He said the Packers didn't "finish" on defense, and alarm bells went off in my head. He talked about players being in the right positions to make plays, but didn't "finish" making the play. I saw evidence of it on Sunday, and I saw evidence of it in watching some tape on Monday. "Finish" is a buzz word in this business. If your guys didn't finish, it means they didn't get it done. It concerns me because it has been my experience that players that don't finish couldn't finish; they got overmatched.
Mark from Stewartville, MN
Vic, do you think it might be wise to slightly reduce Lacy's workload and give Starks at least 10 carries against the Lions? Are you concerned at all that the Packers might burn Lacy out for the playoffs?
No, I am not concerned. He's a young man. Give him the ball. What are you saving it for, the prom?
Vic, do you realize by the time the game rolls around this Thursday it will have been 32 days since we last won a football game? Have you ever not eaten for an entire month leading up to Thanksgiving Day? Boy, am I starving.
The 2000 Ravens didn't score a touchdown in October and they won the Super Bowl. Fasting can make you awfully hungry.
Vic, I have thoroughly enjoyed your column in the past, but lately it's been difficult to read. Unfortunately, it appears your paycheck with the organization is causing a conflict of interest in your ability to cover the team in an unbiased fashion. Perfectly understandable, but regrettable all the same. Your statement that 31 other coaches would have gone for two is patently ridiculous. What do you base that on?
I base that on 42 years of having covered the NFL. I base that on talking to coaches every day of my life and knowing how they think. I base that on knowing and having worked with coaches who are on teams all around the league. I base that on my reporter's instincts, which are very, very good. I base that on my understanding of how fans think and how I am absolutely sure the fans would've "killed" Mike McCarthy had he not gone for two and only had time in the game to score one more touchdown. I base that on the Vikings' ability to dominate time of possession with their running game and limit the opportunities the Packers would've had to score twice more had the Packers gone for one point. I have thoroughly enjoyed your question but I'm concerned that you're subjecting yourself to commentary you believe is contrived and deceitful. I have regrettably lost your trust and, therefore, humbly request that you never read this column again. Sorry to lose you. Bye.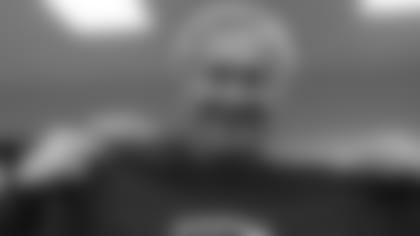 Mike from Pickerington, OH
Your "Bingo!" response made me think of Cousin Eddie. Was that in preparation for watching "Christmas Vacation" this week?
Tony from Liverpool, England
Vic, I can't help but think our inaction in free agency has harmed our chances this season. With the amount of injuries we have, a little more experience would have really helped. My question is this: If Reggie White were available in free agency today, would Ted Thompson take the plunge and bring him to Green Bay?
I don't know; he might. I wouldn't. How's that for honesty? I'm opposed to big spending in free agency because I think the risk is too great. I'm not saying I wouldn't like to have some of the top guys in free agency, I'm just saying I wouldn't pay what it takes to get them. I wouldn't have paid for Mario Williams, for example. I like bargain free agency. I'll sign a guy who's made it into the bargain department. Charles Woodson is such a free agent. He wasn't a first-week-of-free-agency guy. He lasted deep into free agency and became a bargain. I'll jump all over that guy, but there are no bargains in the first week of free agency, only overspending, and I won't do it. In my opinion, a healthy salary cap is a team's most precious possession because as long as your cap is healthy, you can recover quickly. If your cap gets sick, you're going down for a long time.
Nikhil from New Delhi, India
Vic, you said the Lions game isn't a must win. I disagree. It's a must win because for us to beat out the Lions we need to have as many wins as they do. They have one more win than us now and if they beat us they'll have two more wins than us. That will be hard to undo with four games left.
Yeah, I get all of that. My point is that if the tiebreakers were still in play and the Packers lost to the Lions, it would be the equivalent of being three games down. I won't like the Packers chances of winning the division title if they don't win in Detroit on Thursday, but it would still be doable if, for example, the Packers won their final four and the Lions lost to, say, the Eagles and Ravens. Let's put it this way: If Thursday's game isn't a must win, it'll do until a must win gets here. Is that OK?
Christian from Copenhagen, Denmark
Vic, why is it that Detroit and Dallas always play Thanksgiving football?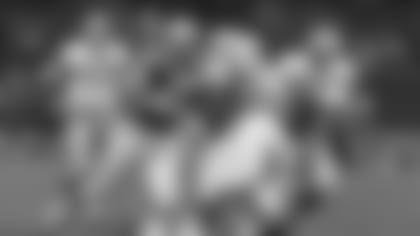 Packers at Lions, Thanksgiving 1962
They volunteered to do it. Nobody wanted to play on Thanksgiving. Their season-ticket holders would've complained bitterly that they had to buy a ticket to a game they couldn't attend because they had to go to grandma's house. It had become a tradition in Detroit to play on Thanksgiving, going back to before TV. Back in the '60s, that was the only game on TV on Thanksgiving. The '62 Packers-Lions game on Thanksgiving was the NFL equivalent of '65 Notre Dame-Michigan State. Everybody saw it coming and we couldn't wait for Thanksgiving to arrive. Some years later, Tex Schramm saw the opportunity to play at four o'clock. The Cowboys were big on building their image as "America's Team" and he offered the Cowboys to the league for a four o'clock game (sorry, I still think ET), and the league said thanks and jumped on it. Schramm was a smart football executive. Now we've got a prime-time game on Thanksgiving. The way I figure, if the MAC doesn't jump on that Wednesday morning slot, the NFL will.
Who do you think offers the best chance to beat the Lions, Tolzien or Flynn?
I think Matt Flynn is the obvious choice. He's coming off a hot game, he's an experienced NFL quarterback and he's beaten the Lions in the past.
Kyle from Salt Lake City, UT
What's with all the negativity in the inbox?
It's who we are in the year 2013. The ability to express ourselves on the Internet without providing our identity has caused fans to have multiple personalities. Fans can say the Packers should've gone for one if going for two didn't work, and then say the exact opposite a week later. There's no accountability. The Internet is the ultimate expression machine. It has given new meaning to freedom of speech and I'm all for it. Go for it. If it helps you deal with defeat to lash out at those who you believe to have caused you pain, then let it rip. I would ask, however, how is that shaping your personality? Are you better for it? Or would it be better for you to exercise restraint?
Vic, I remember you mentioning in the past that Dom Capers coached a 4-3 defense in Carolina. Can you go a little more in depth on that?
It was in Jacksonville in 1999. The Jaguars had a defensive end, Tony Brackens, who was a true tweener. Had he been drafted by the Steelers or a 3-4 team, he would've been a linebacker, but Tom Coughlin had built the Jaguars as a 4-3 and it would've required too much re-tooling to turn them into a 3-4 (they didn't have the linebackers for it), so he hired Capers with the idea Capers would coach a 4-3. Capers then incorporated his 3-4 schemes and concepts within the Jaguars' 4-3, effectively turning Brackens into a hand-on-the-ground linebacker. Heading into December, the Jaguars were on pace to set an all-time points-against record. The difference between the 3-4 and a 4-3 is one hand and one yard. Drop Brackens a yard off the ball and stand him up, and it's a 3-4.
Anthony from Saint Francis, WI
Vic, it seemed like you were really eating crow yesterday with all the Matt Flynn we told you so, but I'm with you. Let's give it some time.
The fans wanted him, they got him and it's a darn good thing Mike McCarthy went with him, regardless of Flynn's level of preparedness. Flynn saved the day. Had the Packers lost that game on Sunday, their playoff hopes would be the same as Aaron Rodgers' prospects for playing on Thursday, slim to none. I congratulate the fans on their football acumen. I would also ask that they join me in taking a deeper look at Flynn's journey to the Packers. It's real easy to say get him. What are the consequences? Flynn was traded to Oakland on April 1 of this year. His base salary was $5.25 million, but the Raiders kicked it up to $6.5 million in '13 for a reduction of his salary in '14. Then the Raiders released Flynn on Oct. 7. He was signed by the Bills on Oct. 14, which means the Packers had a one-week window to sign Flynn but, of course, they were comfortable with Seneca Wallace as their backup at that point. The Bills released Flynn on Nov. 4 and the Packers signed Flynn on Nov. 12. The Raiders are paying Flynn his $6.5 million contract and the Packers are paying Flynn minimum wage on a split contract. Among football people, the Packers look like geniuses. Those are the facts.
I'll pass that along and I'll also alert everyone that there won't be a "Tuesdays With McCarthy" today, because of time constraints.