At first I thought the loss to Philly marked the end of our season. Slept it over, watched McCarthy's postgame, saw the fire burning in him and knew everything was going to be all right. I believe he is going to make some changes and I'm going out on a limb and saying Giants, Minnesota, Lions beware.
Mike McCarthy sent a powerful message in his postgame press conference on Sunday. The message is: This must change. I have no doubt his players are sent a strong message every day in team meetings, but I think it was time for the fans to hear a strong message. The fans needed to hear that this must change. If this is a "nation," then it's time for all of its "citizens" to begin pulling in the same direction because we have reached a crossroads in this season.
Bruce from New Canaan, CT
I am probably stating the obvious, but it seems like the whole season rests on the game with the Giants. From the reality of the schedule to the disgusted attitude the coaches and players had after yesterday's game, it appears that if the Packers cannot make a stand against the Giants, they will likely not make the playoffs. The silver lining, though, is that if the Packers do make the playoffs, they will likely be a hot team heading into the postseason.
I think it'll take 10 wins to make it into the playoffs. I say 10 because 10 is a time-honored standard and I think it'll apply again this year. The big problem with yesterday's loss is that the Packers lost the head-to-head tiebreaker to the Eagles, which means the Packers have to maintain that one-game-in-the-loss-column lead they have over the Eagles. That makes this week's game in New York even bigger. Now Carolina has sneaked into the wild-card race. The Packers might be forced to win the division title to make it into the postseason.
Vic, people often look for a complicated explanation because they think everyone else has already given the simple one. In the coverage after the Eagles game, I have heard all about how our defense played poorly and about how we couldn't run the ball. No one was saying those things after we won four straight. When did those issues start happening? Let me give a simple explanation that accounts for 90 percent of what is wrong right now: Any team that lost its starting quarterback on the opening drives of consecutive games is going to struggle. Your thoughts?
You're right. I'm fond of saying you're not hurt until your quarterback is hurt. When he gets hurt, you're hurtin'. Scott Tolzien played remarkably well for someone playing in a game for the first time, but he's not Aaron Rodgers and neither are a whole lot of quarterbacks in this league who wear Super Bowl rings. There's something about losing your starting quarterback that goes to every part of your team. Everything changes. The way your opponents defense you changes. The way your opponents attack you offensively changes. All of a sudden, you're playing a game with which you are not familiar and, of course, you've lost your best player. In the Packers' case, they've lost the man that tilts the field. I'm hearing all this love for Matt Flynn, but he replaced Rodgers for two games in 2010 and the Packers won neither game. That was an outstanding defense. So why did it give up 31 points to New England? Having said all of that, I am still deeply troubled by the final 9:32 of Sunday's game. A walk-off clock-kill for more than half of the fourth quarter? I can't abide by that.
James from Spring Green, WI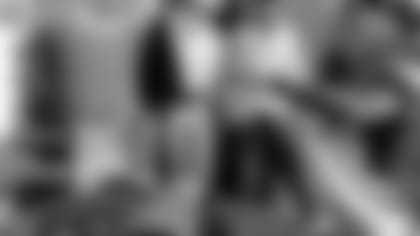 Eagles WR Riley Cooper catches a 45-yard TD pass
Vic, after watching the Eagles in their accelerated version of the no-huddle offense, did it seem to you the Packers were uncertain how to defense the play-calling/formations of the offense? At the midpoint of the fourth quarter my thought was: The Eagles are playing one game, the Packers were playing something different.
I didn't get that sense at any time. I didn't see any evidence of confusion or delay in getting defensive calls into the game and communicated. I saw a defense that was ready to play at the snap of the ball. I saw a defense that twice had the receiver double-covered on long touchdown passes. Wouldn't that suggest schematic success? How many guys should it take to defend a deep ball? Blame the scheme is always easier than blame the execution; change one thing and the problem is solved. Baloney! Dick LeBeau's had a pretty good scheme for a long time. That scheme was No. 31 in the league against the run going into yesterday's games. What's changed? When I look at a scheme, I ask myself: Did it put players into positions to make plays? The Packers were in position to make plays. They didn't make the plays.
Alexander from Vienna, Austria
Vic, the defense took a beating, but the Eagles offense is good. They will put up numbers like that in every game and we held them to 27 points. To me, it's pretty easy: Score the two field goals, score two touchdowns instead of an interception and a turnover on downs, and we win the game. That's why I don't really blame the defense on that one. Am I right?
No, you're not right. The defense has to accept culpability for its role in yesterday's loss. It has to be accountable. It was duly noted prior to the game that the Eagles lead the league in big plays. The challenge was to stop the Eagles from making big plays. The Packers defense didn't do that, even though it had two men covering one on the two biggest plays of the game. The stats for Sunday's game are mind-boggling. The Eagles ran only 58 plays. The Packers dominated time of possession by nearly nine minutes. The Packers ran 17 more plays than the Eagles did. The Packers converted seven of 16 third downs; the Eagles only four of 11. The Packers passed for 297 yards; the Eagles for only 211. If you had dropped those stats on me prior to the game, I would've told you the Packers would win in a walk. Lose by 14? It was all about big plays, and that was the lead in my Friday story: "They lead the league in big plays. They have two explosive guys in (LeSean) McCoy and (DeSean) Jackson." Those are Dom Capers' words. Do you think he might've expressed that analysis to his players? Do you think he might've planned to stop those big plays? Stop them!
Steven from Saint Joseph, MI
I've been a Packers fan since 1960. I've been through good, bad and ugly. If Flynn's not the answer, who is?
Aaron Rodgers is the answer. The running game, the defense and special teams need to be the answer until Rodgers returns.
Nathan from Overland Park, KS
With Seneca Wallace injured and Scott Tolzien starting, who do you think the Packers will promote or sign to the backup QB position?
If Wallace's groin injury prevents him from being active this week, then the Packers will likely sign another quarterback to the roster. That'll be this week's drama. Who? My instinct is to say it would be someone who is familiar with this offense and is available.
Vic, there's some time left to turn this around. Just as you wrote in the "last nine minutes" article where you described a drastic turn of events in a seven-day period, optimistically the next seven days could turn to the good. Do you recall in your past any situations similar to the Packers present that went good?
I could give you several examples, but here's the most dramatic: The 1996 Jaguars were 4-7 following a loss that threatened to divide the team. Andre Rison was cut that day. He had supporters on the team and there was tension in the air. I'll never forget being in the locker room that day and getting the feeling that team wouldn't win another game. The Jaguars' next loss was in the AFC title game. Just do your job. Forget about team chemistry, positive feelings and all that schmaltzy crap. Just do what you're paid to do. Win your one-on-one.
He knows the offense. There are others that know the offense.
Johnny from Salt Lake City, UT
Vic, you disgust me! The Packers defense is terrible and I blame Ted Thompson and Dom Capers. We need some vets and a new defensive coordinator. Who do you think veteran-wise can help our defense become a top 10 defense? Thanks and jerk!
Wait a minute, I'll go out back to the veteran defensive player and defensive coordinator trees. Thanks and jerk? That's beautiful.
Scott from Lincoln City, OR
McCarthy sure was quick to name Tolzien next week's starter. What happened to all the confidence in the world he had in Wallace?
I think the coach was giving us the Wednesday injury report a few days early. He was also eliminating any possibility for distraction.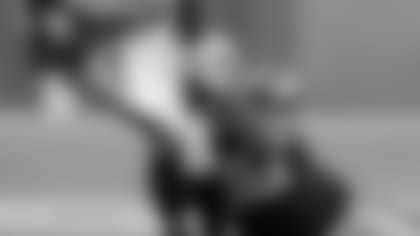 Eagles RB LeSean McCoy
Chan from Fredericksburg, VA
Vic, what is the problem with our defense and the fourth-quarter meltdown? It can't be from exhaustion. We dominated time of possession until that point. Every game this year, our defense has collapsed. What do your yinzer senses tell you?
I don't want to make a blanket analysis of the season, but I'll tell you what my yinzer instincts tell me about yesterday's game. They tell me Clay Matthews wasn't able to play effectively without the use of his right arm. They tell me Nick Perry's foot was still an issue. I believe Matthews and Perry to have been issues in yesterday's game because I have never seen a back bounce it to the outside as LeSean McCoy did on Sunday. He put on a clinic in inside-out running. Matthews and Perry were not on their games. That's something to watch this week because Tom Coughlin will duly note the success the Eagles had to the outside.
Vic, who is to blame for the performance of the defense in the opponent's final drive the last two weeks?
"It starts with me and it ends with me." Those are Mike McCarthy's words. I didn't see him miss a tackle, but the coach is always ultimately accountable for the play of his team. The words he chose in yesterday's postgame are intended to promote the same kind of accountability in his players.
Yes, the road to the playoffs is going to be hard, but I have faith in our team. I won't count them out until it is literally impossible for them to make the playoffs.
You have no choice, Evan. You're a fan, which means you are so emotionally attached to the Packers that your heart won't allow you to quit on them. My inbox is full of quit today, but it's all bluster. It's all the product of hurt. All of Packer nation is suffering, but there's nothing it can do to stop the hurt, only wait and hope.