Barring injuries, it appears the defensive line is much improved. Do you think the Packers could have a top five defense with the improved talent on the defensive line?
This is, by far, the best defensive line talent the Packers have had in the three years I've covered them. I saw Datone Jones at the Senior Bowl, so nothing about what he's doing is surprising me. Johnny Jolly is the guy that has shocked me. He is amazingly light on his feet and limber for a guy of his body type. I don't like statistical predictions, but I would be greatly disappointed if the Packers defense didn't take another big step upward this season. Rankings are an indication of how a defense is playing, but what's most important is to play up to your rankings in big games. The Packers defense didn't do that last year. I think they will this year.
McCarthy was quoted as saying Datone Jones "needs to learn to finish better." What was McCarthy referring to?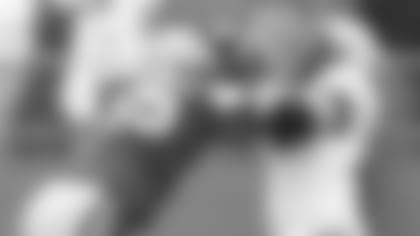 Beating your man needs to be followed by finding the ball and tackling the runner. That's an example. Finishing usually involves the use of proper technique. I think that's what Coach McCarthy was saying.
Andrew from Jacksonville, FL
Ted Thompson said he doesn't like practice scuffles and doesn't see the point of having them. I don't remember your take on practice scuffles, but I suspect this could be a rare area of disagreement in philosophy between you and Thompson. Am I right?
I don't like chicken fighting. That's look-at-me stuff. What I will tolerate is a genuine mean streak. I've never covered a great defense that didn't have it, and some of the greatest players I've covered have been downright mean spirited. They always seemed to be looking for a fight. I'm not offended by that behavior.
Andrew from Burnsville, MN
Would you consider the blitz pickup drill and the one-on-one pass protection drill to be this era's version of the Oklahoma drill? They are both physical drills that force you to beat the man across from you, without necessarily taking him to the ground.
In a less dramatic way, yes, they are Oklahoma-like drills. What I liked about the Oklahoma was the stage on which it was conducted. Names were called. Lines were drawn. Nobody got lost in the mix because there was no mix. There were just two guys. Nothing else was going on. They were the stars of practice and everybody was watching. It was the ultimate in human confrontation and you were going to find out how each man responded to the challenge.
In a league of replacement and a league that burns out big men, here comes Ryan Pickett for another season. I figure you really have to love the game to do that dirty work in Capers' system year in year out.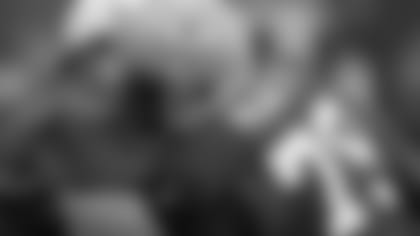 You can play a long time in this league if you can do nothing more than hold your ground. Ryan Pickett was born to do the Oklahoma.
Jerry from Seabrook Island, SC
You talked about the impact of the chuck rule, but never explained the rule.
It forbids defensive backs from jamming receivers beyond five yards of the line of scrimmage. Prior to the chuck rule, defensive backs were permitted to jam receivers until the ball was in the air. Lem Barney turned that into an art form known as the "Bump and Run."
With all this talk about this training camp being more physical, how did we get away from being physical in the first place? This is football, after all, and we are a cold-weather team.
It can happen. You suffer some injuries and you become naturally protective. Your execution declines in efficiency, and you focus harder on improving technique. Nothing, of course, will soften a team faster and more completely than a reliance on scheme, and we're in a day and age of scheming schemes, as opposed to scheming personnel. It happens to all teams. They become distracted, but at some point the coach returns his team to the basics of winning the one-on-ones, and you can't do that without being physical. That loss in San Francisco last January did something to this team. It refocused it on winning the one-on-ones.
Do you think all the fans that can't let go of Greg Jennings should be worried about a different Vikings WR? Minnesota Vikings Coach Leslie Frazier already is raving about first-rounder Cordarrelle Patterson. "If you were going to put together a receiver," Frazier said, "he would look like Cordarrelle."
If you're going to worry about a guy, worry about that guy.
Chai from Wiesbaden, Germany
What would you do to keep teams and players, especially successful ones, from becoming complacent?
Challenge them, individually and collectively. Increase the demands on them.
Vic, you've stated before that you believe Aaron Rodgers to be the best QB in the league. Do you then believe that if you put him on the worst team in the NFL he automatically makes them a playoff team?
Yes, I've said that. If you put Rodgers on the Chiefs, they're a contender. If you take him away from the Packers, the prospects for 2013 would dim greatly. That's what "The Man" means.
What oft injured, ill-content divas do the Packers have that they can cash in for first-round picks from the Seahawks? In all seriousness, who didn't see the Harvin bust coming?
I guess they didn't learn their lesson with Deon Branch. Players, not plays, and picks, not players.
Do you think Dujuan Harris' injury will keep him from a roster spot?
Mike McCarthy said Harris' injury will likely keep him out of action for two more weeks. That takes us into the preseason and that becomes a danger zone for injured players. The preseason is the proving ground for players fighting for a roster spot. The Packers have a nice blend of youth and experience at the running back position. James Starks, for example, is a player who is coming into the prime years of his career, and Alex Green isn't far behind.
Vic, both the media and fans alike have criticized this team for falling short against physical teams. The team has been criticized for not being physical. The intensity of these first practices has been scoffed at as being nothing more than early training camp bravado. What do you think it takes to change the culture of a football team? I would think the players they've added in the draft sure seem like a good way to start.
You change the culture by changing the players and that's what the Packers have been doing on the defensive side of the ball since the meltdown in 2011. I appreciate the fans' want to win, and I understand that it breeds impatience, but let's not get stupid about this. The 2011 defense was last in the league in three critical categories: total yards, passing yards and sacks per pass play. That's statistical evidence that can't be ignored. When you sink to those depths, all the plays in the world aren't going to fix it; you need new players. The Packers are only in the second year of a rebuild on defense. They went from 32nd to 11th last year. I acknowledge the failures against the 49ers, but moving up 21 spots in any one season is significant.
Ryan from Platteville, WI
Who has been the most surprising player in training camp through the first few days for Green Bay?
Micah Hyde is probably that guy. Don Barclay and David Bakhtiari have also caught my eye. They have outstanding movement skills. I can't imagine how Barclay went undrafted. It's not as though 6-4, 305, is small. I've already mentioned Johnny Jolly. Had his career not hit a detour, he might've become one of the league's premier defensive linemen; maybe he can still get there. Datone Jones has been a big hit, but that's expected of a first-round pick. Tyrone Walker has a particular look about him that I like. He has the look of a guy for whom football isn't a tough thing to do. He appears to enjoy the middle of the field, and I love receivers who love the middle of the field. With apologies to coach Lombardi, in my opinion football is first and foremost a game of courage. I see a lot on the field I like. I think the Packers have an outstanding roster.
How was the game different before 1978?
In retaliation for what Jack Tatum had done to Lynn Swann, Mel Blount picked up Cliff Branch, turned him upside down and drove him head-first into the ground, and it was no big deal until George Atkinson retaliated by clubbing Swann in the back of the head, the words "criminal element" were spoken and a lawsuit resulted that exposed the NFL for what it had become and started the ball rolling on game-softening measures. By the way, neither Tatum, Blount nor Atkinson were penalized. If that happened today, this column would go Seattle for a week.