Vic, why would the Philly defense not press our receivers like most other teams? Our guys were running slants and free across the middle, which we haven't seen in a while.
I think the Packers won the battle of the preparation.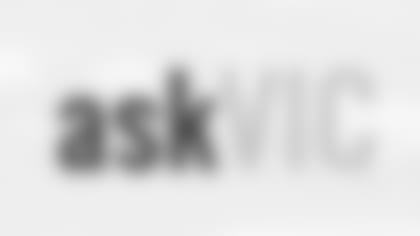 Todd from Carson City, NV
Our offensive play-calling seemed fairly vanilla the first several weeks of the season, at least compared to the banana split served up against the Eagles. Speaking of which, with the backfield depleted for weeks, why haven't we seen more of Rip until now?
I didn't see anything special about the play-calling last night. It was what the Packers did according to formation that was special. They created favorable matchups. They schemed personnel, not schemes. It's the kind of design I respect the most because it puts players into positions to win their one-on-ones and demands they do it. The Packers did. As for Aaron Ripkowski, you're seeing the emergence of the next John Kuhn. The development of young talent takes time.
Haven't watched the Eagles. Should I get excited? Or are the Eagles making us look better? All three phases seemed to show up for this game.
Aaron Rodgers' pass protection was superb. It was also a function of his ability to execute the scheme. The way the Packers played on offense last night is the way this team must play to be successful. The Packers have a possession receiving corps. It's at its best, in my opinion, when it's one cut and catch.
Can they do it, Vic? This is starting to feel very familiar. I guess we'll find out in the next two weeks, but I believe.
I believe 9-7 will win the division. It'll win the division for the Packers, in my opinion, as long as they sweep their remaining division games.
Vic, has the offense finally found an identity? If so, can we call it the "Slice and Dice" offense?
It already has a name. It's called the "West Coast Offense" and it's Mike McCarthy's philosophical and schematic approach to offensive football. What we saw last night was the "West Coast Offense" executed to perfection.
Derek from Eau Claire, WI
December football begins this weekend. My friend has arrived. Now it's for real. Game on!
Kyle from Salt Lake City, UT
I'm with Gruden; get rid of the neutral zone infraction. Either the defense gets back or the offense gets a free play. It's unnecessary.
My pet peeve is the rule that allows blockers to assist the runner. I think it's a terrible slight of the player-safety movement. The running back is in danger of being crushed.
As we head into the home stretch, who is your league MVP at this point? I would narrow it down to Brady, Prescott or Elliott.
My vote goes to Matt Ryan.
Where was this Davante Adams last year? He's been playing phenomenal this season, especially in the last few weeks.
Jerry from Wilmington, NC
Vic, what's your take on the Ohio State-Michigan game?
I don't think he made the first down, and I think replay review provided satisfactory evidence he didn't.
Terry from Woodbridge, VA
I noticed the Eagles had a covered access to the visitors' locker room for unloading from the team buses. Do the Packers have the same, or do they want visitors exposed to elements and cold?
Do you remember the rain scene from Caddyshack?

Chris from Minneapolis, MN
I spent a fair amount of time this weekend listening to the local (Vikings) sports radio. It's funny how they have the same common complaints about wanting better free agents, blaming injuries, questioning play-calling and asking for the GM's head. Is there any fan base out there that really gets it?
All fan bases get it. They just don't want to accept it: Sometimes you lose.
Vic, how about a general college football question? Who should be in the playoffs?
If Washington wins the PAC 12 and Clemson wins the ACC, I'll go with 1) Alabama, 2) Ohio State, 3) Clemson and 4) Washington. I like a national representation. There are five power conferences and I think four of them should be represented.
Sure glad the Packers didn't listen to the mob and cut Adams.
Bill Polian said if you listen to the fans you'll end up sitting with them.
Taylor from Des Moines, IA
Vic, it warmed my heart to see our defense making some plays. The only thing I really have to say is we definitely need that pressure we had on Wentz at the end of the game to be there earlier and more often.
I think Coach Capers liked the way his defense matched up against the Eagles. He emptied his bag of blitzes on the rookie quarterback.
First time writing to the Insider Inbox and I couldn't help but wonder what you were thinking when Gronkowski got his first NFL touchdown last night? This man is more than deserving of that moment and it couldn't have come at a bigger time.
You got the wrong kowski.
Dave and Taters from Long Beach, CA
Vic, when we needed it, a perfectly executed game in all three areas, and in the coaching, too. These men that play this game are a special breed; the sacrifices they make with their bodies. Clay Matthews playing through that injury. Don't anybody ever say these men don't show up. It is a marvel to behold.
The Packers defense took away the deep third of the field and forced the Eagles to throw underneath. I suspect that was the strategy and, if it was, it was beautifully executed. Doing the same might be more difficult against DeAndre Hopkins, but I like how the Packers match up against the Texans.
Vic, the Packers' usual strategy of sacrificing yards to burn the clock when they have a comfortable lead gets a lot of criticism from fans. I just read a stat that the Packers have won 29 straight games when they have a lead going into the fourth quarter. Seems to me they know exactly what they're doing. Just win, baby.
The goal is to win the game; nothing else matters.
K.J. from Minneapolis, MN
Vic, I'm thankful for this one win. What are you thankful for?
I'm thankful for my December friend. I don't know what I'd do without him.
How do you stay up until 2 a.m. ET on WTMJ and then write the Insider Inbox? How many cups of coffee?