How many running backs should we have?
I think last year taught us you can never have enough good running backs. I don't agree with the broad devaluation of the position. If Tom Brady is your quarterback, I get it, but how many teams have a quarterback the equal of Brady. I consider running back to be as important a position in today's game as it was in the run-the-ball era. When you consider the degree to which running backs are involved in the passing game in today's game, the position might even be more important than it was in the run-the-ball era. It's also a position of injury, and that means you better have a stable of running backs. Instead of going heavy at wide receiver, maybe it's time to bulk up the roster with running backs.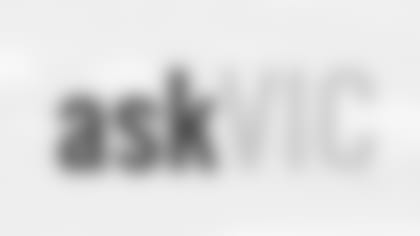 What do you think of James Conner as a one-two with Ty Montgomery? I think he has that it factor you need to play at the next level. What are your thoughts?
Conner's bout with cancer could push him into the late rounds, which could make him one of the steals of the draft. He scored 56 touchdowns in what amounted to a three-year career, and everybody knew who was going to get the ball. What's that tell you? What I like most about Conner is his ability to be a pass-catcher out of the backfield. He's a fearless wheel-route runner, and when he gets into the open field on a screen pass, defensive backs go low and whiff.
Has there ever been a draft in which a team drafted three or more players at the same position with their first three picks? I'd be curious to hear how that worked out?
In the 12-round days, it was common for teams to use the shotgun approach to fixing a position. The team I was covering in the 1987 draft went corner, corner, safety with three of their first four picks, and it was a game-changer for them the next season. I don't like that strategy in a seven-round draft. The picks are more valuable because there are fewer of them. I think you need to take a big-picture posture in today's draft and address your roster in a broad way. If you don't, you're going to have screaming needs every year and you'll find yourself passing up better players to address those needs.
Vic, did you sell or give away your snowinator, or take it with you as a memento?
I sold the snowinator to a co-worker and I'm happy to report it just completed another outstanding season. The snowinator was born to eat snow. It would've been cruel to bring it to Edisto to sit under my house and rust in the salt air.
Vic, what did you think of the golf rule enforcement on Lexi Thompson at the ANA Inspirational?
The rules of golf weren't written with TV coverage in mind. The golf tours need a revised rulebook tailored to their needs. Maybe the IRS needs to take a look at the tax return of the fan that called in the infraction.
Ethan from Holly Springs, NC
Where do you think Davon House will fit on our depth chart?
Where would he have fit on last season's depth chart? On the field, that's where. House is a corner and the Packers had injury issues at that position. Don't worry about the depth chart. It's not about the depth chart, it's about the roster, because injuries will force nearly everyone on the roster to play a major role at some point in the season.
In this current era, it seems like teams have many more roster spots to fill than a seven-round draft can provide. When and why did the draft get reduced to seven rounds?
The seven-round draft is a product of the salary cap era. It's what the owners and players negotiated for the league's move into unrestricted free agency. Reducing the number of draft picks protected free agency, which is what the players wanted.
Mark from Indianapolis, IN
I've asked hundreds of questions about the Packers, NFL and football over the last few years. Your website has answered thousands of questions about golf, restaurants, soccer, wrestling and other non-related topics. Why? By the way, not one of my questions has ever been answered. What do you think is the one and only reason I come to a website called packers.com? It's called packers.com. I'm sorry it's so hard to figure out this difficult conundrum.
Sergio finally wins one. Is this the breakthrough he needed to win more majors?
Putting is the weakness in his game. He's one of golf's all-time greatest ball-strikers, but poor putting has cost him defeat in majors and it nearly cost him another one yesterday. I was delighted to see him win. This year's Masters wasn't a putting contest; it was a battle of ball-striking. It was a refreshing change.
Chad from Tarpon Springs, FL
Is Jim Brown the soul of the NFL?
I think Brown is the pro football equivalent of Babe Ruth.
Vic, please give us your list of top five NFL TV announcers of all time. What did you like best about each of your top five?
1. Howard Cosell – He changed the way TV presented the game; Cosell gave the booth personality. 2. Merlin Olsen – He explained the game without talking down to his audience. 3. Pat Summerall – He spoke with clarity. 4. John Madden – He made football feel like a noble endeavor. 5. Curt Gowdy – He was the voice of the AFL, the voice of the merger.
What do you think about Vegas now being able to take bets on the NFL draft?
I consider gambling to be a dirty word in the world of sports. It took two decades to overcome the damage point-shaving did to college basketball. I have great concern for having an NFL team in the gambling capital of the United States.
Darrell from San Antonio, TX
Let's pretend the Packers traded for Richard Sherman on draft day. Is a sure thing worth a first and, say, fourth-round pick, or is it better to roll the dice and gamble on a home run with those draft picks?
I prefer to find the next Richard Sherman.
Would you say there is a different skill set or general size difference in a run-oriented offensive line vs. a pass-oriented line? Since Green Bay is pass-oriented, do you look for certain things in a lineman?
In the old days, run-blockers were drive blockers, whereas a pass-blocker's first step was backward. These days, the zone-blocking running scheme demands an offensive lineman be able to move laterally, which is the kind of footwork that goes well with pass-blocking. Alex Gibbs is known as the "father of zone-blocking," but it was Vince Lombardi who created the scheme as coach of the Packers. Lombardi called it "run to daylight."
Priest Holmes and Ladainian Tomlinson were pretty good goal-line and short-yardage backs, not because they were big, but just because they were good. Take the best runner.
What is your favorite controversial call in your time covering football? It doesn't need to involve the Packers, but the Packers have some good ones.
I've covered the "Immaculate Reception" and the "Fail Mary." How does it get any better than that? The "Immaculate Reception" will always be more famous, or infamous, because it was a playoff game, and because all of these years later we still can't determine who touched the ball first. The intrigue is fantastic! The "Fail Mary" is more outrageous. From a controversy standpoint, I think it's a tie, but what if the "Fail Mary" had happened in a playoff game? I think the league might've had to reverse the call.
As a lefty, I'm curious: Are there any positions on either side of the ball in which being left-handed is advantageous? Any examples?
I love a left-handed left tackle. How about feet? I love left-footed punters. I think they kick a ball that's tougher to catch.