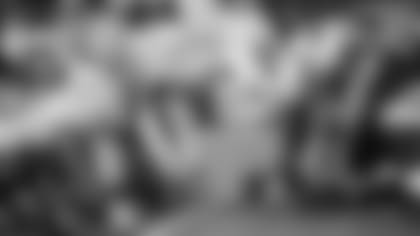 What is future reserve and how does it differ from the practice squad?
There's no practice squad in the offseason. When a team's season ends, it shifts into offseason roster mode, which means it can have as many as 90 players under contract. That's why you see a flurry of signings by those teams when their seasons end. Teams in the playoffs sign players to futures contracts until those teams' seasons end, at which time the practice squad goes away and the futures contracts move into the present tense.
Which Packers players will be free agents?
UFA: Don Barclay, Mason Crosby, Brett Goode, Letroy Guion, Casey Hayward, James Jones, John Kuhn, Mike Neal, Nick Perry, Andrew Quarless, B.J. Raji, Sean Richardson, James Starks and Scott Tolzien. RFA: Andy Mulumba and Lane Taylor.
Vic, it's obviously the time of year when all the axe wielders are out. I saw a comment about a coach's likelihood for success after 10 years and what that means for the Packers, to which I replied, Tom Coughlin has been a head coach in the NFL for 19 years. He had 15 years of experience when he won it all in 2011 and 11 years when winning it in 2007. That proves success is possible after 10 years. Or is the point success is unlikely beyond 10 years with the same organization? Do you think a coach can become stale if he stays too long in the same place?
I don't. I think firing coaches has become entertainment. Losing is inevitable. The longer a coach stays in one place, the closer he gets to a down cycle. He hasn't gotten stale, his roster has, which is inevitable if the coach has won and has spent time at the bottom of the draft, which he likely has if he's hung around for 10 years. Mike Tomlin won his first playoff game this season since 2010. Would you call Coach Tomlin stale? Good organizations tune out the howl of the wolf, which is really just a whine. Good organizations win with resolve and commitment, not with change for the sake of entertainment. Coach Coughlin turned in the best coaching job I have ever seen in 2002. His roster was completely gutted by the worst salary cap mess in history, but he found a way to keep that team competitive all season long. He lost five games by three or fewer points, and one of those losses was on a final-play-of-the-game Hail Mary that was incorrectly ruled a catch. In consecutive games, his team didn't commit a penalty. What did it get him? Fired! He then went on to win two Super Bowls in New York. Firing Coach Coughlin was a huge mistake for the Jaguars. They listened to the howl of the wolf, and it cost them a coach who was perfect for the franchise and should still be the coach today. How'd that work for them? The Packers have a coach who's perfect for the franchise. He's as good as they come. Howl if you must, but I will go into this offseason with the comfort of knowing the Packers are a team of resolve and commitment.
Is McCarthy going to fix the offense in 2016, or do we assume it's going to fix itself next season?
What hasn't he fixed? The squeaky wheel gets the grease and every team has a squeaky wheel. New England is No. 30 in rushing. The Packers lost in the playoffs to a team I consider to be the most well-rounded team in football. The Cardinals certainly have the best rankings. They also have a 36-year-old quarterback; that's their squeaky wheel. Nobody, and I mean absolutely nobody, considered the Packers offense a squeaky wheel when last season ended or even when the 2015 season began. It is now, and Coach McCarthy has already begun addressing it.

Fabian from Munich, Germany
Vic, I think we all knew Janis is fast and can catch the ball. Have you seen improvements in other areas? In the first half, it seemed as if he was not where Rodgers expected him to be on a red-zone play, which finally led to a field goal and some frustration by No. 12.
My enduring memory of Jeff Janis this past season is of a play near the Packers' goal line in Minnesota. Janis ran a quick out, but he bowed the route, tipped it and drifted toward the sideline, all of which caused the cornerback to sit on it. I remember seeing Aaron Rodgers turn in that direction and draw back his arm, and I thought to myself, "Don't throw it!" He didn't. It would've been a walk-in pick six. That's the kind of play that causes a quarterback to not look in a receiver's direction. Jeff Janis is learning his craft. Catching Hail Mary passes is not about a wide receiver learning his craft, it's about showing what he can do.
Stephen from Cedar Falls, IA
GM Vic gets to decide what the Packers do with their first-round pick. What do you draft? I'd go for a TE or an ILB.
GM Vic picks the best available player, regardless of position, or he trades back to where need and value meet, which allows him to recoup the value of the original position. If you're asking me what I consider to be the Packers' need positions, I would include WR, TE, RB, T and ILB. I think we would all agree about need at the first two. James Starks and Don Barclay are free agents, so there's need at RB and T because you must have depth at those positions. ILB is a no-brainer if Clay Matthews is going back outside, which I'm sure he will.
Would you consider finding another coach for the QB or WR position to be a priority this offseason? I'm not saying replace Van Pelt, but isn't having one guy on the practice field for two position groups that sometimes are taking corrections at opposite ends of the field a disservice to young development? Did we spread Coach Van Pelt too thin and suffer on offense as a result?
If the answer to that question is yes, then I'm absolutely certain Coach McCarthy will address it. If he doesn't address it, then I'll assume it's not a problem. How could I answer the question any other way? Media aren't permitted to watch practice. Seriously, have faith in the coach. He is not a sit-on-his-hands kind of guy. Look at the swiftness and boldness with which he's moved. I was stunned by his decision to take back the play-calling. When Coach McCarthy senses a problem, he swings into action quickly and boldly.
Vic, can you break down what the fans should interpret from parting ways with the TE and RB coaches?
Interpret? Coach McCarthy said on Monday: "We'll change. There will be changes." I made it the last line of my story from his press conference. I wanted the readers to know what was about to happen. There was no doubt in my mind change would begin immediately. You need me to interpret it for you? Really?
I'm seeing a surprising number of fans that want to fire Mike McCarthy. Who would they replace him with if they could have anyone? Bill Belichick. So what does it tell you when Belichick, king of the brush-off answer, heaps praise on McCarthy when asked about him? Is it possible he knows something these fans don't?
If Coach Belichick needed an offensive coordinator and Coach McCarthy was available, he'd be the first person Coach Belichick would call. What's that tell you?
Vic, I laughed when you talked about Jeff Janis fever and how it helped many to cope with the loss, because that's exactly how I felt. Is all of Packer nation obsessed with this guy? I know I am. Does he come across to you as a true Packer for life?
He has the potential to become one of the most popular Packers players in recent history. All he has to do is learn his craft. He has the tools and the kind of understated charisma to be a Packers star.
Maximillian from Sydney, Australia
Vic, in your opinion, do you believe Nick Perry's late-season form earned him a new contract?
I'd favor re-signing him. Never give up on a young pass rusher.
Your assessment of Janisitis is spot on. I really hope he has a feature role in our offense next year.
Here's my prediction: He'll be a different guy in OTAs. He's already my favorite to win OTAs MVP.
Andrew from Walla Walla, WA
If you were the GM and had cap space to use after already signing all the players you planned to keep, which player in this free agency class would you go after?
We're way too far out to target a player. I'm not a big free-agent guy. Anybody who's read this column knows that about me. I like to patch in free agency. I like the bargain/value signings. Julius Peppers was a home-run signing. I'm a singles hitter. Go for the Guions.
Why would you fire a coach who has brought his team to the playoffs 80 percent of the time?
You do something like that and you anger the football gods. Then you'll find out what it really feels like to lose. The media that fueled the discontent won't even cover you anymore. That's how bad it can get.