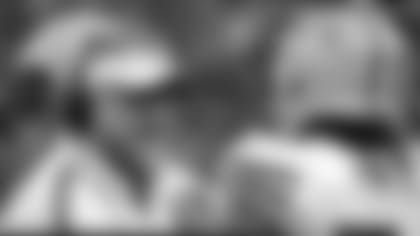 OLB Coach Kevin Greene with OLB Dezman Moses
The regular writer of "Ask Vic," packers.com Editor Vic Ketchman, is taking some time off. Staff Writer Mike Spofford is temporarily filling in to answer your "Ask Vic" questions.
Dustin from Jacksonville, FL
If it were "plays, not players," coaches would be making five times more than players, the pro player personnel department would be named the pro coach personnel department, Mel Kiper would be out of a job because the draft really wouldn't matter, and Tim Tebow would have a beautiful throwing motion by now. Just sayin'.
Disciples must be everywhere in Vic's former locale.
The second-year guy I'm looking at closest is Dezman Moses. What do you think his trajectory can look like? Is there a chance he beats out Perry for the other starting OLB spot?
I don't envision him beating out Perry, but Moses was a great undrafted find last year, and position coach Kevin Greene has a track record of getting meaningful contributions out of lesser-known players like that (Frank Zombo, Erik Walden, Brad Jones as a rookie) when they stay healthy. Moses is off to a strong start, and we'll see if he surpasses those aforementioned names in productivity. I'm also curious to see what Greene will do with sixth-round pick Nate Palmer from Illinois State and undrafted Andy Mulumba from Eastern Michigan. In a 3-4, the outside linebackers are the playmakers, and you can never have enough of them.
If the Packers are supposed to play an AFC team at home, then away against the same team four years later, why did the Packers play regular-season games against the Chiefs in Kansas City in both 2007 and 2011? I attended both.
I wondered if somebody might catch that and ask, especially with that Kansas City game in 2011 so significant at the time. When the Packers are playing all four teams from the AFC West, as in this example, they play two at home and two on the road. In 2007, the Packers had Oakland and San Diego at home, and Kansas City and Denver on the road. Somewhere between 2007 and 2011 (I don't remember exactly when), the NFL switched up those AFC West "pairs" because clubs in the east were complaining about having to travel all the way to both Oakland and San Diego in the same year when that rotation came up. So with the Oakland-San Diego pair split up in the scheduling formula, the Packers traveled to Kansas City and San Diego in 2011 and hosted Oakland and Denver. The end result is that 2003 was the last time in the regular season that Kansas City came to Lambeau Field and the Packers traveled to Oakland.
Pat from Port Washington, WI
Another question on the slot receiver spot. Do I recall correctly that Greg Jennings was initially uncomfortable there and preferred to be out wide? Would that have something to do with the reads being different? I would think players would prefer the slot, as they are more likely to be in motion and have more separation from DBs that might want to jam them.
I don't recall that specifically with Jennings, but if he was uncomfortable there at first, it didn't last long. In 2007, his second season, I remember him making several big plays from the slot.
Hey Mike, I recently read that Aaron Rodgers is 0-18 in fourth-quarter comeback opportunities against teams .500 or better, and that in McCarthy's tenure, the Packers are 15-32 (.319) in fourth-quarter comeback/game-winning drive opportunities. This gave me that really uncomfortable feeling in the bottom of my stomach, like the one you get when Caleb Hanie gives the Bears life in an NFC Championship Game. What say you?
Sounds like Anton would have rated Rodgers far lower than No. 6 on the NFL Network's list, unlike many of you that wrote in. As to that ranking, all I'll say is I can't imagine if you had a start-over draft in the NFL right now that five players would be picked ahead of Rodgers. And now, David has the floor.
David from Basseterre, Saint Kitts and Nevis
Hey, Vic and Mike! Why does Aaron Rodgers get such a downgrade from analysts because he doesn't have that many fourth-quarter comebacks? I did some research because I was curious on the topic. Since 2008, Rodgers has started and finished 85 games (including playoffs). Of those 85 games, the Packers have never been behind in the fourth quarter in 50 of those games. That leaves 35 games with the possibility of a comeback. Of those 35 games: seven of them Rodgers came back to win in the fourth quarter, 17 of them were fourth-quarter leads or ties to be blown by the defense (12 after Rodgers came back to get the lead or tie after being down in the fourth), and 11 legitimate losses. Do analysts not realize this, or do they just decide to ignore it? If you took all this into consideration, Rodgers should have a 74-11 record as a starter.
I don't have time to double-check your research, but I agree with the general sentiment.
Dustin from Bloomington, IN
Mike, with lots of people complaining that we don't have enough players in the Top 100 list, isn't this kind of a good thing? What I mean is that the other teams don't think of them as a threat so we can kind of fly under the radar? Maybe that's a reach though.
Nice try, but I don't think any team with Aaron Rodgers at quarterback is ever under the radar.
If there are about 700 players in the league, how long until the sports networks cut to the chase and make a "Top 700 Players of 2013"? It'll take up more airtime, and then everybody gets a trophy.
Don't give them any ideas, James.
How bored does the NFL Network get at this time of the season? I just found a "Power Ranking" for NFL team uniforms. When will all this useless ranking stuff stop?
Only when absolutely no one who reads James' idea actually thinks it's a good one. Great to hear from another small town in Grant County, by the way.
There seems to be a good number of NFL teams who passed on drafting Aaron Hernandez who are now breathing a collective sigh of relief and saying to themselves, "Man, we called that one right." Do you think this situation will make teams more sensitive to background issues, or more sensitive to character issues involving the type of friends a player keeps?
Perhaps, but teams take those issues into account now and place players on their draft boards (or remove them) accordingly. Maybe the red flag gets a little redder after something like this, but in all honesty, teams know the risks, and it's up to each individual team to determine what makes a player untouchable. The Patriots only spent a fourth-round pick on Hernandez, and a lot of the questions about him prior to the draft led to that slotting for a player of his talent. Maybe the next Hernandez is a sixth- or seventh-round pick or signs as an undrafted rookie, but talent like that will always be worth a certain level of risk for some, if not most, teams, because just as there are no guarantees a player will become a star, there are also no guarantees a questionable background foretells of future trouble. Players are humans, and anyone can change, for better or worse.
Vic/Mike, 27 players have been arrested since the Super Bowl. By the time the season starts, even more will probably be arrested. I understand that these are young guys with a lot of money and time on their hands. What really can the league do?
Aside from making the punishments related to personal-conduct policy violations more severe, probably not much. The league has education programs in place for players entering the league, including the annual rookie symposium. Other resources are available, but the league will continue to explore all avenues, including maybe harsher penalties. Given the added emphasis on disciplinary actions during his tenure as commissioner, I'm sure the statistic you cite is unsettling to Roger Goodell.
Chris from Andrews, Texas
I love the history of the Packers. It goes way back, but it wouldn't be so much of a story without the championships. What team has a great history behind it but not the championships to back it up, in your opinion?
You've heard of the Cubs, right?
Jim from Fairview Heights, IL
Bishop's signing with the Vikings got me thinking. Which is worse, the way the Vikings troll through our roster cuts or the way that the Bears have drafted players to keep them away from us (Grossman, Carimi, McClellin, etc.)?
The jury is still out on McClellin, but I can't imagine you're lamenting that two first-round picks the Bears "kept away" from the Packers are a now-backup QB and a lineman they just traded for a sixth-round pick. Or am I still just not good enough at this sarcasm thing?
Hey Mike, my question is rather silly I guess, but I read somewhere that Francis (Jug) Earp, who played on the offensive line for Curly Lambeau, was related to legendary lawman Wyatt Earp. Any truth to this or is this one of those stories that that is too fantastic to go away?
I've never heard that. The short bio on Earp produced by the Packers Hall of Fame makes no mention of any connection between the two. Considering "Jug" was the Packers publicity director in the early 1950s, I would think any relation to Wyatt would have become public knowledge and would be a well-known part of the football player's legacy, but who knows.
Hey Mike, I was just wondering if you could explain passer rating. It is used all the time, but we are never told what it is actually measuring. I know a few years ago ESPN was trying to push their Total QBR system. How is that different from passer rating?
Passer rating is an efficiency measurement. It's a complicated formula, but it mainly looks at four things – completion percentage, yards per attempt, touchdowns and interceptions. A QB who throws three TD passes with no interceptions will most likely have a better rating than one who throws four TDs but two INTs. If two QBs both throw for 300 yards, the one who did it in fewer attempts and with a higher completion percentage will have the higher efficiency rating (if TDs and INTs are equal). ESPN's Total QBR system is like an extension of passer rating that takes into account the game situations and crunch-time moments, such as TDs or INTs thrown when a game is tied late, for example. Piling up 150 yards passing and two TDs in the fourth quarter when the game is way out of reach won't count for as much in Total QBR, whereas it doesn't matter when those statistics are compiled for passer rating. Hope that helps.
Hey Mike, I really enjoy your work covering for Vic. My question comes out of curiosity, since Vic has already made his feelings very clear about the subject I'm about to ask. How do you feel about the original sport of football? Yes, I'm talking about the one known as "soccer" in the USA. Thanks.
I'm not a big fan, and I'm not sad my kids don't play the sport. But I will say that when I spent a semester in college studying in Seville, Spain, I really got into it. It was a blast going to the bars and watching the big games with all the locals. My friends and I even braved a mob/riot-like crowd for nearly 12 hours to get tickets to the World Cup qualifier between Spain and Denmark, and everything about that game was one of the most memorable experiences of my life. I guess for me, it's when in Rome …
I have a few bold predictions: Lacy rushes for 1,200 yards, Datone Jones, Nick Perry and Clay all have 10-plus sacks, and the Packers offense has three 1,000-yard receivers. What are some of your bold predictions?
That Vic will be back on Monday. Take care, everybody.