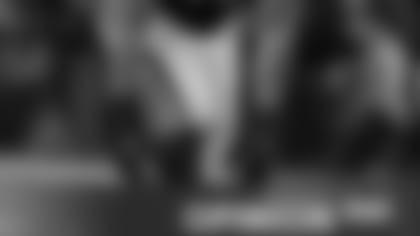 OLB Nick Perry
Kyle from Edwardsburg, MI
I had never heard of the transition tag, but with your explanation of it, wouldn't that have been a good way to push Shields into the second week of free agency and get him back for a fair price?
Yes, it would've been a good way to do that, as long as you were willing to pay the transition tag salary Sam Shields would've earned had he signed the tag offer sheet. Once the player signs your tag offer sheet, the money is guaranteed. The salary for a transition tag cornerback this year is $10.081 million, and all of that would go onto this year's cap. I doubt the Packers were willing to pay that amount of money. As I've written, it's all about price point, which is another way of saying it's all about value. You evaluate players according to what you perceive their value to be, and you stick to that value line. It's what disciplined personnel managers do.
Draft and develop is the way to go, but I am confused about Byrd. What kind of associated risk can there be with a player who has made the Pro Bowl on a non-contender three times, been healthy playing 73 of 78 possible games, and could make for vast improvement in the most needed area? With $30 million in cap space, how would his contract compromise the cap? How is his risk any greater than Matthews or Rodgers when they were hurt and paid premium (salaries)?
Maybe the Packers will sign Jairus Byrd. I don't make those decisions, I just discuss the possibilities. Byrd could get Matthews-type money. With the Packers needing to do new contracts with Randall Cobb and Jordy Nelson, the Packers' salary cap could get overly top heavy. That would be the concern. Structure is critical.
Hypothetically, let's say all NFL teams would become draft-and-develop teams and none of them would sign big free agents. Wouldn't that lower demand for veteran free agents, thus lowering the price for all veteran contracts? Why don't all teams agree to not sign big-name free agents for a while, in order to bring the price of free-agent contracts down?
That's collusion and it cost Major League Baseball $280 million in damages in the mid-1980s.
Richard from New Glarus, WI
You have made the point that there is a tendency for teams to overspend in free agency. So where is the logic in letting players that you would like to keep test free agency? They are likely to sign another team's offer sheet.
"Like to keep" is code for "willing to lose."
You've convinced me the best way to build a team is through the draft. What concerns me is the time it takes for those young people to make a difference. If we have to overhaul the defense, and if we have a limited window to win with Rodgers as QB, doesn't that argue for signing more free agents, given they are usually more ready to play now?
What young players might be ready to play but you've failed to include them in your evaluation? Did you see Mike Daniels coming? In a true draft-and-develop system, patience must reign supreme. There must be a commitment and expectation for young players to emerge as replacements. Nick Perry, Datone Jones, Casey Hayward, Davon House, Jerel Worthy and others are young players in whom development has been invested and a return on that investment is expected. If their talents fully emerge, draft-and-develop will have been a success, and especially since it will have protected the team's salary cap. If they have to be replaced by expensive free agents, then the system will have failed. You can't have it both ways. You pick and stick, and you live with the results.
Seahawks DE Cliff Avril
Thomas from Milwaukee, WI
The Seahawks signed Cliff Avril and Michael Bennett to short-term or prove-it contracts last season, selling the idea of having a chance to be part of a special team. Am I right on this? That would seem to be a blueprint that Ted Thompson would follow if he is shopping in free agency, right?
Bennett got a one-year deal. Avril got a pricey two-year contract that was back-loaded. He was a $3.75 million cap hit last year; he'll be a $9.25 million hit this year. The thing I like about those types of free-agent acquisitions is that the structure of the contracts allows you to get out of them quickly if the player is a bust. The down side, of course, is that if the player is a home run, you'll either have to pay big to keep him or lose him and suffer a blow to your roster. Here's what you've failed to mention: Russell Wilson was a $681K salary cap hit last year. When your quarterback makes the kind of money you pay to guys running down under kicks, you can do anything you want.
Vic, what about moving extra points to the 1-yard line. It makes going for two tempting.
That's what the commissioner wants to avoid. He's trying to eliminate plays from the game. Eliminating PAT kicks is a player-safety initiative. If you move the ball forward, you'll likely increase the number of two-point tries, which would increase the risk of injury. We're spending way too much energy on this PAT kick thing. The PAT kick is a dog play. Get rid of it.
Vic, what is your opinion of Mike Mayock as a talent evaluator?
I think he's an outstanding evaluator of talent, but I don't like his presentation of his information. I think it's too technical. It's as though he's trying out for a GM job. Frankly, if I was an owner in need of a GM, I would consider Mayock for the job.
John from Tinton Falls, NJ
I'm from New Jersey and we overpay for everything. Is there any sense to having cap room left over? I mean, you can't take the money saved in one season and apply it to the next year, right?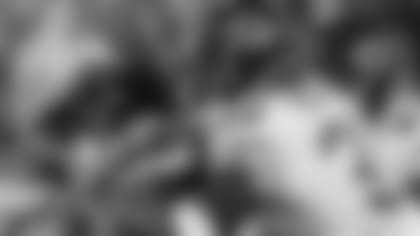 Bears CB Charles Tillman
Chris from Apple Valley, MN
Do you see Charles Tillman as that Charles Woodson type of player you are talking about in free agency? He reminds me of Woodson, and he is a really good player. I like him a lot.
Woodson was 29 when the Packers signed him. Tillman is 33. That's the difference. I like Tillman, too, but he missed a lot of time due to injury last season and, at his age, there's a concern that he's hit the wall. Hey, when they get old, they get hurt; that's a fact of football. Age and a deep crop of free-agent cornerbacks could make Tillman affordable, but you have to believe he has something left in the tank and, in my opinion, you would have to structure his contract as a one-year patch at the position. He'd be a kind of rich man's Jeff Saturday type of signing. At the right price, I wouldn't be opposed to signing Tillman. He knows the NFC North's receivers and his penchant for creating fumbles must be acknowledged as a big part of his game.
Vic, I believe I remember you saying everyone is eligible for the draft in their lifetime. Am I remembering correctly? When does your eligibility run out?
Your eligibility runs out when you've had your year of eligibility. You only get one year. Depending on when you were born, Keith, you were eligible when either your college eligibility expired, if you played college football, or either four or three years (Larry Fitzgerald rule) after you graduated from high school.
Vic, I understand that keeping the cap intact is crucial, but do we have to be so cheap to do so? I mean, what are we saving all this money for, the prom?
You're saving a big chunk of it for the future stars you're developing that you're going to have to re-sign. Randall Cobb is the perfect example. You don't embrace a draft-and-develop philosophy with the idea you're going to fail to draft and develop talent. Cobb is a product of it and he's going to get a pretty sizable contract. The Packers are going to spend to the cap. Trust me on that. Fans want the Packers to spend cash over cap, and that's going to be kept to a minimum because the Packers are sound salary cap managers.
Maybe he's the next Jairus Byrd. These are the guys you have to find. The players other teams miss are the ones that win championships for you because the cap savings they provide allow you to acquire more talent for your roster. Safety has become a higher-valued position in recent years because it has become a position of playmakers, but I still maintain that you should be able to find playmakers at safety in the middle to late rounds of the draft, or even in undrafted free agency. America is full of young men who are 6-0, 190 and athletic. Find them.
Kyle from Black Earth, WI
The Broncos recently released Champ Bailey. He says he would be willing to move from cornerback to safety for whatever team he signs with next. Any chance the Packers bring him in to add a veteran presence to the secondary and defense as a whole?
I don't know what the Packers' opinion of Bailey is. My opinion of him is that he's 35 years old and missed most of last season with a foot injury. Foot injuries aren't good for cornerbacks. Bailey is in the sunset of a Hall of Fame career. Does he have a year left in him? He might. Can I find a player of equal ability in the draft? I'd try, and if I was unable to do that and Bailey was still available when the draft was over, I'd reassess the situation. I think you can sense and I think everyone knows by now that I prefer young players.
Vic, I am a lifelong Packers fan and understand how teams continually change their roster to avoid hearing the train whistle. Why can't other teams (Pittsburgh and Dallas come to mind) hear the whistle, instead of re-signing players that have seen their better days? I love loyalty, but is this too much?
The two teams you've mentioned are different trains headed in different directions. The Steelers are using re-structuring to repair their salary cap. They can't cut and gut because in many cases the amortization would accelerate into the current year and worsen their cap. They held that team together and it won two Super Bowls and played in a third, but the bill has come due. What they're doing now is slowly, procedurally cutting a few older players every year, replacing them with young talent that's emerging, and then re-structuring older players that still have something left, with the idea they'll be next to go. It's a plan for repair with the hope of remaining a playoff contender (dirty little secret), which the Steelers did last season despite an 0-4 start. Their train is headed back to the station. The Cowboys are still chasing the carrot, so to speak. Their train is screaming down the tracks away from the station, and no one's driving it.
Vic, in your opinion, why was Kevin Greene, who has the third most sacks in NFL history, denied the Hall of Fame once again?
I was following the Woodley/Worilds scenario closely to see how the Steelers kept from getting hit by the train this year. Do you think Woodley, given his age (29) and injury history, is worth an incentive-laden contract at a mid-level price? Yes, I know he is an old 29, but if the Packers got lucky and he and Matthews stayed healthy, it would be a nice season.
Ah, yes, the almighty if. If you can dream, but not make dreams your master. LaMarr Woodley is the next one to go. He's being replaced by Jason Worilds and Woodley will likely be cut to make cap room, which his release will do because this is the year his salary spikes. It appears to be part of a plan. In my mind, the Packers already have a player similar to Woodley. Nick Perry is the same kind of big-bottomed pass rusher that Woodley has been, and from the same side of the field. Perry can be Woodley, if he can stay healthy. There's that if word, again.
Vic, how does your inbox look in the offseason vs. the regular season?
I can hear it screaming as I'm coming down the hallway in the morning. Fans are absolutely gaga about free agency. I'll never understand it. Free agency is nothing more than a high-priced waiver wire, but fans revere it as though every player in free agency is a difference maker. Free agency is a trap for fools, and everyone wants to be a fool. "Ask Vic" is on fire, even though this is probably the worst column on the face of the Earth for fans of free agency. I see that Peter King also trashed free agency. I don't get it. What's to like?