Q. Did you know you were one yard shy of your first 100-yard game?
A. I didn't know I was 1-yard shy, but I knew I was close to 100 yards because they reminded me every time I went to the sideline, "You're at 86," "Now you're at 90-something," but I didn't know I was at 99. I found out after we knelt the ball that I had 99 yards.
Q. What are your thoughts on your performance against the Lions?
A. I feel as though I did good. I was still a little cautious about getting hit in the head cause I didn't know if I would get another concussion. But I went out there and had a pretty good performance that boosted my confidence level and assured me more that I'm pretty much 100 percent now, as far as getting hit and having to worry about a concussion.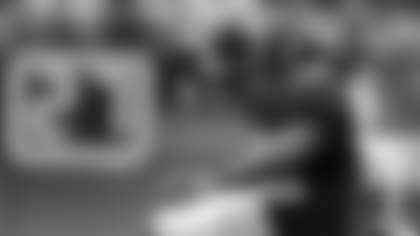 Lacy leaps over a Kent State defender
in a 2011 game in Tuscaloosa, Ala.
Q. What are the differences between college and pro football?
A. To me, it's a lot faster. You have to really be technically and fundamentally sound. When you're going against defenses, they're fundamentally sound. They don't over-pursue, they're in the right place every single time, for the most part. You have to do your job to a tee.
Q. Alabama and the Packers?
A. I don't know, it's real similar. Everything is well structured. The fan base is the same; they both love their football team.
Q. Are Coach Saban and Coach McCarthy similar?
A. They both expect a lot out of themselves, the coaching staff and the players. So from that, I'd say they're very alike. They have their demands. They know what they want to do and they know how to achieve it.
Q. What do you envision for yourself this season?
A. With this being my rookie year, I didn't want to try and put too much on myself. I just pretty much made up in my mind that I just want to come out and contribute. Whatever plays I get, whenever I'm in the game, just to max that opportunity out and do everything I have to do. And just to make sure I'm more on the positive side than the negative side, and however it plays out from there, that's how it is.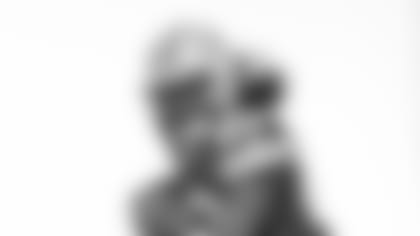 Q. What are your thoughts on the Trent Richardson trade?
A. You don't really see someone get drafted that high and then just get traded. I guess for him, personally, it's not a bad trade. I think we're similar a little bit. He's bigger than I am; I'm just a little taller, maybe. We have the same running style; downhill runners. We learned the same way; we were at 'Bama together, so we're pretty similar backs.
Q. Finding the cutback lanes. How would you describe it?
A. Depending on the play call, some of them are built in. You just stretch your aiming point and when the ball is hiked you already have your aiming point. You know where you're going; you're not looking at the ball, you're looking at the defensive lineman and then the second level. While you're on your track you can see if the linebacker is overflowing too much and you just continue to go and make him continue to stretch and you wait until the last minute and that's when you have a cutback lane. That's how I do it.
Q. You're from New Orleans. What would it mean to you if the Packers played the Saints in the playoffs?
A. I think that would be tight, especially if we played in New Orleans. I'd have as many of my family members come that's possible. I think it would be a cool experience. I played in the Superdome once or twice, and it was a cool experience. But to come back and play again in the NFL, against the Saints, I think it would be pretty cool.
Q. What do you remember about Katrina?
A. The worst effect it had on me was, before the hurricane, I had pretty much an open personality. I laugh and joke 24/7; I'm pretty much like a big kid, for the most part. Whenever you see me I'm always laughing or joking; no matter how my day was I'm playing around. Playing is what I like to do. After the hurricane, having to switch schools and live in different places, that part of my life for three years, my personality pretty much left. I was quiet. I would go to class and do what I had to do, go to football practice. But when that was over, I would go home. I would just pretty much go straight to my room and just sit in my room the whole time. I wasn't talkative or playful like I normally was until after I graduated and left. We left the day before the hurricane and went to Texas. We stayed in a hotel until we pretty much couldn't afford to stay in a hotel anymore. Then we moved to Baton Rouge with my aunt, and it was my family (parents and sister), a couple of my uncles and their families, and then my aunt who actually lived in the house with her husband and her daughter, and her daughter and her kid. There were a lot of us. It was probably a three-bedroom, one-bathroom house. So we stayed there for a couple of weeks, maybe a month or so. We ended up moving into an apartment for a little while, but we couldn't stay there too long, either. Then my mom found the "Share your Home" program on the Internet. We lived with Mr. Alan and Ms. Allison until we found the trailer that was like right around the corner from the high school. We struggled. I struggled with them growing up and now that I'm able to put myself in the position to change that. That's what I want to do. As soon as they get comfortable and ready to move, that's when I'm going to do it.