Q. What's it like being a star?
A. Honestly, I don't really see myself as a star. I see myself as just keep playing, just keep working hard. I don't overthink all that stuff. I just do what I have to do and all that stuff comes. I just stay away from the stardom. That's not my main focus. My main focus is to excel on the football field.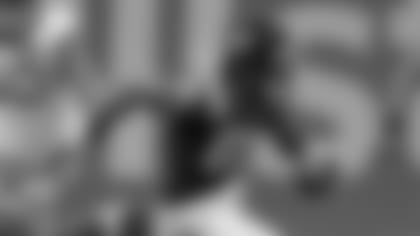 Boykin caught a Virginia Tech single-season
record 61 passes as a senior in 2011
Q. Did you believe this day would come?
A. I think as athletes and competitors we all think and believe one day we can finally get to the point where we can showcase our ability. When?  I didn't know but I just had to keep working every day and, hopefully, one day it would happen.
Q. You were a star at Virginia Tech but you went undrafted. Tough to swallow?
A. Not necessarily tough to swallow because I didn't look at myself as bigger than what I really was. Like I said, I'm a humble, laid back type of guy. I kind of knew the way it would turn out based on my speed. I just figured let all that go to rest on its own and whenever I get a chance just go out there and try to prove people wrong.
Q. When you were released by the Jaguars?
A. It was very disappointing, frustrating. Like I said, being athletes and competitors you want to go out there and be able to have that chance to go out there and show what you can do. When they let you know that it's not going to work out, you're down and thinking what's next? So I think I waited like a week and got the phone call from Green Bay and was chomping at the bit. Whatever opportunity or whatever they give me I'll just have to go out there and prove myself. Let it all loose and don't hold back.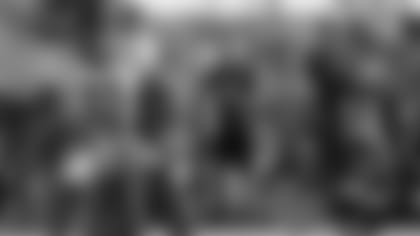 Boykin was one of four rookie free agents to
make Green Bay's opening day roster in 2012
Q. What were your thoughts during that rookie camp with the Packers?
A. My thoughts were just go out there, play fast, try to finish, make every play that comes my way and do anything that stands out. Hopefully, show them that I really want to get a chance during training camp. It felt good, but you still have to stay hungry because that can only last so long.
Q. Your father died when you were a baby. What was life like growing up without him?
A. I was pretty young so I never really had a chance to get a relationship with him. I grew up knowing my stepfather as my actual father, so it was nothing different, as far as in my household. It was pretty normal, nothing different.
A. Is speed overrated? No, I don't think so. Speed kills. I would love to have more speed than what I have. I just try to do other things that compensate for it.
Q. What do you envision for yourself as a pro football player?
A. I don't try to think too far ahead of myself. I really just take it a day at a time. Really, in practice I just take it a play at a time, each day. Like I said, as competitors and athletes you want to be one of the best out there, so you just have to do whatever you can and make sure you can keep getting those opportunities to make a chance to get to that point. Hopefully, I can get to one of those points in my life where someone can actually refer to me as one of the best wide receivers to play.
"I just stay away from the stardom. That's not my main focus. My main focus is to excel on the football field."
Q. Does this offense suit your skills in a particular way?
A. I don't really know the differences from other offenses because I haven't been in their systems but I really love this offense. With an amazing quarterback that can get you the ball, it can only help you thrive. We spread the ball some. As far as Virginia Tech, we run the ball a lot.
Q. What are your goals for your life, not just for football?
A. Just being able to one day sit back and say I accomplished a lot of things and watch my kids growing up and be able to tell them stories about the things I did and watch them accomplish their goals. Beautiful family, wife, home, you know, just the picture perfect everything, but as everyone knows it doesn't always go that way.
Q. Who's been the most important person in your life?
A. It's hard to say because there are a lot of people that have helped contribute. From a football standpoint, the person who was there, trying to get me on the road, was my cousin DeAngelo Lloyd. He went through this whole process and at this point he tried to tell me things that nobody really ever told him when he was coming out or the things he was doing. He would try to give me feedback. Even if you had a good game he would say, "Step it up. I saw that one play; you need to get that together." It could be the best game you ever had but he was going to be on you. But, of course my dad and my mother and my little brother were always there doing the same thing. They wanted it just as bad as I wanted it.