Cale from Little Chute, WI
Vic, love your column. Option defense is assignment football. Someone has the quarterback and another defender takes the pitch man. Why all the confusion on how to defend this? What am I missing?
You're not missing anything and there is no confusion. I watched the Packers defense practice their assignments against the read option in the opening moments of every training camp practice this summer. They know what their assignments are. They are very well prepared for this game. Win the one-on-ones.
Gary from Chippewa Falls, WI
The Patriots have bad defense and bad run game. They get a pass because they play in a less competitive division and conference?
They were No. 4 in passing, No. 7 in rushing and No. 1 in overall offense last season. That's not balance? They were No. 9 against the run. Only the Patriots' pass-defense wasn't a top-10 unit last year. During their Super Bowl years, their stars on defense included Richard Seymour, Ty Law, Tedy Bruschi, Asante Samuel, Rodney Harrison and Lawyer Milloy. What pass do the three-time Super Bowl-champion, nearly five-time Super Bowl-champion Patriots need? Less competitive conference? Are you referring to the conference that's won eight of the last 13 Super Bowls played? You lost me on this one.
Dan from Sioux Center, IA
Vic, I haven't seen a season prediction from you, yet. What gives?
I don't predict records. It seems silly to predict a record when you don't know if and when players will be sidelined by injury. Predicting records is only good for saying I was right or you were wrong. That doesn't interest me. I predict whether or not I consider a team to be a playoff contender. I consider the Packers to be a playoff contender. If I'm wrong about that, I will have made a gross error in judgment and I'd deserve to be called out about it.
While I want to win on the scoreboard on Sunday, I feel the real result from this game will come from how the final score is reached. Showing a commitment to the run, an improved run game and a more physical style of play says more going forward than throwing the ball all over the park and getting a scoreboard win because everything happened to go right for three hours.
Any kind of win would feel real good after the game, but I'm looking for more. We know what this game is about. If that gets addressed, I'll be satisfied.
Vic, have you come across these types of sad, scared fans in your time in Pittsburgh or Jacksonville? I can't fathom wanting this Sunday's game to be over so we can get on with the season after an opening-day loss. It's as simple as this: Ross doesn't drop the ball, we win. The 49ers are toast and the Packers go on to dominate the league.
I don't agree with that assessment of last January's playoff game. I think there's a desire to affix blame on Jeremy Ross for that fumble because it's a way of avoiding the real issue. Mike McCarthy didn't avoid it. He put it out there for everybody to swallow when McCarthy addressed the media at the scouting combine. As for the fans, one of the things I've detected about Packers fans is that they worry a lot. They get really tense about games. It's almost as though they want a guarantee of victory, which they know nobody can give them. I came to know this very early in my time here, and it made me feel bad for the fans that their enjoyment of the game is being paralyzed by their fear of losing. That's why I started with the whole "I like to watch" campaign. What else can a fan do but watch? Folks, you're not responsible for winning. The players and coaches get paid handsomely to bear that responsibility. This is all for your enjoyment. Let it happen.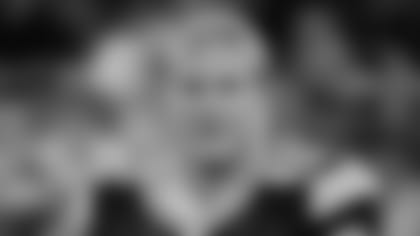 LB Clay Matthews
Brandon from Woodland Park, CO
Vic, with Matthews coming out and saying the defense is going to hit hard and often against a read-option QB, do you think the refs will be looking for illegal hits more than they would in any other game?
My advice would be to hit hard and find out. Penalties will happen. I won't think less of Clay should he commit one. It's a tough game for tough guys.
Stephen from Billings, MT
Vic, Heisenberg also refers to a physicist named Werner Heisenberg. His insights led to a breakthrough in atomic physics and created the "Heisenberg Uncertainty Principle," which states that you can only fully know one thing about an atom's location at a time, either position or speed, because viewing one disturbs the other and, in fact, changes the location.
Stephen, I'm a sportswriter. Not once in my life have I ever wanted to know the position or the speed of an atom.
Andrew from Kansas City, MO
People are way too wrapped up in the hype. I'm to assume this is what happens to society when Honey Boo Boo and Kim Kardashian are the main attractions.
A week or two ago, I heard a news report about Ms. Kardashian being critical of the President of the United States. I had heard her name but was never quite sure why she was prominent, so I looked her up. She made for some interesting reading. Apparently she once made a popular and highly controversial video, and she married a basketball player, divorced him 72 days later and then revealed that it was all part of a publicity stunt. My wife then informed me that it was her mother that was being critical of the President. "Oh, that's different then," I said.
I think the read-option quarterbacks of the league are in for a bombshell this season. No offense to Kaepernick or RG3, but to be a successful quarterback in the NFL you have to be able to throw it. Do you agree, Vic?
You cannot win championships in today's NFL without being able to throw the ball. RG3 had a 102.4 passer rating last season, and Colin Kaepernick had a 98.3 passer rating and he was 100.9 in the postseason with a 127.7 in the NFC title game. I think we need to stop trying to invent weaknesses in these guys' games and accept the fact that they're pretty good.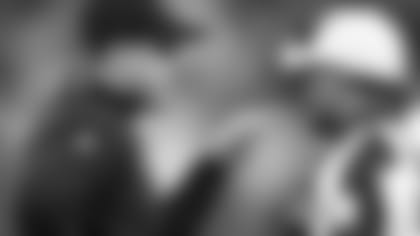 49ers coach Jim Harbaugh
Kyle from Black Earth, WI
Vic, I've been hearing a lot of buzz lately about how it's possible the Packers added Scott Tolzien to the practice squad just so they could pick his brain about the 49ers playbook. Do you think this is true? If so, how much can Tolzien really tell us about the 49ers that we don't already know?
Mike McCarthy said "they can definitely give you insight," so I would expect that questions would be asked. I'll be participating in a phone interview of Coach Harbaugh this afternoon. I'll be interested to get his take on this subject. You'd think that after 42 years of doing this I would've developed a degree of calm and sophistication in the practice of my craft, but I still tingle at the prospect of these kinds of potential tiffs. Maybe Coach Harbaugh will give us a handshake moment.
Jessica from Pittsburgh, PA
Vic, I love your humor but you hit a cord. My father passed away last year. Pops worked hard for nearly 40 years at the sintering plant, or purgatory, as he would put it. Pops put food on the table and got three kids through college. It was an honorable living, no crime. Thing is, Pops would have laughed his butt off at your comment. Luv ya, Vic.
I knew by lunch time on my first day on the job that the sintering plant was not for me. Getting popcorn stuck in your teeth in the press box is a lot better than having orange dust blow up your nose on a 90-degree day. Pops would've agreed.
Vic, this doom and gloom from Packers fans is depressing me. Football is fun! What's your favorite part of opening day?
I covered a lot of season openers for a lot of years with a favorite reporter friend, and he had this ritual he always performed before the opening kickoff. When the kicker would raise his hand, just before he began his run up to the ball, my buddy would say, "Gentlemen, the (baloney stuff) stops now." I'll hear his voice in Candlestick on Sunday, just as the kicker begins his run up to the ball. That's what I love about the season opener. The time for evaluation has ended. The time for the process has passed. The time for talk about what you're going to do is being replaced by the time to show everybody what you've got under the hood. I'm getting all tingly already.
On Sunday, I will be watching how well the Packers run the ball and how well their defense contains the 49ers' many weapons. If they can show that they can go toe-to-toe with the 49ers on both counts, I will be a happy man, win or lose. Am I the only fan who feels this way?
It's still "just win, baby," but there's a little more to this game than the final score. We know what it is. For me, that little more is on the defensive side of the ball.
Vic, I was listening to Colin Cowherd and his thought was that the new spread offense will create less injuries because it will cause defenses to need guys who weigh less, creating less force in collisions. Thoughts?
It's a logical theory. The read option places an emphasis on movement on defense, which should reduce the overall mass on the field and that could result in fewer injuries. It's one of the reasons I think the league would favor an era of read-option type football. Not only might it reduce the total mass on the field, but the read option creates a split second of hesitation as the play is unfolding, and that hesitation is also a potential impact reducer.
I'm not sure how much national attention this story is getting but in Denver there's an uproar because the league put a 40-foot poster of Joe Flacco up next to Peyton Manning on Invesco Field to promote the league opener on Thursday. Is the league going too far to market its brand or do the fans in Denver need to get over it and embrace the fact that football is back?
I can understand why Broncos fans are upset. Invesco is the house Denver built. The Flacco picture is an insult to Broncos fans, and the league didn't do the Ravens any favors, either. I have no doubt the Flacco picture will help charge the atmosphere.