Bob from Grand Rapids, MI
Vic, you wrote that "young players are requiring more time to close the college-to-pro gap," yet, our rookies are playing at exceptional levels. I take this to mean the Packers not only draft exceptionally well, but have exceptional coaching to bring them up to par quickly. Isn't that what makes the difference between high-quality teams and lesser teams?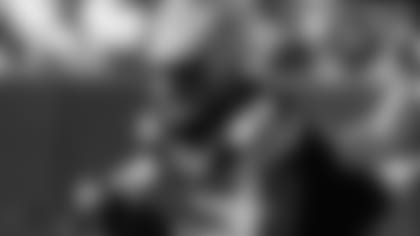 LT David Bakhtiari
The Packers are better than everyone else? I tend to see that as a dangerous attitude. Packers fans are intensely proud of everything about this team, but this league is full of accomplished football people, and I've covered great coaches in all three of my stops. Never discount the value of getting lucky. Eddie Lacy should not have been available to this team in the second round; the hamstring injury that caused him not to work out at the combine and at his pro day probably made him fall to the Packers. David Bakhtiari is another player who shouldn't have been available to the Packers. He was hidden in an awful program at Colorado and coming out early didn't help him, either. The Packers did a great job of scouting those two players, but they were also fortunate that they were available. Sometimes you get lucky, sometimes you don't. What's important is that a team remain sound in what it does. Draft talented players and teach them how to play the game, and then wait for good fortune to sort them out. The bad teams press panic buttons. That, in my opinion, is what separates the good teams from the bad teams. The Packers don't press panic buttons.
The mention of Jerome Bettis brought out the memory of one of my favorite stat lines of all time: five carries, one yard, three touchdowns. Do you have any sort of bizarre stat lines you look at and smile?
One of my all-time favorite stat lines is Bob Griese's passing stats for Super Bowl VIII: six of seven for 73 yards. The Dolphins won, 24-7. In comparison, the Packers passed the ball on each of their first seven plays in Sunday's win over the Browns.
Judson from Nashville, TN
I am noticing that teams like the Seahawks, 49ers and the Chiefs have quickly gone from bad to great. All these teams have acquired new quarterbacks and head coaches in the past few years. Which is more crucial to a team's success in today's NFL, coach or QB?
You can't win without both, but I think you've missed something in your evaluation of those teams: They didn't quickly go from bad to great. Those teams were long in the draft making, especially the 49ers, which began accumulating top talent when Mike Singletary was their coach. In each case, those teams were waiting for the final piece, the quarterback, to be put in place.
Vic, do you think a change in the culture of safety in football is more likely to come from the high school level up, or from the professional level down?
It has to come from the top level down because that's where the resources are available to do the research that'll make this game safer. I consider the NFL to be the game's guardian. In my opinion, the NFL is responsible for leading us into a new era of football that'll preserve the game on all levels. My love of the game is rooted in high school football and I believe high school football to be at the root of the NFL's success. Success of the game at the amateur level is in direct correlation with the success of the game at the pro level. Preserve one, and you preserve the other.
Vic, what has been the cause for the drastic change on defense from this year compared to last? It is night and day. We are playing shut-down, physical defense.
I'm not ready to make that proclamation. Last year's defense made a huge leap up the rankings from No. 32 to No. 11 overall, but it didn't feel that way because the Packers played poorly in big games. The defense has recovered nicely from a poor start to be at No. 15 overall this week, but I still need to see it play better in big games. When that happens, I'll join your bandwagon.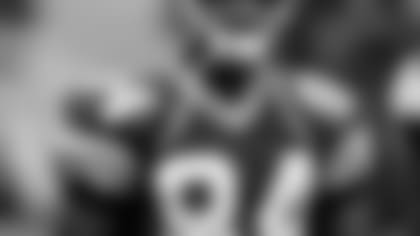 WR Andre Rison
I know it's not in Ted Thompson's DNA to trade draft choices for veterans, but remember how key Andre Rison was to the Packers' run to the Super Bowl in 1996? He was an important addition when the team was decimated by injuries. I think it's time for Ted to pull the trigger for a Tony Gonzalez in exchange for a fifth-round pick (or similar trade) to help out Aaron Rodgers.
First of all, Rison was cut by the Jaguars, so the Packers didn't have to trade a pick to get him. Second of all, that was 17 years ago; that's how far back you had to go to find an example you could use to make your point. Micah Hyde is a fifth-round pick. So was Aaron Kampman and Kabeer Gbaja-Biamila. Which one of those fifth-round picks don't you want?
Wouldn't making all defenders start within 10 yards of the line of scrimmage almost eliminate the run game?
I don't think it would. Those defenders would be so afraid of getting beat deep that they'd turn and run at the snap of the ball; you wouldn't even have to block them. I think the 10-yard rule would actually open up the run. One more thing: I'd love to see how it would impact fourth-down plays. For example, the punters would have to be officially designated as such. When they come onto the field, the 10-yard rule is off. If the punter isn't on the field, however, the 10-yard rule remains in effect. I think it would be a hoot to see the creativity that would result. The quick-kick would return to the game. Quarterbacks would become punters; they'd just pop the ball over the heads of the defenders. Shanks? I like the intrigue that would result. In the process, another dangerous play, the punt return, would be softened. Hey, I'm just having fun with some game-reshaping thoughts. We've got to get those safeties out of the deep middle of the field. Whatever it takes.
Let's be honest, Brandon Weeden did not play a good game at all, but there were plenty of throws he made that were on target with wide-open receivers that were dropped. Is that something we should be worried about?
This is a bad week for worriers. Give it some time. Reason for worry will always return.
What is Bryan Bulaga doing while on IR? Can he attend meetings, etc.?
I'm not familiar with Bulaga's schedule, but players on injured reserve are permitted to attend meetings and use the team's facilities, but they are not permitted to practice with the team. They are also not required to remain with the team. They can go home.
Jiri from Brno, Czech Republic
Vic, what happened with draft and develop to Scott Wells? Why did we let him go away?
Wells was drafted in the seventh round, began his career on the practice squad, and then developed and played a lot of good football for the Packers. When his value exceeded that which the Packers were willing to charge to their salary cap, they ultimately replaced him with a player they originally signed as an undrafted free agent, Evan Dietrich-Smith, whose development has been just as impressive as Wells'. That's the charm of committing to the development of young talent. It gives you a supply of players to replace those you can no longer afford. In the salary cap era, you must be willing to let players leave. You can't keep everybody; the cap won't allow it.
I don't know if you saw it, but I don't think Reggie Wayne's injury happens to a 23 or 24-year-old. All by himself, he just turned wrong. It's a tough game for older players, right?
Those kinds of injuries happen to young players, too; it's just that they tend to happen more often to older players, and their recoveries from those injuries tend to require more time.
Nicholas from Superior, WI
Vic, you said 20 is the new 17. Thus far, when the Packers defense held their opponents to 20 or fewer points, the Packers have won. Had they done so in the other two games, they would have won those games, too. What about the offense? Is it doing its job if it scores more than 20?
The NFL was long considered to be a 20-17 league. These days, it's more of a 23-20 game and I think that average is going to continue to climb. The Packers are averaging 28 points a game. The offense is doing its job. In the last three games, the defense hasn't allowed more than 17 points, and that's exceptional.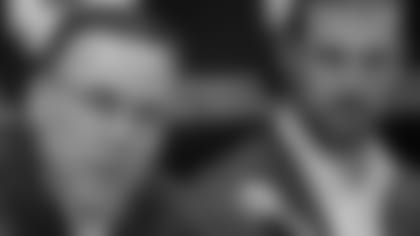 Chiefs GM John Dorsey & QB Alex Smith
Roger from Indianapolis, IN
You predicted that KC would be the most improved team; last team undefeated. What did you see that made you think they would improve so rapidly? Is there a formula or just luck?
I looked at their roster. I liked it. I saw what they did to the Packers in 2011. I watched them a couple of times on TV last year and saw talent that was being wasted because they didn't have a quarterback. I felt strong new leadership would resolve that problem and give the Chiefs a better sense of direction. Maybe I just got lucky. I don't take a scientific approach to football. I just use my eyes.
Bud Adams has passed and young people like me turn to grizzled old people like you to give context on his life.
He was one of the founders of the AFL, a league that forced the game to grow. Had there not been an AFL, the NFL would've expanded at a painfully slow rate. The game's popularity would've grown at a slower pace. Baseball would've remained the national pastime longer. Adams, Lamar Hunt, Al Davis, Ralph Wilson, Wayne Valley, etc., were to the NFL what George Halas, Wellington Mara, Curly Lambeau, Art Rooney, etc., were to the NFL. The AFL gave the NFL the competition it needed to stimulate the rapid growth of professional football. I have very fond memories of the AFL.