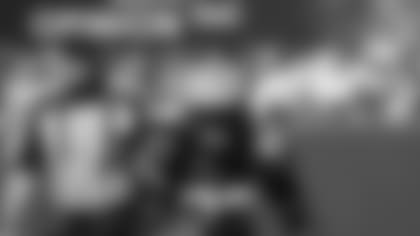 RB Eddie Lacy
The Packers Partners Fan Club question of the month is from Curt from Elk Grove, CA
Since the new breed of player is faster, stronger and more intense, have the equipment manufacturers stepped up their game in protecting players with new technology equipment?
The difference in equipment from what players wore when they were slower, weaker and less intense – why do we have such disregard for football history? – is the difference between the computer I'm using to answer this question and the Royal portable I used to write my stories when I began covering football. Frankly, I think that's a big part of the problem. Pad the hand, hurt the head.
Not too long ago you said that if you had to start a team with existing NFL players, your first choice on defense would be Jason Pierre-Paul. Last night (and most of this year) he was invisible and his team is 0-6. Just a couple of years ago he was dominating this league. What happened and who replaces him as your No. 1 defensive pick?
Pierre-Paul has a back problem. When I was asked the same question the previous year, I think my answer was Darrelle Revis. He since has had knee reconstruction. Do you see where I'm going with this? If I had to start a team with existing players, I would prefer to trade them for picks, not players. It's a young man's game and age has nothing to do with youth in pro football.
Looked to me like James Jones simply didn't know the rule about two feet in for his would-be TD catch. On another Sunday that could have cost the Packers the game. What kind of feedback do you think players get with those types of mental lapses?
He knows the rule. What I don't think we're understanding is that Jones thought he already had two feet down as he stepped out of the end zone. You don't have to get two feet down in the end zone. The first foot we thought was down was actually up, which meant the foot that stepped into the end zone was actually the first foot down. I wish Mike Pereira and TV would've done a better job of explaining this because the disconnect has caused a flood to my inbox from people who are trying to reinvent the two-feet-down rule as it pertains to crossing the goal line.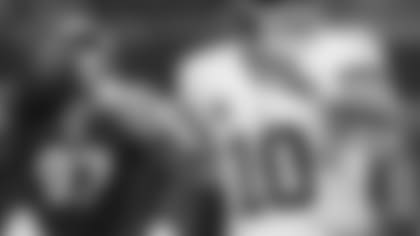 Giants QB Eli Manning
Andrew from Jacksonville, FL
Vic, those first couple of interceptions were on Eli Manning and they were awful. Have you ever seen a QB of his caliber tank like this?
He has a chuck-and-duck habit. He's always had to fight it. I remember covering a Monday night game between the Giants and Jaguars; Manning was really struggling with that habit in that game and it caused me to believe it would get the better of him and the Giants would have to find a new franchise quarterback. A year later, he caught fire late in the season and he became a different quarterback. Now, he's back to the guy I saw in 2006. When you throw off your back foot, the ball sails and floats. That's what's happening. He's a little skittish in the pocket right now.
Troy from Stevens Point, WI
I know it's been four games, but what do you think of the 2013 draft class so far for the Packers?
Eddie Lacy, David Bakhtiari, Johnathan Franklin and Micah Hyde are major contributors. They appear to be keepers. The rest of the class is in a be-patient mode. In my opinion, it's a good class.
Chris from Eau Claire, WI
Vic, I've heard that if a defense allows an average of 17 points per game or less, they are doing their job. Do I need to raise that bar a bit for the new era of football?
Vic, do you think the league will consider eliminating intentional grounding penalties in the near future?
Yes, I do. I proposed that idea in this column several years ago, as the league began its player safety movement. I proposed that quarterbacks be allowed to spike the ball to avoid a sack. That protection device, in my opinion, would make all other protections go away, which would help reduce the thickness of the rulebook and clearly define the difference between the quarterback as a passer and the quarterback as a runner.
Vic, I don't think I was being mean-spirited at all. I think the running QB is a fad just like the wildcat was. Only the ones that have the arm to play in this league will stick around. We all know Kaepernick has the arm. Why isn't he as effective this year? I genuinely want to know.
Jeff, I genuinely offered my opinion on this recently. He's a young quarterback who has to learn the nuances of the game. In particular, he has to learn to look off the safeties. All quarterbacks need to do that, but Colin Kaepernick especially needs to do it because he has a long, pitcher-like delivery that'll take defenders to the ball if Kaepernick stares down his receivers, which he has a tendency to do. Andrew Luck is a master at looking off safeties. He came to pro football groomed and ready to go; Kaepernick did not. Few do. He's got the tools; now he has to do the little things.
The casual fan is ruining the game of football. You say the NFL is making all these rule changes to attract the casual fan. Simply put, the casual fan is an idiot.
Why is he an idiot? Because he was able to go to bed and quickly fall to sleep after the Seattle game? Because he can take a nap during the boring parts of a game and then wake up and enjoy a big finish? The casual fan represents the majority of football fans in America and the casual fan is important to our enjoyment of the game, because the casual fan helps drive the revenue that makes the game what it is. He and she are able to do that with the sheer numbers they represent.
Are you concerned about the mass popularity of the NFL? It seems mass popularity sometimes harkens the beginning of the end. The "Frontline" show on head trauma was disturbing. So, will it be only the lower socioeconomic class that deems the risk worth taking?
I'm concerned about the specter of danger the game is acquiring from the hits its image is taking on concussions and other game-related dangers. It's a positive that the game is taking initiatives to address player safety. By doing that, the game is addressing game preservation. Where is the line in the sand? That's the issue. Are we nearing it, or do changes need to be more dramatic? The answer to that question will determine whether or not football is able to maintain its overwhelming popularity.
Johnathan from Mechanicsburg, PA
Vic, I liked the way you slipped Edgar Allan Poe into the 10 things article. I can read something you write and something Mike writes and not even have to look at who wrote it. What do you think makes you two different, other than you covered football when it was a completely different sport than it is today?
Mike has a Master's from Northwestern. I couldn't even get in Northwestern.
Jim from College Park, MD
Vic, how about not allowing quarterbacks to throw the ball away out of bounds? Yes, he then becomes susceptible to injury, but think how that will affect the game.
I know how it'll affect the game because that's the way it was when I began covering the game. Quarterbacks were not permitted to spike the ball to stop the clock. Nor were they permitted to throw the ball away to avoid a sack. If they were going to throw the ball out of bounds to stop the clock or avoid a sack, they had to have a receiver in the area of the throw. They would call a quick out and then sail the ball out of bounds over the receiver's head. If there wasn't a receiver in the area, it was intentional grounding. It made playing quarterback more difficult, and that goes to scoring and that's why those days are gone forever.
Nayan from Auckland, New Zealand
Vic, I have been enjoying your column for a few months now. I am watching the Giants-Bears game and the Giants just kicked off to Hester and gave him a chance to return. Why doesn't the kicker take it to the back of the end zone?
It's for the same reason I lay up on par fives.
What are the chances Eli Manning breaks the record of most interceptions in a season held by George Blanda (42)?
No chance. He fixed this problem once before and he'll fix it again.
David from Stevens Point, WI
The writer who questioned Packers fans giving away their tickets and Lambeau being dead on Sunday had me thinking. That was a Milwaukee ticket-holder game. In your experience since you've come to Green Bay, have you noticed differences in the crowd makeup and response to the game for Green Bay ticket holders over Milwaukee ticket holders? My sense is Milwaukee ticket holders are more likely to sell their tickets to avoid the drive. Thoughts?
I sense a little rift in the ranks. Blame it on Milwaukee? I wonder how Milwaukee feels about that.
T Derek Sherrod
McCarthy talked about how he expects Derek Sherrod to play this year. In prior years he would have been pushing for a starting role on this team but now we have two up-and-coming tackles. What is Sherrod's position on this team and do you think he will be cross-trained to play guard?
Let's just be pleased to have gotten that stunning news yesterday. Good for Sherrod. It's been a long road back. There will always be a place for a quality big guy.
Jordan from St. Louis, MO
I can easily explain the problem with the NFL in Los Angeles: Image. That city needs an identity to rally behind. This is why I feel like the Raiders, Chargers, Rams or other transplants would end poorly. LA needs a team of its own.
That's not going to happen. It's going to get some other city's team and that'll work if Los Angeles gets what it needs the most, a stadium that isn't falling down. Los Angeles is unfairly criticized for not supporting its teams, and that's incorrect. The Raiders played to huge crowds at the Coliseum – the Raiders topped 90,000 several times – but when you're playing in a stadium the size of the Coliseum, season ticket sales are going to suffer because fans can pick and choose the games they want to see. Attendance will soar for big games and sag for little games. The Rams had that problem, and so did the Raiders. The city hasn't been willing to build a stadium for a team as other cities have done. Everything in Los Angeles will change when it finds a way to build an NFL-caliber stadium.
"They're the defending champions and the Green Bay Packers are coming into town. That sounds like a helluva game to me." Gotta love McCarthy!
For a coach that doesn't like drama, that's awfully dramatic.
Will Denver play like a great team this week?
It depends on how we define great.
Austen from Toronto, Ontario
Vic, I never thought that you were misrepresenting the truth. Rather, I felt Bradshaw's numbers might not provide a full illustration of how to treat an opponent. Bleier for 118 yards and three TDs best summarizes that (game).
I was there. I covered the game. I know what happened. It was a game-long kneel down. It was the only time in my career that a head coach didn't speak complimentarily of the upcoming opponent during the week leading up to the game. I'm trying to use stats from that game to convey what I witnessed. Of the Steelers four Hall of Fame skill-position players (Bradshaw, Harris, Swann and Stallworth), none of them reached a hundred yards in that game. There was no padding of personal stats in that game. Let's do this. Let's see what the Broncos do this Sunday, and then let's revisit the discussion. I think it's a worthy comparison for it'll give us a good understanding of where the game has gone in 37 years. Ouch!