Hey Packers fans, here's your chance to share with other fans from around the world your favorite memories of the Green and Gold!
Each week, Packers.com will post a new feature called 'Packers Fan Memories.'
This week's batch features some special anecdotes. Going to a game at Lambeau Field represented the ultimate Christmas for three daughters. A 10-year-old shook Brett Favre's hand before a game while a young girl's visit to see her grandparents meant a trip to Lambeau. Showing their devotion two groups of fans traveled all the way from Alabama and Southern Califorinia to watch the Packers play.*
For 15 years the first thing on my three daughters' Christmas list was "If we could go to Lambeau Field to see a Packers game, that would be all you have to give us." Well, this year it happened. We also surprised my mother, a lifetime Packers fan like me. Once we arrived in Green Bay, it was a "high" for all of us. From the tour to the Hall of Fame and the game, everything was just wonderful. Although we lost the Christmas Day game against the Chicago Bears, the memories will last a lifetime. We will be back.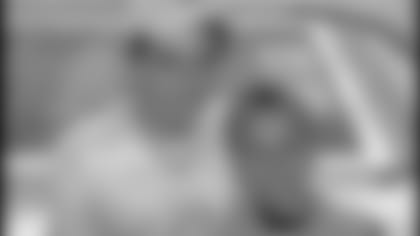 In January I flew back to Titletown to see my grandparents. While we were there, I got to go to Lambeau Field and take my first tour! I was so excited! I love the Packers so much. When we got to go through the players tunnel, I got tears in my eyes, thinking about all the legendary people that had walked through it and the amazing games that had been played at Lambeau. I love the Packers so much and going to the Frozen Tundra will always be one of my fondest memories.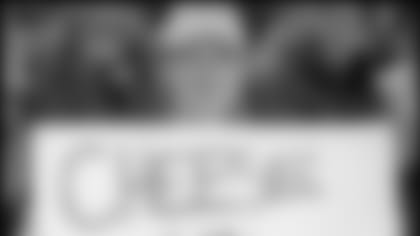 I finally got to go to Lambeau Field in August of 2004. I grew up in Alabama, but my dad was from Milwaukee. Some of my fondest childhood memories were watching football with my Dad. I hate that my Dad didn't live to see me appear on ESPN that night, but here's the picture of the sign that got me on television! One day I'll go back during the regular season and visit my family up there -- hopefully with my husband and two boys!
Michele - Birmingham, Ala. *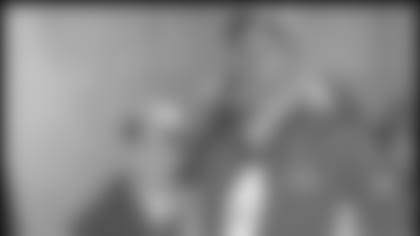 Santa brought my 10-year-old son Scott two tickets to the season finale against the Seattle Seahawks. It was the first trip to Lambeau Field for both of us. We live in the heart of Minnesota Vikings country. What a thrill! Our friend took us on a locker room tour the day before the game. We shook hands with the legendary Brett Favre and wished him a good game. Watching him lead the team to victory over the Seahawks was unforgettable. A month later my son hasn't washed the hand Favre shook! (He's sure his idol's DNA is still on that hand and wants to hold on to it!)
I have been a die-hard "Green and Gold" fan for a long time. It has been a dream of mine to come to Lambeau Field for a game. I couldn't have asked for a better weekend. My wife and I toured the stadium, the Packers Hall of Fame, Curly's Pub and tailgated with some locals from Green Bay. The best part was watching the Packers beat the Detroit Lions in overtime 16-13. Coming from Southern California, I was cold, and my beer froze. I wouldn't have it any other way. I had a smile on my face the entire time!
Ryan - Thousand Oaks, Calif.*