LT David Bakhtiari
The regular writer of "Ask Vic," packers.com Editor Vic Ketchman, is on vacation. Staff Writer Mike Spofford is temporarily filling in to answer your "Ask Vic" questions. Vic will resume writing his daily column on Monday, Feb. 10.
Alright, Mike, you have survived to Day 2 so I have two questions for you. Who do you see at left tackle next year, Bakhtiari or Bulaga? The other is who do you see making the largest jump this upcoming year in terms of realizing potential?
That left tackle question is a really tough one, and Jimmy from Hankinson, ND, asked it, too. The only guess – and I stress guess – I'm comfortable making now is that, barring (heaven forbid) another injury, Bulaga will be a starting tackle in 2014. I just don't know if he'll be on the right side with Bakhtiari on the left, or if it'll be Bulaga on the left and maybe Derek Sherrod on the right. I'm not counting Sherrod out by any stretch. He was a first-round pick for a reason, and he'll finally get a full offseason and training camp to compete. Don Barclay's tackle/guard versatility I think gives him a spot on the roster, too. It's not a great big problem but a great, big problem at offensive tackle for the Packers in 2014. As for the second question, if we're looking at the jump from Year 1 to Year 2, the best thing for the Packers is if that answer is Datone Jones.
Mike, you got fined, what did you do? Ruin one of Vic's pair of khakis?
Bob from Oosterhout, Netherlands
Welcome Spofford. Who will win the Super Bowl?
A lot of you, understandably, want my take on Sunday's big game, so here goes. I was unexpectedly impressed with the Broncos' defense in the AFC title game against Brady and the Patriots, and I believe if they can play anywhere close to that level against the Seahawks, Manning will put up enough points to take the title. Plus, I can't help but appreciate the potential symmetry of Peyton winning his second Super Bowl in his brother's backyard after Eli did the same two years ago.
Greg from Eielson AFB, AK
Mike, this Super Bowl is a "legacy" game for Manning, from what I'm told. In your opinion will rings add value to Peyton's bust, or will he be immortalized regardless at this point?
Nick from Toronto, Ontario, asked the legacy question, too. He's won more MVPs than anyone already, and he'll be adding another one Saturday night. That's enough for me, because I believe the postseason has a certain level of "crapshoot" involved (like the 70-yard pass by Flacco with 30 seconds left in the divisional round last year that helped knock Manning out). But winning a second Super Bowl would add him to a QB list that I believe only has 10 names at the moment. That matters to many, though the degree varies. If he loses, he's 1-2 in Super Bowls and that'll hang with him unless he gets another shot. John Elway lost three Super Bowls and would be remembered much differently had he not gone out winning two in a row. If you don't believe that, ask Jim Kelly.
Harry from West Point, NY
Hey Mike, with the elimination of the PAT in consideration, what's your take on scoring records, especially single seasons? The all-time records go to kickers, I believe, mostly because of the PAT. Thoughts?
Well, LaDainian Tomlinson has the single-season scoring record at 186 points, when he scored 31 TDs in 2006, and Shaun Alexander scored 28 TDs the year before, so position players already have cracked that list. As for the all-time career mark, the highest-scoring non-kicker in league history is Jerry Rice, who scored 208 touchdowns over a 21-year career, and his 1,256 points are less than half of Morten Anderson's 2,544 at the top of the list. Considering Rice scored 33 more TDs than anyone else ever has (Emmitt Smith, 175), and Anderson kicked 849 PATs, that all-time record is as good as untouchable if the PAT is eliminated.
Keith from Lake Forest, IL
Mike, the ongoing discussion of draft and develop vs. being active in free agency seems to miss on the obvious that it does not need to be an either/or but the key is finding the right combination of both. Both work when the right players are targeted. Draft and develop is great when CMIII, Jordy Nelson and Josh Sitton are the players selected. Just like free agency is great when the players are Charles Woodson and Ryan Pickett. Both fail when the targets are Jamal Reynolds (draft) or Joe Johnson (free agent). When teams miss in the draft that's when free agents become a necessity.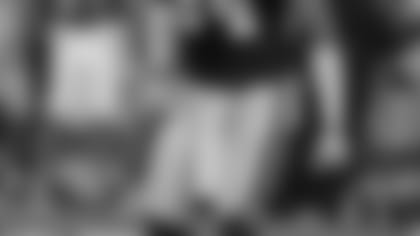 LB Brandon Chillar
Your points are valid, especially the last one, though "necessity" may be too strong a word. Wick from Amsterdam wants me to pick those drafted who need to develop into impact players, and I think I mentioned a few yesterday, but in looking closer, I was reminded that 10 of the 18 picks from the 2011 and '12 drafts are no longer on the team. Peter from Eagan, MN, called those two drafts the "elephant in the room" due to injuries and whiffs on picks, and I get what he's saying. That, combined with a potentially long list of needs that could be too extensive for one draft (defensive line, linebacker, safety, cornerback and tight end, depending on what happens in free agency with Raji, Shields, Neal, Finley, Quarless, etc.), tells me that if there's a year to dip into free agency to patch some holes, this might be it. I'm not talking first-week, crazy-money free agency, but maybe in the Brandon Chillar category financially. Patrick from Salt Lake City, UT, is asking which free agents to target. I haven't studied the field, and as Vic says, there's little point until the tags go out and the free-agency bell rings, because tags and last-minute deals with incumbent teams change the landscape. If you're not diving into the early, overpaid and overhyped spree, that leaves plenty of time to see who's worth targeting.
I know, I know...draft and develop...picks not players. That is a sound philosophy but blind adherence to it is foolish. I remember the fans were clamoring for Thompson to trade for Marshawn Lynch when he was available. Thompson couldn't part with a fourth-round pick for him...a fourth-rounder!! If that move would have been made we would have been in "look out" mode for multiple seasons at little cost. It was a huge mistake and shows the folly of valuing draft picks over everything else.
Let it go, man, but let's clear up some things first. For one, the Seahawks gave up a fourth-rounder in 2011 plus a conditional pick in 2012 that became a fifth, so the price tag was greater than you stated, and the Packers have drafted Josh Sitton, T.J. Lang, Mike Daniels, David Bakhtiari and Micah Hyde in the fourth and fifth rounds over the past half-dozen years. For another, Lynch was available in 2010. The Packers won the Super Bowl that year, went 15-1 with a record-setting offense the next year and would have had to shell out big money, as Seattle did (four years, $31 million), to keep him in 2012 and beyond. I think you're overstating his potential impact initially on the team's success, and with huge extensions for Aaron Rodgers and Clay Matthews looming in 2013, keeping Lynch beyond 2011 would have been nearly mission impossible. Last but not least, had the Packers traded for Lynch and magically found salary-cap room to keep him, would you rather have a 27-year-old Lynch right now or a 23-year-old Eddie Lacy? Given the benefit of hindsight, I fail to see the fascination with this non-move. OK, now I'll let it go, too.
In which year(s) will San Francisco and Seattle take the hits to their cap space by having to pay their quarterbacks the much higher salaries that starting quarterbacks get from other teams, like the Packers?
Colin Kaepernick is entering the final year of his rookie deal in 2014, so the 49ers will be working on an extension for him this year while players like Donte Whitner, Michael Crabtree, Aldon Smith and Mike Iupati are due new deals in the coming year or two. The final year of Russell Wilson's deal is 2015, and the CBA prevents him from getting a new contract until his third year is completed, so Wilson's new contract is coming after next season. Alex from Normal, IL, says he's rooting for the Seahawks on Sunday so it drives up Wilson's price. Debatable, and not an angle I had thought about, but I'll throw it out there for consumption. Craig from Temperance, MI, says the big money young QBs eventually get is ruining the game because it hurts their teams. In my view, it's what levels the playing field over time and creates all the parity and drama. It doesn't ruin anything.
Tampa Bay CB Darrelle Revis
Hi Mike. Calvin Johnson, Alshon Jeffery, and Brandon Marshall are division rivals and are 6-3 or taller. Shields and Williams are 5-11. Do you see us trying to draft someone taller at CB?
Sure. Find me a college prospect who's 6-3 and can backpedal and flip his hips like Darrelle Revis (who's 5-11, by the way). I'll wait for your call. My point is they're a rare breed. Of the eight cornerbacks selected to the Pro Bowl this year, only three were taller than 5-11. Richard Sherman is 6-3, while Patrick Peterson and Aqib Talib are 6-1. If Brandon Marshall could actually cover Alshon Jeffery, then we'd have a different game, if you know what I mean.
Kumar from San Antonio, TX
Vic, I don't know why people are making a deal out of the Giants owner not wanting a Super Bowl in Green Bay. The way I see it, it's a blessing: it would be sacrilege to have a football game played in Lambeau without the Packers on the field.
I don't agree, though Ryan from Greenfield, WI, does. I think the upcoming Wisconsin-LSU game at Lambeau Field in 2016 will be a real treat.
I think using the franchise tag on Finley would be perfect, being that the tag for a tight end is just over $6 million. But I read somewhere that if Finley gets tagged, he will have to be paid 120 percent of last year's salary. Is there any truth to this, and if so, why is it?
Yes, that is the rule. A tagged player is to be paid the average of the top five salaries at his position or 120 percent of his prior year's salary, whichever is greater. The stipulation exists so that a player already paid at the top of his position can't be forced to take a pay cut if he's tagged when his contract expires. In Finley's case, I believe his previous contract had a lot of money tied to various bonuses, so 120 percent of his salary would still be under the tag number. I don't think Finley will get tagged, but an interesting question would be whether he'd fight for the receiver tag number over the tight end one. Those disagreements are getting more common with certain positions.
Dave from Bolingbrook, IL
Hi Mike. So in regards to the salary cap, the Packers were somewhere under $15 million for the 2013 season. Can teams write in contracts that players will be paid based on the salary cap space for the year? That space could be used to say, pay down Rodgers' or Matthews' cap hit of 2014.
A specific player's cap hit can't be paid down, per se, but unused cap money can be rolled over to the following year, which in essence can help accomplish what you're suggesting.
Yes, PATs are not particularly interesting but the choice to go for two is, especially late in the game, and I'd hate to lose that.
My apologies if I wasn't clear yesterday. In saying TDs should be worth seven points with the eliminated PAT, I meant to include that teams should be able to opt for taking six points and going for two. Multiple readers pointed out that the risk-reward element of the two-point conversion should not be eliminated as well, and I wholeheartedly concur.
Steve from Eau Claire, WI
Mike, I just finished reading Donald Driver's autobiography. He made a comment in there that when he came to Green Bay he asked if he could have jersey number 3 (his college number), and he was told no because wide receivers cannot wear single digits in the NFL. I know Driver wouldn't have gotten his wish anyway because 3 was Tony Canadeo's number, but what led the NFL to require that certain positions wear certain numbers in the first place, and how did they determine the ranges for each position?
I believe the regulations began, long ago, with the goal of making it easier for the officials to determine who's an eligible receiver/ball-carrier, and who's not, and where they're lining up. It probably evolved from there to establish number ranges for each position, for simplicity's sake.
Getting the kids involved is always a good thing. However, I have to say having the players ride the kids' bikes is one of the weirdest traditions. How about this, the players buy bikes and pick a kid out of the crowd and give the kid the bike and the kid rides to practice with the player. Where did this tradition come from?
I'm really being tested on my history here. I'll defer to the Packers media guide, which states that it's not known exactly when the bike tradition started, but it's believed to have started under Lombardi, who asked (told?) the players to ride the bikes to practice to strengthen the team's ties to the fans. I like your idea about players buying bikes to give to the kids at the end of camp. A local charity should jump all over that.
Jeff from St. Clair Shores, MI
Mike, I really enjoy your "What You Might Have Missed" segments. They are educational and I want more. Will you consider doing two a week during the season; one for offense and one for defense?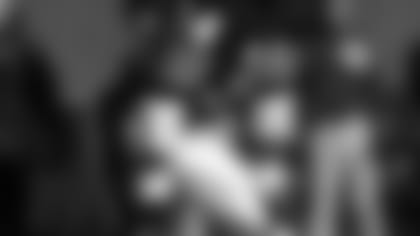 Bears RB Walter Payton
Thanks to you, Jeff from Las Vegas and others for the kind words, which allow me to point out that our trusty, behind-the-scenes video editor, Tyler, is the guy who does the heavy lifting on those segments. I have the easy part, and the fun part. Maybe if Vic didn't run Tyler into the ground with all of his projects, I could get him twice a week. Seriously, though, I appreciate the interest.
Hi Vic. So who's your favorite offensive and defensive player of all time? Mine are Gale Sayers and Chuck Bednarik.
Mine are Walter Payton and Lawrence Taylor.
Mark from Stewartville, MN
Mike, do you think the Packers will be able to keep James Starks?
It all depends on the offers Starks might receive from other teams. Several others (Dennis from Naples, FL, Chris from Barron, WI, and Mike from Las Vegas, NV) also asked about the outlook at running back, given the presence of DuJuan Harris and Johnathan Franklin. If Starks can be kept for the right price, I say it's worth bringing him back to protect the position even further against injury, and then you deal with the "problem" of having too much depth down the road. But if another team comes at Starks with significant bonus money and a sizable contract – not a certainty, given his injury history, but a possiblity – I don't expect the Packers to compromise their cap.
Steve from Cincinnati, OH
Vic: I'm in full support of Thompson's draft-and-develop system. With that being said, do you think Dom Capers employs too complex of a scheme to continually be plugging rookies into? I'm not suggesting firing Capers, rather an adjustment to play more to the personnel. Seems to me that his playbook is so vast that rookies continually end up on their heels. I believe a more basic defense would suit the Packers' way of running an organization.
Jay Cutler and Matthew Stafford would love for the Packers to play a more basic defense, too. No, you don't dumb it down. That said, your thought on young players in this scheme has merit, and Tramon Williams suggested as much to reporters in the final locker room media session the day after the playoff loss. Then again, in 2010, the Packers plugged in rookies like Sam Shields and Frank Zombo, and first-time starters like Desmond Bishop and Erik Walden, and won the whole thing. Shields had two picks in the NFC title game, Zombo had a sack in the Super Bowl, and Walden had three sacks in the Week 17 must-win over the Bears. There's no law against young guys making plays in this scheme.
Mike, if Vic ever retires, will this become "Ask Mike"?
If you'll have me, I'll have you. But I'm not going to concern myself with that for a while. Playing it out, shouldn't the column undergo a more thorough name change, out of respect? When the time comes, I feel like "Ask" should retire with Vic. I'm open to suggestions.
Mike, confirm what we all suspect. The weather in Wisconsin got to Vic, didn't it?
It's getting to me this year, and I've lived here all my life. Have a good weekend, everybody, and enjoy the Super Bowl.